What does Veterans Day mean to you?
Oct 30, 2020, 08:09 AM by Nuvision Credit Union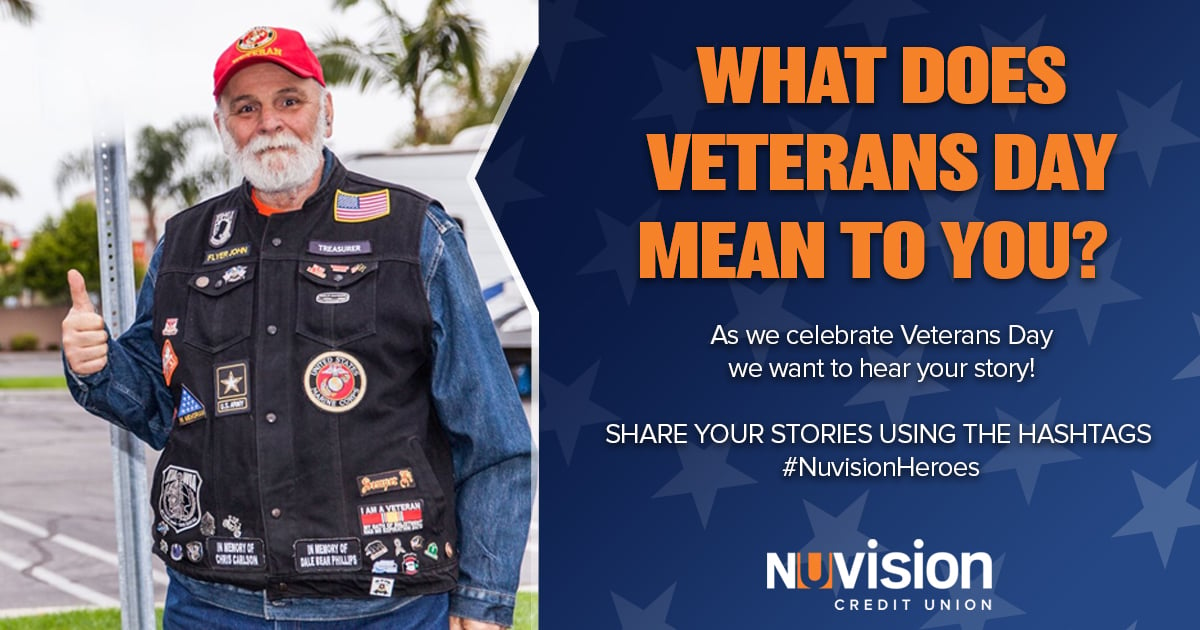 They took up arms and hiked miles through hostile terrain. They watched friends fall injured at their side. They wondered how their families were doing back home. They stood guard during the early hours of the morning, anxious to see light. They smiled at the sight of the stars and stripes standing triumphant on the horizon.
Then, they came home. They went back to everyday lives: back to families, back to jobs, back to rush-hour traffic--still holding those experiences in the back of their minds and hoping their country would remember their sacrifices.
These people are veterans, and the sacrifices they've made are countless.
Our veterans have selflessly served and fought for our rights, freedoms, and protections—putting their own lives on the line to ensure we could live ours.
That's why Veterans Day holds such a special place in our hearts. We've had opportunities to talk to many veterans at Nuvision events, from our Gas Giveaways to the Freedom Ride to Memorial Day lunches. Hearing their stories is always such an honor. It's inspiring to see how highly they esteem the values our nation was founded on: freedom, equality, and hard work.
What does Veterans Day mean to you?
For us, Veterans Day means remembering and honoring those who have dedicated their lives to protecting our country. It's recognizing all the struggles they have faced and the selfless attitude they've shown.
For you, it might look different. You might have your own traditions and ways to celebrate. Maybe you even have a spouse, son, daughter, uncle, cousin, or friend who has served in the military themselves. Whatever your background, Veterans Day is an important holiday for every American to reflect on.
That's why we're asking you to take the time to think about and thank those who have made sacrifices for our nation. It's just one small way we can show our appreciation. As you reflect on the holiday, we also invite you to share the stories of any people you think of. It could be a friend, family member, or acquaintance who has served in the military—anybody you think deserves to be honored for their courage and strength.
Honoring veterans who go beyond the call of duty: Sharing stories of local heroes
Over the next couple of weeks, we'll be sharing the stories of five local veterans who exemplify what it means to be a hero. Like the other heroes we've featured over the past few months, we're asking you to nominate people who might fill this description.
The veterans we select will be featured on our social media pages and blog. If you would like to share a story, email is at [email protected]
While this isn't nearly enough to thank them for everything they've done, we hope sharing these stories will spread awareness for the dedication our veterans have shown and will encourage everyone to honor them with gratitude. Their service isn't something we should forget, it should be something we remember every day of the year!
NUVISION HEROES VETERANS DAY SPOTLIGHT STORIES