Nuvision Hero Matt Voris: A veteran whose mission is to honor other service members
Nov 11, 2020, 10:32 AM by Nuvision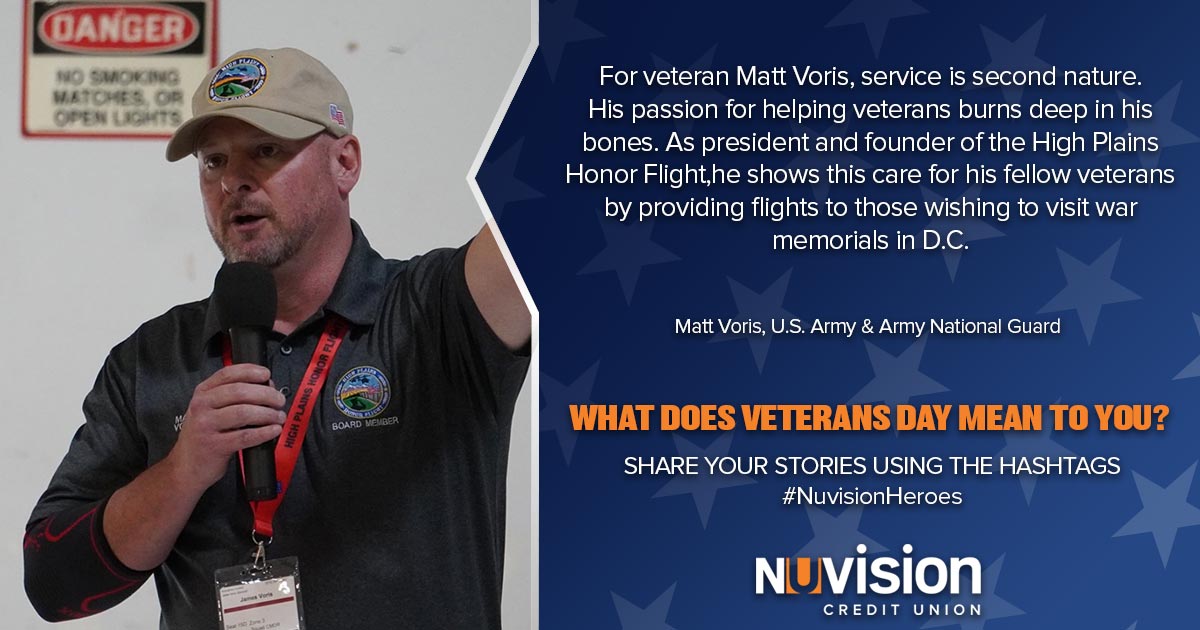 For veteran Matt Voris, service is second nature. His passion for helping veterans burns deep in his bones. As president and founder of the High Plains Honor Flight, he shows this care for his fellow veterans by providing flights to those wishing to visit war memorials in D.C.
Matt is a light in the Cheyenne community, especially for military service members. He loves his area and loves the veterans who live there. "I attended the University of Wyoming and was a member of the Wyoming Army National Guard based in Cheyenne from the late 1980s into the early 1990s. Both are a part of who I am."
Building on the foundation others have laid: A family legacy of military service
Matt's multi-generational military family has been filled with people who dedicated their lives to the service of our country, from his grandfather down to aunts, uncles, and sisters. Growing up, these influences made a big impression on Matt. But out of every family member who touched his life, he credits his grandfather—a WWII veteran and pearl harbor survivor—for helping set it into motion.
"He taught me how to be a man, to be honest.," Matt said. "Not just a man, but a good man. He showed me to have integrity and honor, to care about and for others, to always do unto others as you'd want them to do unto you. Who I am today, he helped shape."
Naturally, Matt's desire to serve others also led him to the military. In his basic training at Fort Jackson, he was nominated as "Trainee of the Cycle"—giving him pick of almost any career in the Army. Matt was trained in search and rescue, spent time in the Army Band, and eventually went on to serve in the National Guard.
Serving in the skies: Getting Honor Flights off the ground
After finishing his time in the Army reserves in 1992, getting married, and becoming the father of two children, Matt dedicated his spare time to serving local veterans.
He became involved in Honor Flights, an organization that provides all-expense-paid trips for WWII, Korean, Vietnam, and Purple Heart Recipient veterans to see war memorials in Washington D.C. His involvement started small, just as a member of the Patriot Guard Riders that escorted local Honor Flight trips from Loveland, CO to Denver International Airport.
Over time though, his involvement grew. While at a Northern Colorado send-off ceremony, he met one of his heroes: Col. Stan Cass, an army veteran and founder of Honor Flights.
"Col. Stan Cass has had a huge impact on my life. He would give the shirt off of his back for any veteran in need," he said.
In 2011, Col. Cass asked Matt to become a member of the Honor Flight North Colorado Board of Directors, which Matt called, "one of the best things I've ever done."
"We live and breathe serving other vets," he said, remembering his fellow board members.
Matt served on this board for several years. In 2018, they moved on once the leadership decided they'd completed their mission after transporting around 4,000 veterans to D.C.
From member to leader: Showing veterans how much they matter
Even after the last flight of HFNC, Matt felt there were still too many veterans that could benefit from a continuation of Honor Flights in the region. So, he founded the High Plains Honor flight, which now serves Colorado, Wyoming, and Western Nebraska veterans. He has expanded the board to 12 members, who together help raise community awareness and support of their organization.
Matt explained how excited everyone gets when a new flight of veterans is going to take off. For any one event, he can easily get at least 50 eager volunteers, ready and willing to step in on a moment's notice. The spirit and camaraderie are contagious.
"These trips cement, for those veterans who go them, that there are truly people in the world who are grateful for what they've done for our country. They get to see that firsthand -- folks who stop and clap, line the highways, meet them at the memorials and share their thanks. It's so powerful," he said.
In the coming years, Matt hopes to expand the program. We hope to take folks who have served in Desert Storm, OIF, and OEF as well.
The quiet, steady strength of veterans
Growing up in a family of veterans, working with them regularly, and being one himself, Matt uniquely understands how important it is to honor veterans—the people who have stood up for our freedom, constitution, and country in the face of life threats.
"Vets are so humble," Matt said. "They don't consider what they've done to be heroic. But everyone who's deployed, gone into a foreign country, or a combat situation is definitely a hero, whether they think so or not."
To help veterans, Matt says the most important thing we can do is work towards meeting their needs, making sure no veteran goes without a secure shelter or medical care. Beyond that, we can simply understand the depth of their sacrifice.
"Our military has become a volunteer force since the last drafts of the Vietnam Era. This means the burden has to fall on the brave 3% of those who choose to pursue a military career," Matt said. "Many Americans take this for granted, in my opinion."
At Nuvision, we don't want to take the hard-fought sacrifices of veterans to be taken for granted or forgotten either. That's why we've been sharing the stories of people like Matt—to honor them and spread awareness. Keep up with us on Facebook, Twitter, Instagram and on our blog to read more stories like Matt's.