Get your money faster with mobile deposit
Mobile deposit is one of the most handy features of our free mobile banking app. Rather than travel to a branch or ATM to deposit checks into your checking account, you can do it in seconds simply by taking a picture of the check front and back.* Mobile deposit is entirely secure, compatible with all iOS and Android devices, and is free to use as often as you like.
After you download the app, follow these steps to activate the mobile deposit feature:
1. Enroll for Mobile Deposit by selecting the "Services" tab and selecting the "Mobile Deposit Enrollment" link
2. Review and accept the terms and conditions
3. Log out and Log back in
4. Select the "More" tab and click on "Deposit Check" OR select the "DEPOSIT A CHECK" icon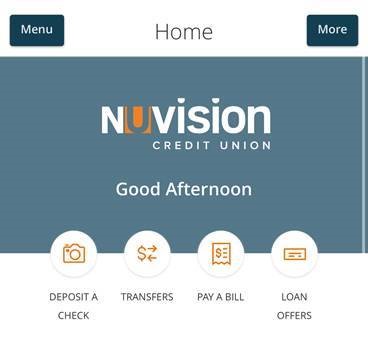 ---
Contact one of our Member Service Representatives for more information today at (800) 444-6327.
Once you've registered, mobile deposit is ready to go. Here are a few tips:
Make sure the back of your check is signed
Place your check on a contrasting surface so it stands out
Ensure the check is inside the gray box of the viewer
Keep your check in a safe place for 90 days after depositing it
Please note that checks with asterisks in the dollar amount, small or 3-D text, signatures that loop down into the MICR line, and background images or "noise" on the front or back may not be read.
* Deposits made by 5pm PST on a business day will be processed by 6pm PST the following day. Deposits made after 5pm PST will be processed by 6pm PST the next business day.
Mobile provider may assess data and other usage charges and they should check with their mobile provider.