Nuvision Hero William J. Kull: A 100-year-old WW2 Veteran and Former Firefighter Who Has Done the Impossible
Nov 11, 2020, 10:44 AM by Nuvision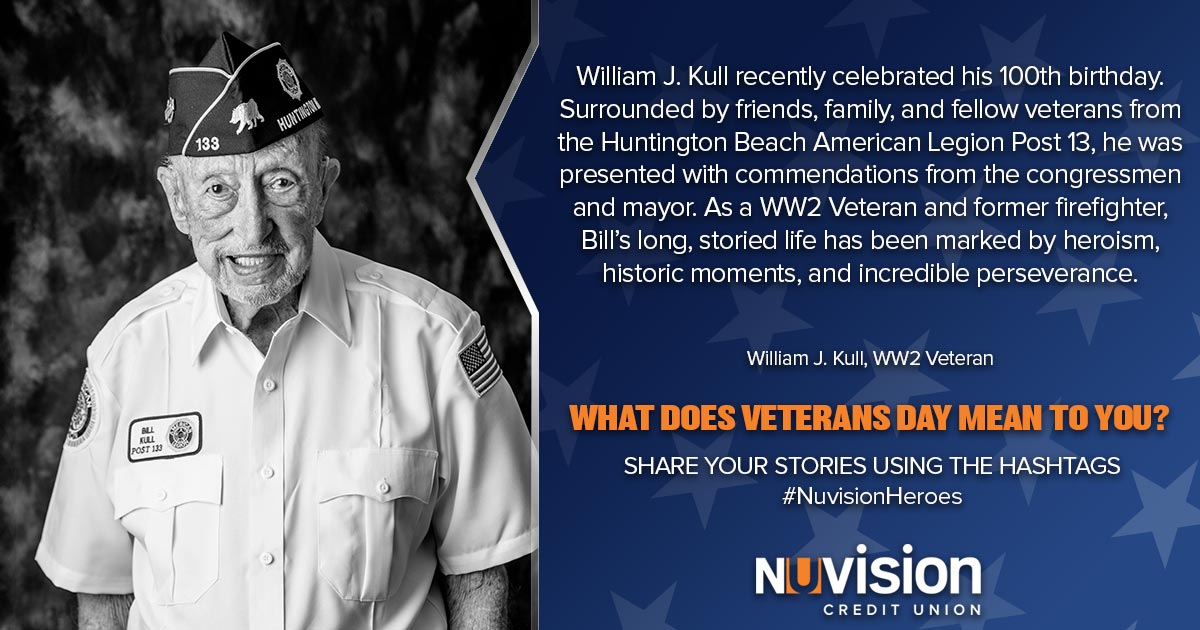 William J. Kull recently celebrated his 100th birthday. Surrounded by friends, family, and fellow veterans from the Huntington Beach American Legion Post 13, he was presented with commendations from the congressmen and mayor. As a WW2 Veteran and former firefighter, Bill's long, storied life has been marked by heroism, historic moments, and incredible perseverance.
When faced with impossible circumstances, a hero gets creative.
Bill became a service member in 1944 as a young husband and father, completing his Basic Training in South Carolina before sailing overseas and joining the Rifle Co C. 1st Battalion, 12th Regiment in the 4th Division. They arrived on Utah Beach just after D-Day, brought there to replace those who had been lost in the battle.
For six months, Bill fought on the front lines, making his way through Belgium and into Germany—not realizing he had crossed the border until his unit started fighting in the Battle of Hurtgen Forest. "When we left, it wasn't a forest anymore," he remarked.
Towards the end of the battle, he sat in a foxhole with two dead enemy soldiers, waiting for the relief he'd been told was coming. After much time passed and nobody came, Bill realized he'd been forgotten. He, along with two other Americans in the same situation, began capturing Germans until they found one who could tell them where their commanding officers had gone. They took them one-by-one, until finally, on the thirteenth try, they found one who spoke English.
One Day in the Life of Bill: How he was caught, became a POW, and escaped within a matter of hours.
After catching up with other Americans against all odds, he made it just in time to join the Battle of the Bulge. In the fight, he fell into the hands of a German soldier who held a rifle inches from his head. He was a Prisoner of War—but not for long. Just hours later, he escaped. Though pursued by the enemy, he managed to catch up with his company.
This eventful day didn't end the fight. His squad kept going until they were relieved on Christmas Eve. Even as they traveled back to France by truck, they were met with resistance.
Already a hero with three battle stars, Bill didn't stop serving.
After heading back to France, Bill was told he would be sent to Japan. Instead, he was secretly sent along with the other troops to a hospital camp in North Carolina. He made it just in time for his son's 2nd birthday.
When Japan was bombed, he was discharged and returned to his position in the NYFD. Bill remained a firefighter for 23 more years before retiring.
We're honored to celebrate such a decorated soldier, patriot, and father.
Bill's service has earned him a slew of medals, badges, and citations, from the Bronze Star with Oakleaf Cluster "for exemplary conduct in ground combat against the armed enemy on or about 12 November 1944 in the European Theater of Operations" to the Order of Leopold II with Palm Degree of Chevalier.
Veterans like Bill not only have sacrificed much in service of our country, but they also stand tall in our community as heroes and inspirations to the coming generations. That's why we are committed to sharing the stories of extraordinary veterans who have proven their courage and passion. Keep up with us on Facebook, Twitter, Instagram and on our blog to read more stories like Bill's.