Nuvision Hero Anthony Miller: A Vietnam Veteran Who Serves the Homeless
Nov 9, 2020, 10:05 AM by Nuvision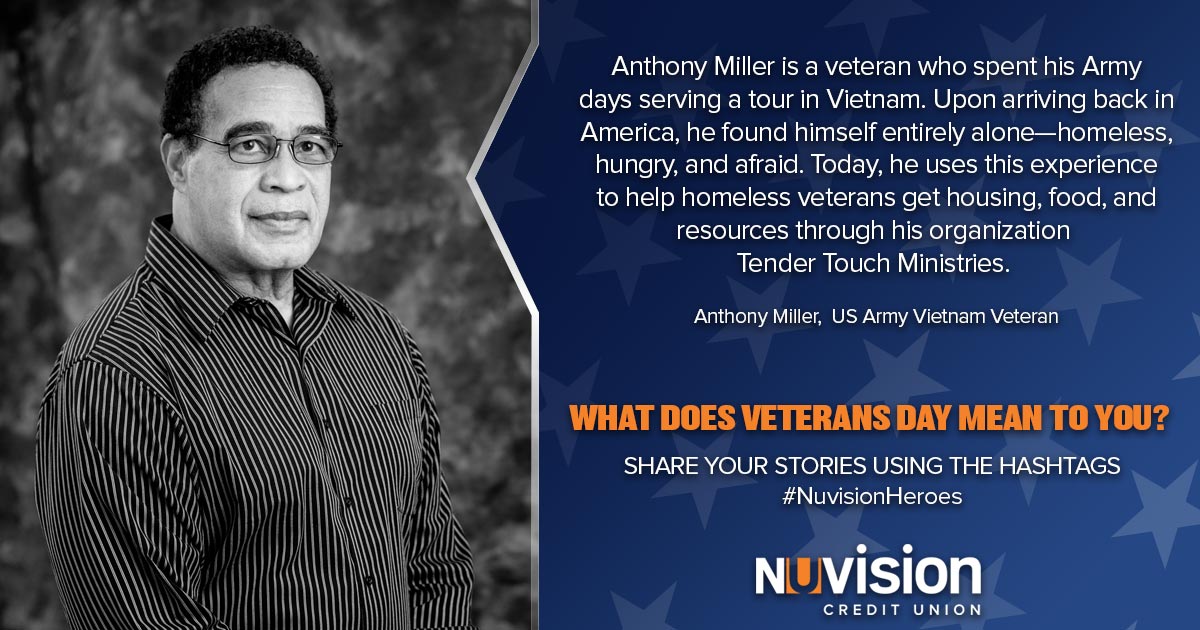 Anthony Miller is a veteran who spent his Army days serving a tour in Vietnam. Upon arriving back in America, he found himself entirely alone—homeless, hungry, and afraid, with the people who he'd fought for overseas nowhere to be found.
"I can still hear the haunting thoughts that plagued my mind… the most chilling thought was 'Will I die on the streets alone and unloved?'" he said.
These experiences motivated Anthony to start his own non-profit, Tender Touch Ministries, which serves the homeless throughout Orange County. Even as founder and leader, he still loves working on the ground, helping Veterans get housing and food and connecting them with resources.
Finding blessings and taking action--even in hopelessness
"Little did I know that this daunting life-changing experience was more of a blessing than a curse," he writes on his organization's about page.
Anthony didn't let his time on abandoned Los Angeles streets stop him from moving forward. He realized that although his situation was bad, thousands of others were facing the same struggles.
He wanted to do something about it.
Once he had the means, Anthony began serving in food banks, soup kitchens, and rescue missions. In 2000, he got the opportunity to start his own outreach, the Rock of Ages Ministry in Newport Beach, CA. They dedicated their time to serving the local homeless population with food, clothing, shelter, and prayer.
On August 30, 2010, Anthony founded his current non-profit, Tender Touch Ministries, to serve people in need throughout the entire county.
Reaching the 45% of Orange County Veterans who don't know where to turn for help
Many veterans lack support networks and live with the effects of PTSD. According to The Orange County Veterans Study, as many as 3,500 veterans live on the streets of OC.
Tender Touch volunteers reach out to these veterans by visiting them with a "welcome home package," which includes an appreciation letter, snacks, candies, a Bible, a journal, and games.
These packages are hand-delivered with a "thank you" for serving, a hug, and an offer for hands-on assistance in connecting the veteran with sister charities that specialize things like counseling, housing, or employment.
But Tender Touch Ministries doesn't just deliver gift baskets—they will go any lengths to help a veteran in need.
Jack Payne, Marine Corps veteran, expressed his gratitude for the ministry: "6 months ago I was homeless and destitute. They responded quickly to my needs. They got me a motel room for 4 days and brought me food, water, hygiene products, and clothes. They also helped me get into a men's shelter."
Michael R. Lang, another veteran, said this: "I would like to take this opportunity to express my deepest gratitude to Tender Touch Ministries for helping me when I was in dire need of food and clothing. I am a retired veteran of 22 years, and I deal with multiple chronic challenges. That's why it meant so much when Tender Touch Ministries came to me to give assistance, so I would not have to overexert myself. You guys are a true blessing!"
For Anthony, the work is never finished.
Anthony and his organization not only work tirelessly to help the homeless, but they also want to provide resources to prevent and end homelessness. Their mission is to serve with respect and grace, while simultaneously raising awareness of the root causes.
Over the next five years, Anthony hopes to expand the organization to provide programs like a soup kitchen, rescue homeless shelter, vocational training, guidance counseling, and self-improvement programs.
In addition to running his organization, Anthony is also an ordained minister. Through his practical service and care for homeless veterans, he hopes to reflect the love of God.
Veterans like Anthony keep us going strong.
From the time he set foot on an army base to the time he decided his life on the streets was an opportunity to help others, Anthony's life has been marked by courage and a passion for service. It's people like him who keep our community running strong and ensure our veterans are taken care of.
We're so grateful for Anthony's continued service to our community and country. That's why we're committed to sharing the stories of extraordinary veterans like him who have gone above and beyond the call of duty. Keep up with us on Facebook, Twitter, Instagram and on our blog to read more stories like Anthony's.