Nuvision Hero Michael Barrett: A Marine Who Never Lets Obstacles Stop Him from Serving
Nov 10, 2020, 10:19 AM by Nuvision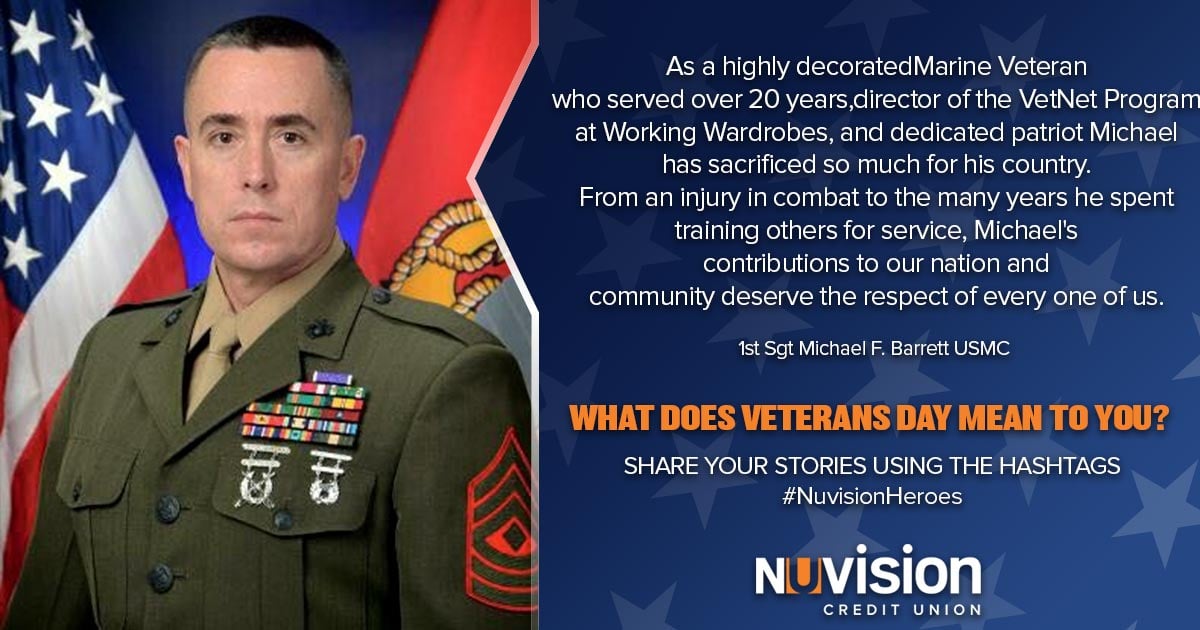 As a highly decorated Marine Veteran who served over 20 years, director of the VetNet Program at Working Wardrobes, and dedicated patriot, Michael has sacrificed so much for his country. From an injury in combat to the many years he spent training others for service, Michael's contributions to our nation and community deserve the respect of every one of us.
Michael fearlessly took on some of the most difficult military assignments.
After graduating from the Marine Corps Recruit Training at Parris Island on December 14th, 1993, Michael was transferred to multiple locations and served in a variety of roles, including as a Military Police Patrolman in Virginia, a Patrol Supervisor and Watch Commander in Hawaii, and a Drill Instructor in San Diego. During this time, he interreacted with countless new recruits, leading training cycles and overseeing operations.
In 2004, he was deployed to Iraq to support Operation Iraqi Freedom II. There he was severely wounded by an "Improvised Explosive Device" supporting combat operations in the Al Anbar Province.
Even after injury, his greatest desire was to serve his country.
Michael spent 533 days in rehabilitation. Eager to rejoin the service, he persevered and met his goal of remaining in the Marine Corps. He reenlisted and was deployed again to Iraq, the same place he'd suffered that devastating injury. During this second tour, he was promoted to the rank of Gunnery Sergeant.
Armed with new experience and strengthened resolve, Michael arrived back in the United States to begin his work as Training Program Manager at the Pentagon, Head Quarters Marine Corps, Plans, Policies, and Operations. He personally prepared over 1,200 Marines for MOS enhancement training.
Aside from fighting with his fellow Marines in combat, serving in the Wounded Warrior Battalion was Michael's most fulfilling job.
By the time Michael received his assignment to serve the Wounded Warrior Battalion East, he had been in the Marines for nearly two decades. In all that time, he says the most fulfilling, humbling, and emotional job—not counting the time he was deployed overseas—was taking care of those wounded combat Marines in the Walter Reed National Military Medical Center.
His job was to work with the wounded and their families through the process of recovery, rehabilitation, and transitioning back to their assigned military unit or medical retirement. He continued in this role until his retirement from the Marine Corps in January of 2014.
Retiring didn't stop his desire to serve.
As a Security Professional in Corporate America, Michael served as his company's charitable foundation Director of Veterans Affairs, responsible for outreach. Since August of 2019, he's also been serving as the Director of the VetNet Program at Working Wardrobes, which supports the military veterans and their families by transitioning service members through workforce readiness services and programs. Additionally, he serves in the Orange County Veterans and Military Families Collaborative, a coalition of service organizations that provide for local veterans.
He's never stopped seeking out opportunities to help his fellow service members and the community as a whole. Through every stage of his career, he's done the best to make a difference wherever he was positioned.
Michael's impact on his community and nation is far-reaching
The list of Michael's military decorations is nearly as numerous as the people he helped. His years of service have earned him these awards, among others:
The Purple Heart, Meritorious Service Medal (2nd Award),
Navy and Marine Corps Commendation Medal with combat "V" (3rd Award),
Navy Achievement Medal, Combat Action Ribbon, Navy Unit Citation (2nd Award),
National Defense Medal (2nd Award),
Iraqi Campaign Medal w/ three Bronze stars,
Global War on Terrorism Expeditionary Medal & Service Medal
Sea Service Deployment Ribbon (2nd Award) & Drill Instructor Ribbon.
His relentless dedication, and the dedication of so many others like him, is what allows us to enjoy the freedoms we treasure every day. That's why we are committed to sharing the stories of extraordinary veterans who have proven their courage and passion. Keep up with us on Facebook, Twitter, Instagram and on our blog to read more stories like Michael's.