International Credit Union Day is October 21st, and we're thanking you with a $100 gift card drawing!
Sep 30, 2021, 10:49 AM by Nuvision Credit Union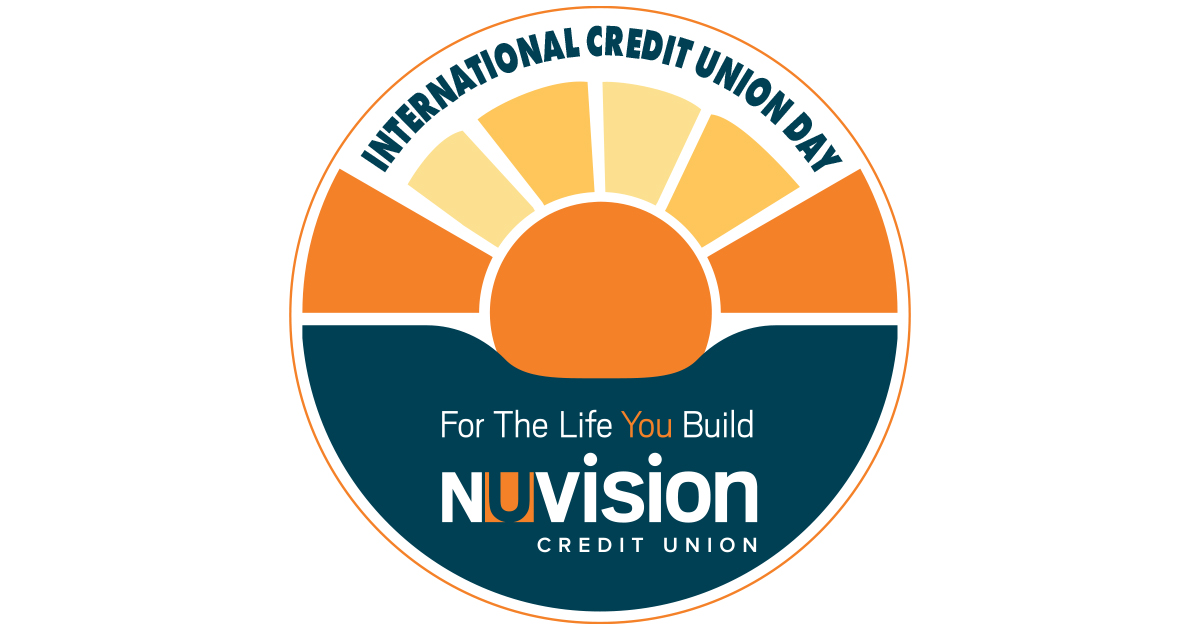 October 21st is the 73rd annual International Credit Union Day–and we can't wait! It's the perfect opportunity to reflect on the importance of our mission and celebrate the members like you who make it possible.
We are celebrating International Credit Union day with an Instagram Giveaway!
Beginning October 12th through the 21st, post a selfie or video and write a caption sharing why you love your credit union with the hashtags: #InternationalCreditUnionDay, #ICUDay & #NuvisionCreditUnion.
You'll then be eligible for our International Credit Union Day drawing, where we'll give away $100 Amazon gift cards to ten lucky members. Be sure to tag us @NuvisionCreditUnion in your post so we can include you in the drawing!
Winners will be announced on October 22nd on social media. We hope you'll join in, share your thoughts about Nuvision, and let us thank you for your membership!
International Credit Union Day is a chance to celebrate all that makes us unique.
Two things set Nuvision apart from other financial institutions: our mission and our members.
At its core, our credit union is simply a group of people who share the same mission: making an impact on the community. We're not solely focused on transactions. We're here to meet financial needs, yes, but we're also here to support you through every moment of life, from your first home to retirement. We're here to thank, serve, and honor the people in our community who are making a difference.
This mission is made possible because of members like you—hardworking, motivated people doing the best you can for your families and neighbors. Whether you are a nurse, a teacher, a mechanic, a grocery clerk, an engineer, or an office worker, you play a vital role in the community.
You are the reason behind everything we do at Nuvision.
Through daily interactions and nights like our Member Appreciation Events, we strive to get to know each and every one of our members. You matter, and we recognize that there is no better feeling than walking into a building and instantly being greeted with a smile. Our branch teams everywhere—in Alaska, in Wyoming, in California—cherish the relationships they build with members.
The programs, outreaches, and events we run are all designed to help you. Our longest-running member program is the Added Advantage Rewards Program, which provides you with benefits, discounts on rates, exclusive offers, annual giveaways, and special opportunities. It's a way to reward you for your loyalty and the banking you already do each day. Many members in the program have been with us for decades. Walking with members for that long, through so many life milestones, is an honor we don't take lightly.
We also regularly reach out to the broader community. We've hosted Toys for Tots drives, pumped gas for the military on Memorial Day, and kept small businesses going through the pandemic.
Here's a look at some of the ways we've been involved in the community recently:
Hosting the Help Fight Hunger food drive* in Alaska
Kids can't learn and prepare for a successful future on an empty stomach. That's why Nuvision is participating in Alaska's Hunger Action Month for the third year in a row.
In 2019, we raised $6,803.82 for food pantries in communities throughout Alaska. Last year, we raised over $5,000 and collected 3,500 pounds of food. This year we're planning to do even more (we've already reached $2,200 in a few days)! To get there, we will be matching all donations on our GoFundMe up to $5,000.
Now through October 31st, all Nuvision Alaska branches, along with our partner Peppercini's Deil & Catering, will collect food and financial donations to help the Children's Lunchbox, a program that launched during 2020 school closures to help feed children in need. This year, we'll also be donating to the following food banks and pantries:
Winners will be announced on October 22nd on social media. We hope you'll join in, share your thoughts about Nuvision, and let us thank you for your membership! Learn more about our Instagram giveaway here.*
Honoring first responders on the 20th anniversary of 9/11
The anniversary of 9/11 brings memories of tragedy-- and profound gratitude for those who lost their lives rescuing others that day. On the 20th anniversary, we decided to remember and honor those who lost their lives by thanking the brave men and women who serve locally.
We spent the day honoring Huntington Beach firefighters with lunch and thank you cards. Fountain Valley Branch Manager Yuri Alvarado and Huntington Beach Branch Manager Rachel Martinez served a delicious meal catered by Love at First Bite Catering. In total, we served 55 firemen, paramedics, and specialists at Firestation 6 in Huntington Beach.
We also honored former LAFD Fireman, Vietnam War veteran, and 9/11 responder Dave Badgett by featuring his Nuvision Hero story on our blog. It was a privilege to hear about his life, between 32 years of handling emergency situations with the LAFD, his response on the ground at 9/11, and his current role as a readiness and response capabilities consultant for public safety agencies.
Thank you for your support and continued hard work.