Nuvision honors fallen military heroes over Memorial Day Weekend
Jun 3, 2021, 09:54 AM by Nuvision
Freedom comes at a cost. The cost of friends, fathers, husbands, neighbors, nephews, nieces, brothers, and sisters--brave soldiers who laid down their lives to secure liberty for their loved ones and generations of Americans to come. Heroes.
Last weekend, we remembered their sacrifices by hosting Memorial Day events in each of our markets. While it is impossible to repay them, we hoped to honor them by serving the military members who continue their mission today.
200 military members honored and $11,000 donated to veterans in California.


In California, our community gathered for a ceremony to honor those who sacrificed their lives for our freedoms. Each of the over 200 military members who attended was thanked with a $25 gas gift card, free breakfast, and coffee. Along with the gas cards, we awarded $2,000 to a few local veterans' organizations: Tent Hut, Recycle 4 Vets, and the Patriotic Service Dog Foundation.
We want to extend a huge thank you to the community partners who made this a memorable event for our guests. These partners included:
Our breakfast burrito caterer, Tacos 4 Troops, a local nonprofit that exists to give back to active-duty service members.
Our MC, Thom Tran, a Los Angeles comedian, radio personality on CBS Entercom Radio, musician, and veteran who started his comedy career after a combat injury forced him out of service.
Elliott McKenzie, veteran and renowned musical artist, who sang God Bless America.
Refuge Church, which gave a memorial prayer and brought its choir to sing the US Armed Forces Medley.
Other community partners included the Huntington Beach City Fire Department, CHOC Children's Hospital, and the Seal Beach Battalion Cadets with Lt. Col Kenneth Graham. We are extremely grateful for the support our community has provided and how much this ceremony brought us together around one central mission: remembering American heroes.
$12,000 worth of fuel pumped into military vehicles in Cheyenne.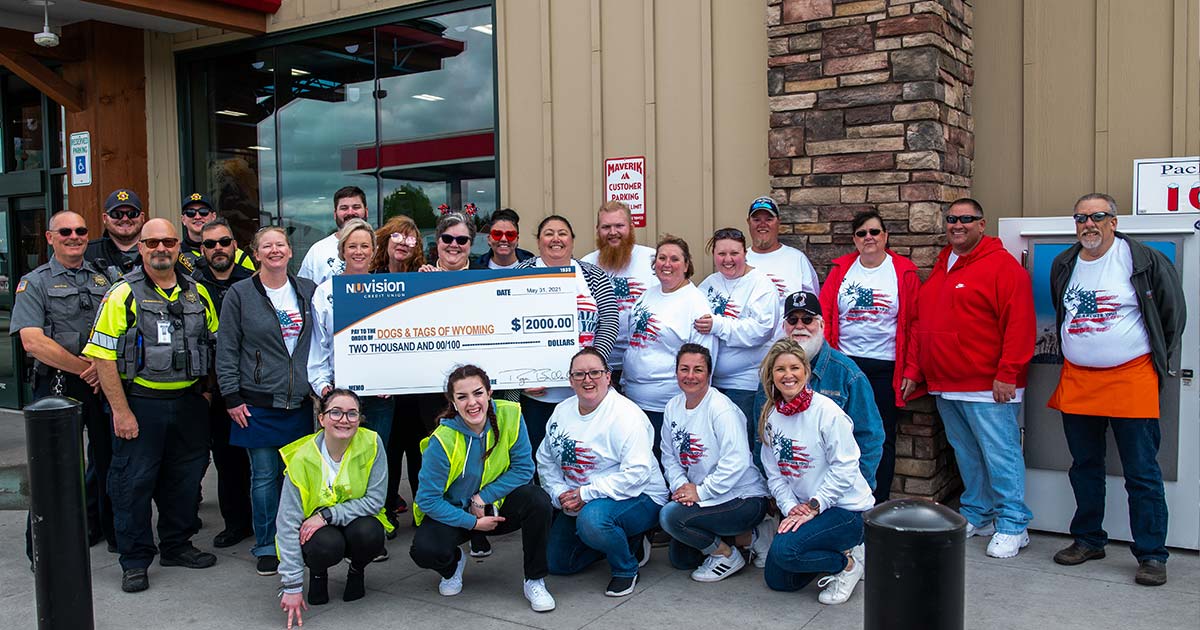 In Cheyenne, service member cars, trucks, and motorcycles were lining the street outside the Maverik gas station before 6:30 am. At 8 am sharp, volunteers began pumping gas. They didn't stop until 10 am.
With 19 volunteers and an excellent traffic plan from the Cheyenne Police Dept., which was very supportive of the event, the day ran smoothly. Our team pumped an average of 15.32 gallons per guest, for a total of 3,842 gallons of fuel! Breakfast was provided by Maverik.
We also had the honor of hosting Dogs & Tags of WY, an organization that trains service dogs for veterans, onsite for radio interviews and presenting them with a $2,000 donation from Nuvision. The local radio station, 103.3 KRAN The Range, came out to broadcast the event.
Thank you to all of our volunteers and community partners who helped us pull this off! Together, we were able to remember those who kept our country free.
Gas cards distributed, lunch served, and live music hosted for hundreds of military members in Alaska.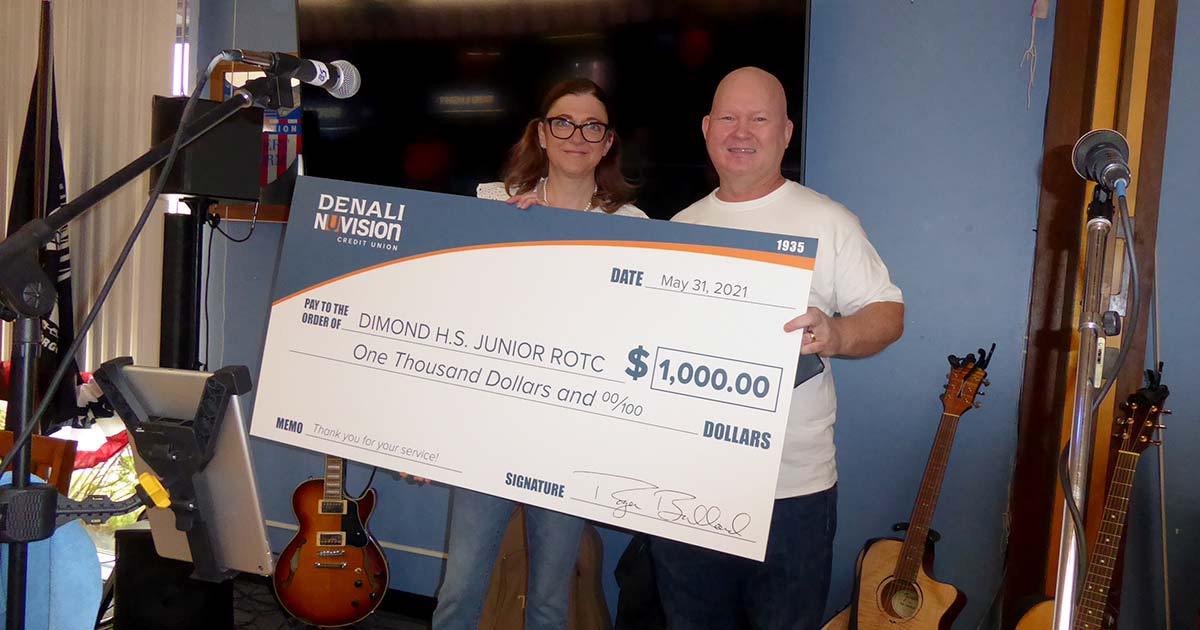 The Friday before Memorial Day, our Alaska branches handed out $25 gas gift cards to 200 active-duty service members and veterans. We invited military members to stop by, pick up their gifts, and enjoy some free food. Branches decorated to honor guests, and some even had games.
Along with the gas card giveaway, we served lunch to active-duty service members, veterans, and their families at the AMvets luncheon. They were thrilled to be thanked at an in-person event, especially after such a difficult year. Nuvision treated them to a BBQ lunch was catered by Sal's New York Deli & Catering, which included smoked brisket, chicken, sausages, sides, and other great food. Ten of them also received $50 gas gift cards as prizes at the door.
Our lunch was accompanied by live music from two popular local bands, which have played big events in Alaska and are currently part of the line-up for the Alaska state fair. Many Nuvision staff members showed up to volunteer, including Nuvision CEO Roger Ballard.
Roger came all the way from California to speak, hold a minute of silence for fallen soldiers, and present $1000 checks to AmVets Post 2 and the Diamond HS JROTC. The donation to the ROTC will be used to provide a scholarship for a student in financial need who was recently accepted to Notre Dame.
"Our mission on Memorial Day, and every day, is to honor the brave men and women who made the ultimate sacrifice for our nation. These celebrations were the least we could do to show our gratitude," Roger said. "The veterans at our Alaska luncheon were so appreciative. It meant a lot to talk with them and hear their stories."