Nuvision Heroes: A Huntington Beach mom who founded a non-profit for homeless and at-risk kids
Mar 30, 2022, 11:10 AM by Nuvision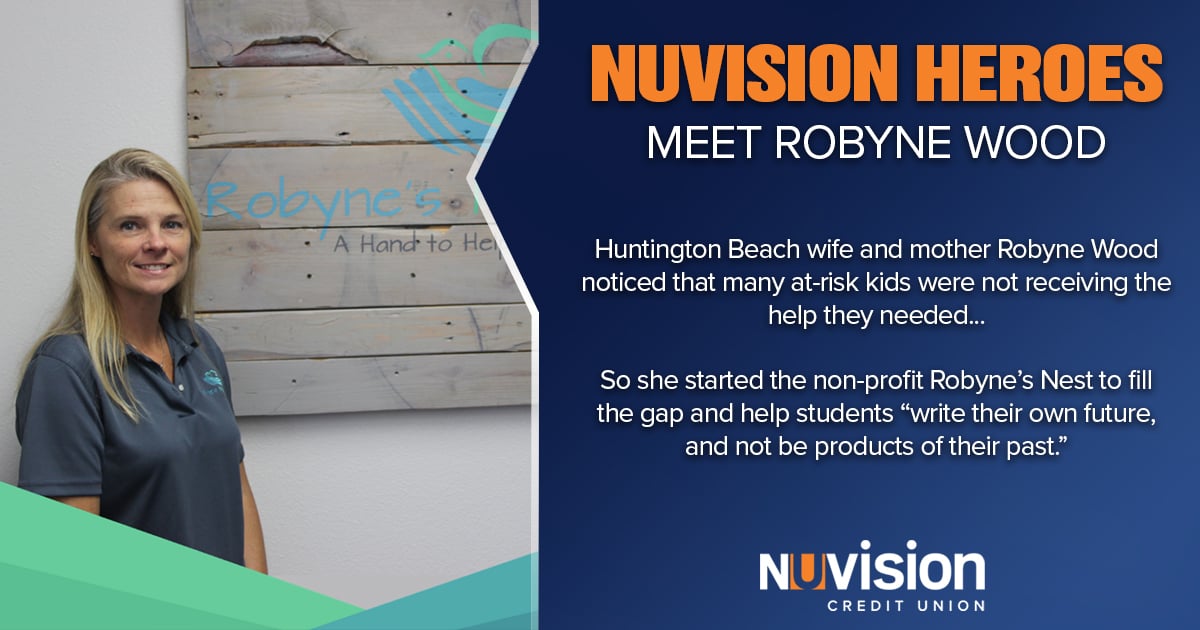 Seven years ago, Huntington Beach wife and mother Robyne Wood noticed that many at-risk kids were not receiving the help they needed. Existing programs emphasized adults already struggling with drug and alcohol problems. Few options were available to teens lacking family support or living in an abusive environment, but not facing personal issues like addiction or crime.
With the encouragement of friends, she started the non-profit Robyne's Nest to fill the gap. The organization's goal is to help students break the cycle and learn how to lead happy, productive lives, something many do not see modeled at home.
"That's the whole purpose of our program," Robyne said. "Just to help them be able to write their own future, and not be products of their past."
Robyne strives to put at-risk and homeless high students on the path to success.
Robyne's Nest aims to intervene with support before students make mistakes that negatively impact their life, not after.
"We provide wraparound services: housing, mental health therapy, life skills education, transportation, and all those little things students get help with from their parents, like getting their driver's license, getting medical insurance, [and] getting to the doctors," she said.
They primarily serve young adults and teens ages 14-24. It's a crucial time for learning how to launch a successful adult life, one that kids need a parent's help to navigate.
"We fill in, and over time just help them get onto that path of self-sufficiency and knowing how to live life as a productive adult," Robyne said. "A lot of our work really comes after they graduate high school."
For students with nowhere else to turn, assistance from Robyne's Nest can be life changing.
Robyne loves to see how far her students come. Her organization has changed the lives of many young people, helping them find direction and purpose. She shared the story of one young woman, whose parents were alcoholics and committing fraud in her name, who came to Robyne's Nest at 19.
"We sat and talked and made a plan," Robyne said. "We got her into a better councilor. And within six months, she was growing and flourishing, learning to stand up for herself, and creating boundaries. She was in our housing program. She was realizing she needed to save money. She was working on her relationships."
Now, this young woman is in college, working at a great job, and living in her own apartment. Robyne says there are many similar success stories listed on her organization's website, though they don't share most out of a respect for privacy.
"We have a couple other kids who have joined the military," she said. "They needed that. They needed to finish their diploma, then find where they belong."
Intervening during this early life stage is better for the kids. It's also better for the system aiming to help them.
"Cost savings on being proactive instead of reactive are just phenomenal," Robyne said. "People don't talk about that."
'Nobody can stop you but you.'
Robyne's Nest exists to give students this encouraging message: the past doesn't have to define your future. Kids who come through the program are empowered and taught that they are capable of making the changes necessary to lead a successful life.
As someone who also came from a broken household, Robyne's own story powerfully demonstrates overcoming adversity. Though she wishes an organization like Robyne's Nest had been around when she was younger, she embraces the message that the past doesn't define you and uses her story to inspire others.
"I was one of those kids," she said. "I share my story openly with my students. I tell them all the mistakes I've made, so when they make them, they don't feel stupid. But I tell them you've got to learn from them."
Now married for 24 years with two kids, Robyne loves her life. She enjoys spending time with friends and family, exercising, going outdoors, doing puzzles, having four cats, and visiting the beach.
"Really, being with friends and family, that's my fuel," she said. "I like to be involved with what my kids are doing as much as possible."
People like Robyne make our community strong.
It's community members like Robyne—those willing to step up when they see a need—who make the biggest difference. We're so grateful for the work Robyne and her organization are doing.
At Nuvision, we share a passion for equipping the next generation with the tools they need to succeed. That's why we sponsor our annual Essay Challenge Scholarship Contest, support local youth cadets, and have even partnered with Robyne's Nest to present an educational presentation on social media fraud to the organization's students.
Thank you, Robyne, for everything you do.