New happenings at Nuvision: Latest Branch Openings
Nov 30, 2017, 14:56 PM by Nuvision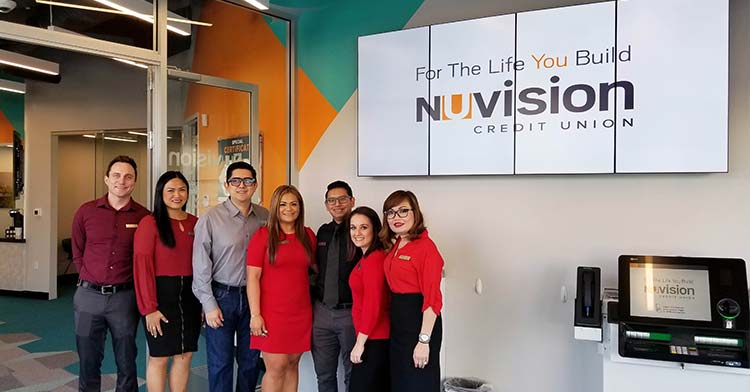 Based off member feedback, the new locations feature an open lounge floor plan, conversation rooms for private banking needs and a new type of teller machine intended to eliminate teller lines and to help you make the most of your branch banking experience.
The new floor plan was designed to make our branches more welcoming, and to provide five-star service to our members. Visit any one of our two new branches, and upon entering you will be greeted by a Relationship Specialist Concierge who will immediately assist you. Depending on your needs that day, you will be directed to the area of the credit union and to the team member that will best serve you, making your branch visit convenient, friendly and personalized.
The new Live Teller Connect machines provides more enhanced capabilities from the traditional automatic teller machines, or ATMs, by offering a more personalized experience, even after traditional banking hours. The new machines will work similarly to their predecessor, but offer several new features and benefits to make your experience more convenient and efficient, including:
Extended hours
Reduced lines
Video chat capability to a Nuvision teller who can assist you, in real time, with deposits, withdrawals, cashing checks and more
"Nuvision is about relationships and anything that helps us create a more positive, one-on-one banking experience for our members is a move we're going to make," Vice President of Member Experience Chris Brahney explains the inspiration behind this new branch concept. "Our members gave us feedback on what they felt would improve their experience and we listened. I'm pleased to say that we've received nothing but positive feedback about the warm and friendly atmosphere of our Fountain Valley location, and I'm sure our Costa Mesa members will feel the same."
Please note the previous Magnolia branch moved to the new Fountain Valley location.
To visit one of our new locations go to one of the addresses listed below and note the extended hours with our Live Teller Connect!
Fountain Valley
18629 Brookhurst Street
Fountain Valley, CA 92626
Monday-Friday, 9a-5p
Saturday 9a-2p
Costa Mesa
298 East 17th Street Suite D
Costa Mesa, CA 92627
Monday-Friday, 9a-5p
Saturday 9a-2p
Live Teller Connect
Monday-Friday 8a-8p
Saturday 8a-5p
ATM 24/7