Thank you for helping us make this a Merry Christmas for Children in Need!
Dec 29, 2022, 11:22 AM by Nuvision
As we wrap up the new year, we wanted to give a big thanks to everyone who helped with and donated to one of our many holiday toy drives. We were overwhelmed by the generosity of our members and our team, and we are happy to report that we were able to make the holiday season something to remember for quite a few children in need.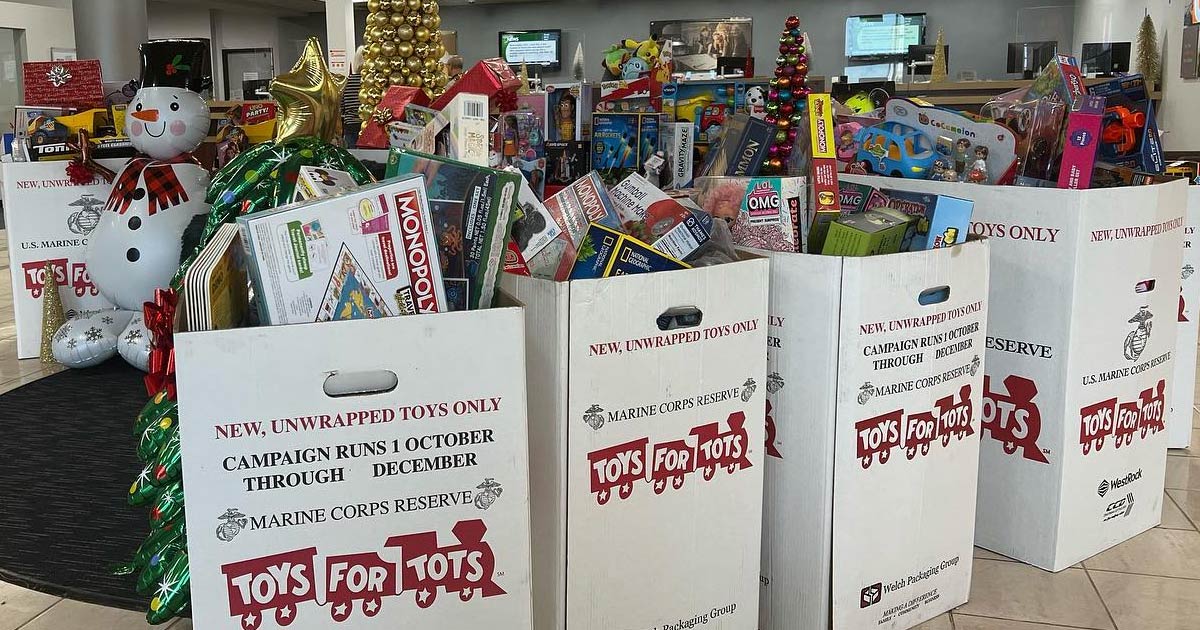 California Holiday Toy Drive and Community Events
In California, we were proud to help children in the communities we serve through our annual NuvisionCares Toy Drive, Huntington Beach Shop with a Cop, and the Indian Motorcycle of Orange County's 3rd Annual Holiday Food Drive.
This year's NuvisionCares Toy Drive was a huge success, bringing in over 500 toys that went to the Toys for Tots organization for distribution to children in need. We couldn't have done this without the support of our members and team members.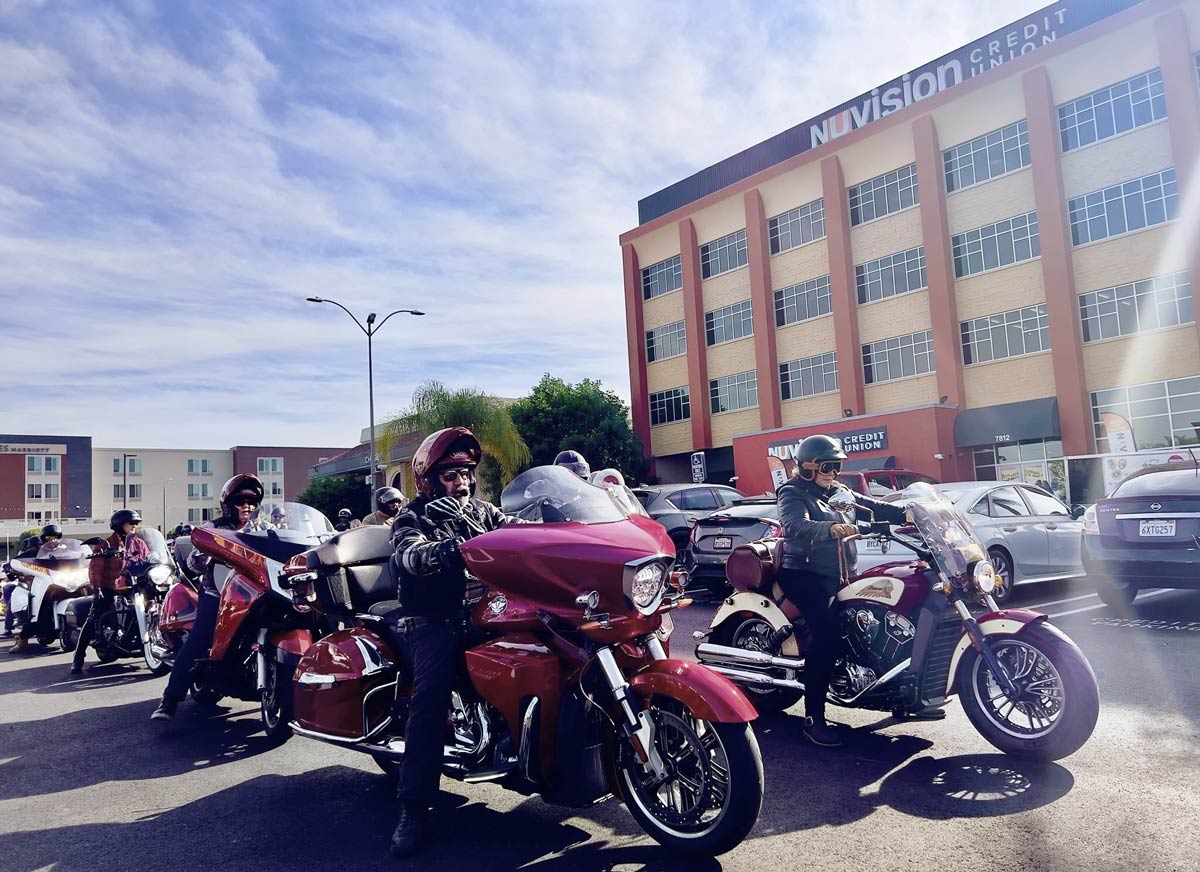 Earlier this month, we participated in the Orange County Indian Motorcycle Riding Group's 3rd Annual Holiday Food Drive. Nuvision was the first stop on the route and helped load donated food which went to stock the Robyne's Nest food pantry for at-risk and homeless high school students. Robyne Wood, Founder of Robyne's Nest, said, "Orange County IMRG, Nuvision Credit Union, Lions Club of Huntington Beach, and the City of Huntington Beach have been great partners the last few years in helping our organization stock our food pantry for at-risk and homeless high school students who suffer from food insecurity during the holidays and throughout the year."
We were also honored to be part of the Huntington Beach Shop with a Cop Program, where area students who might have gone without presents this holiday season picked out gifts for themselves and their families. Nuvision donated $5,000 to the Shop with a Cop program. We added an additional $100 to the amount children in the program received.
Wyoming Holiday Toy Drive and Community Events
In Wyoming, we teamed up with Toys for Tots, an organization founded in 1947 by a group of Marines who saw the need to support kids in their community. The nationally recognized organization helped us to provide holiday gifts for children in Laramie and Natrona/Converse counties.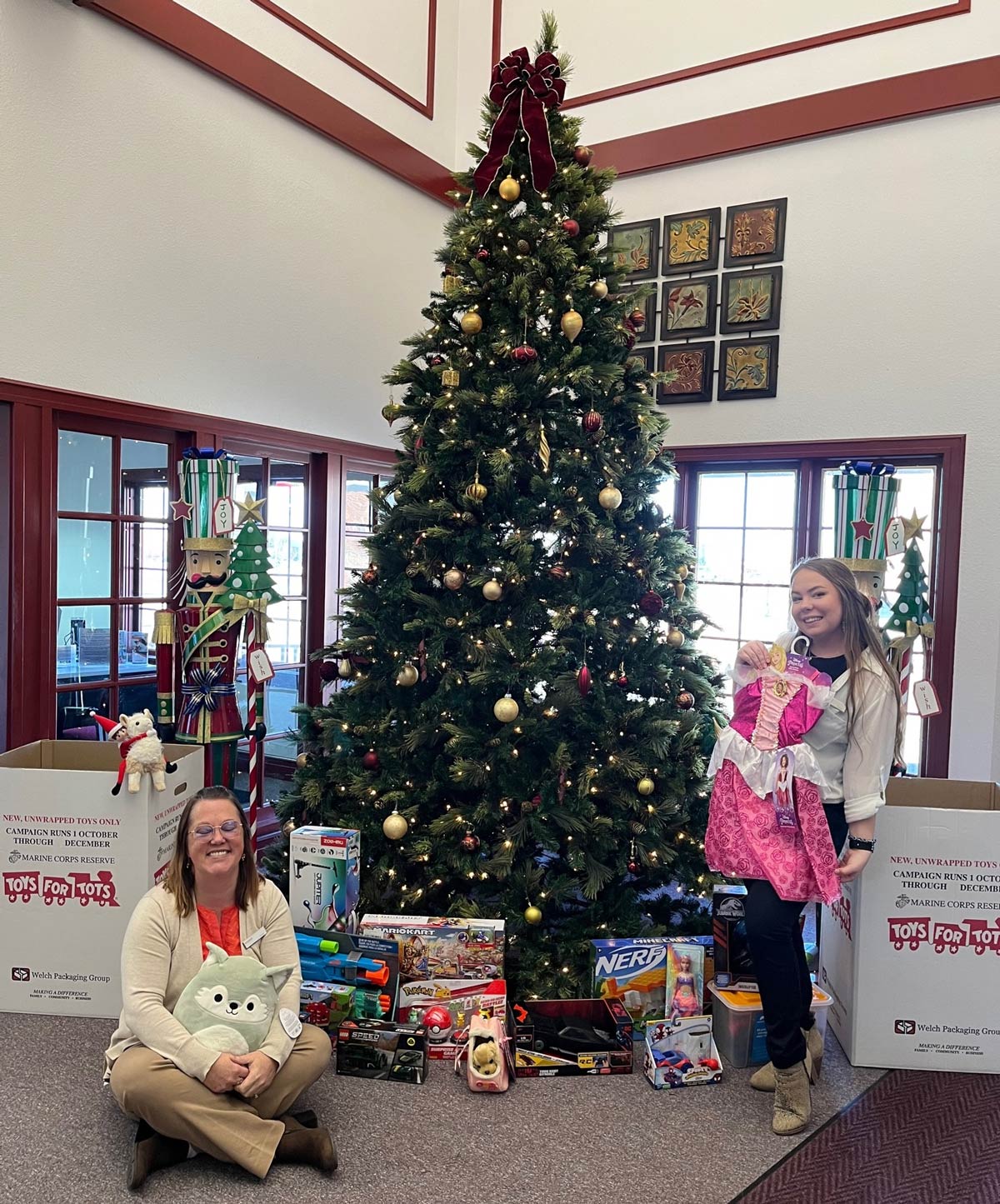 Alaska Holiday Toy Drive and Community Events
In Alaska, Nuvision supported several campaigns to help needy children throughout the holiday season, including several NuvisionCares Toy drives, the Anchorage Cops for Community Shop with a Cop Program, and the Anchorage Police Department's Shop with a Hero event.
We are incredibly grateful for our members and branch teams who collected well over 500 toys statewide during our Alaska Holiday Toy Drive! We sincerely appreciate everyone's support, and so do the children who had presents to unwrap on Christmas, thanks to you.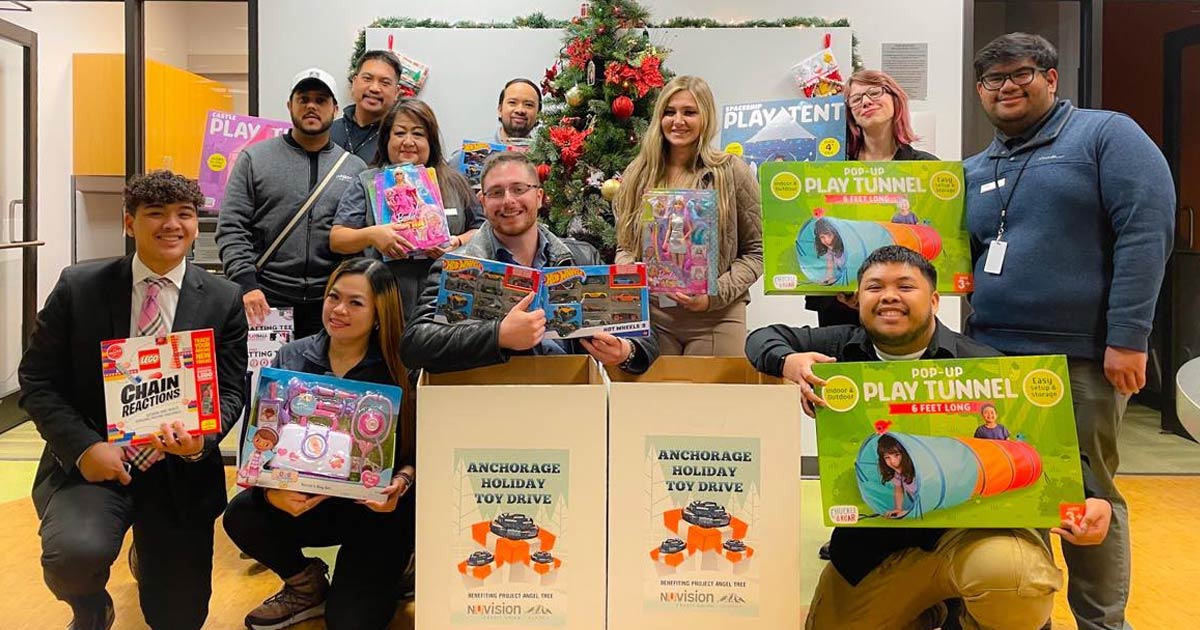 Throughout Alaska, we hosted toy drives in Fairbanks, Juneau, Kenai, and Wasilla. These gifts went to local partners that our branches selected, including Fairbanks Santas Helpers, Family Promise of Juneau, Operation Children First Kenai Kids Need Christmas and the Mat-Su Special Santa Program. We would not be able to make an impact like this without community partners like these doing the work on the ground and without the outpouring of donations from our members and the community.
In Anchorage and Eagle River, we collected toys for the Anchorage Police Department's Project Angel Tree. These gifts went directly to the Anchorage School District's Child in Transition Program, which benefits kids who are not living in stable or fixed housing.
SHOP WITH COP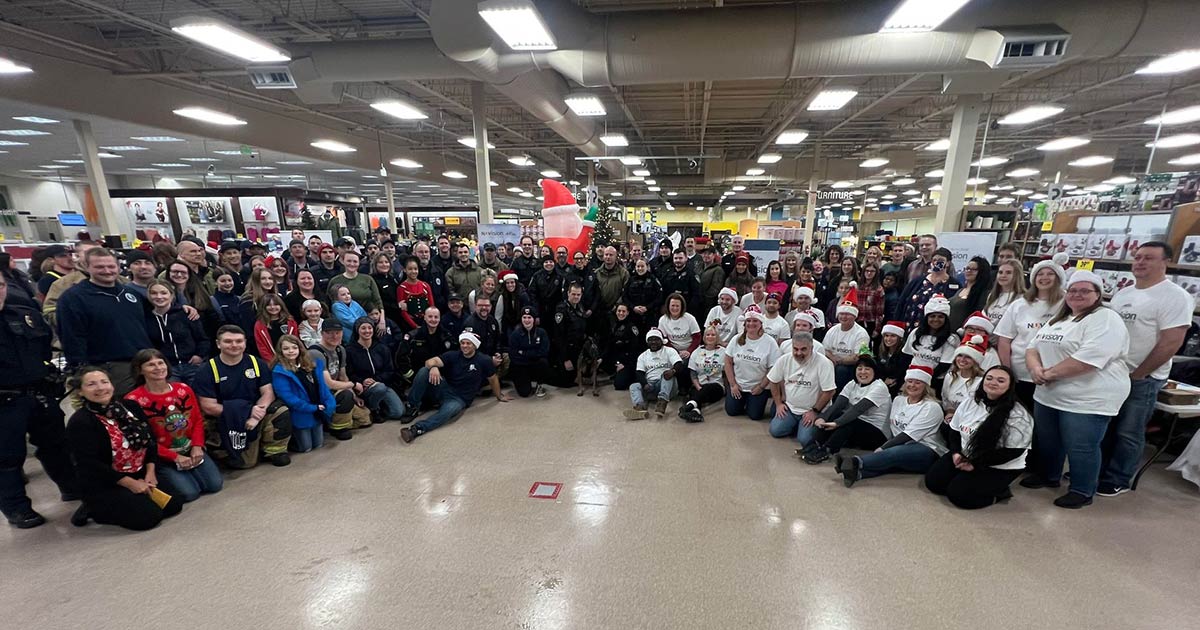 We were beyond delighted to participate in this year's Shop with a Cop and Shop with a Hero Events. It takes a village to support our kids in need, and teaming up for the 2022 Lisa Whitmore Shop with a Cop & Firefighter event resulted in each child receiving $225 to spend for the holidays for themselves and their families.
Officers from the Anchorage Police Department and firefighters from The Anchorage Fire Department were paired with a child from Catholic Social Services-Alaska, The Salvation Army Anchorage Corps Community Center, or the AWAIC shelter to go on a special shopping spree. Fred Meyer provided treats, and our team helped with gift wrapping, provided hot cocoa & cookies, and presented a donation of $6,500 to the program.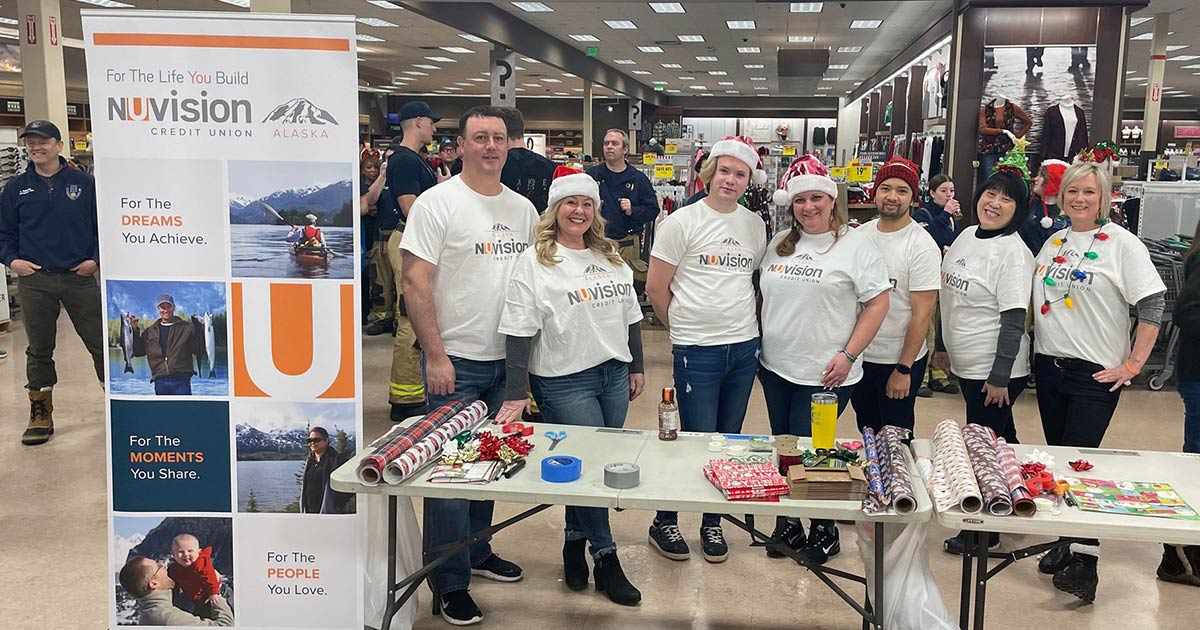 This year we also teamed up with the Anchorage Police Department for the Shop with a Hero event at the Walmart Supercenter Anchorage - Debarr Rd. We distributed 70 toys to these kids from the Anchorage School District and had the opportunity to shop and wrap gifts.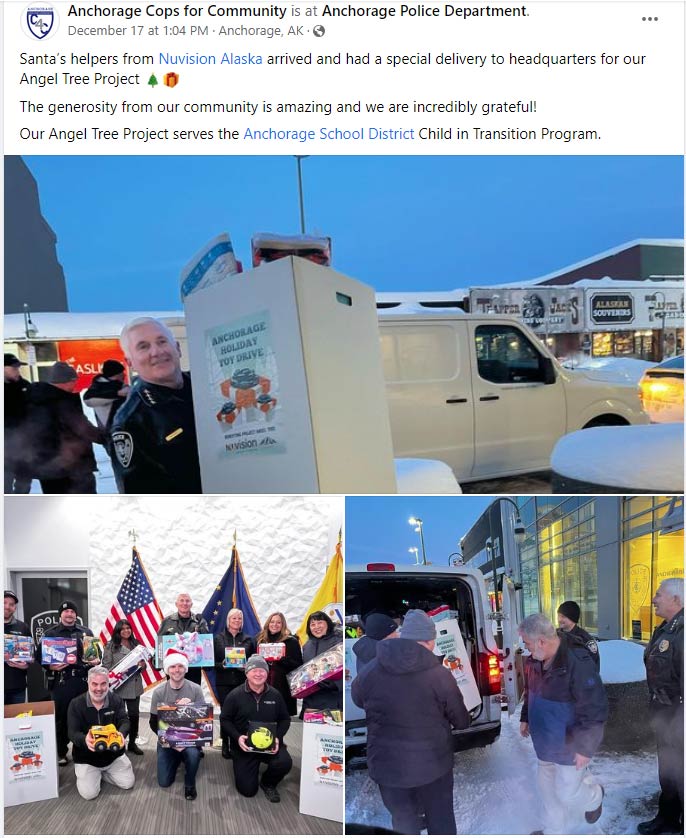 This December was truly a heartwarming and humbling experience to be able to show the children in the communities we serve that we care about them and wanted to give them a Christmas they will remember forever. Thank you to our Team members who volunteered their time, and thank you to all our members who made this possible.