How to save your money & possibly your sanity when shopping for school supplies
Aug 10, 2022, 12:36 PM by Nuvision Credit Union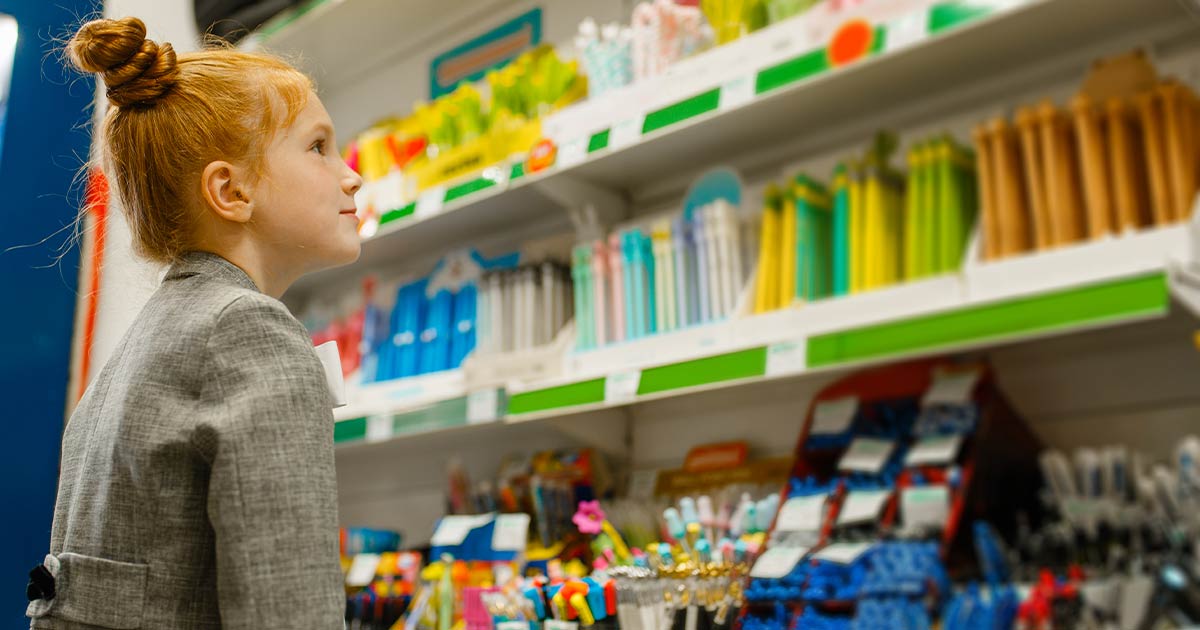 With the current inflation rate, we know that this back-to-school season is a significant stressor for parents under constant pressure to spend. In fact, according to a recent study, 75% of parents say they are stressed about paying for back-to-school shopping goods, an increase from 67% last year. In addition, according to the National Retail Foundation, parents expect to spend about $864 on back-to-school supplies—which doesn't even include the additional costs they'll pay for extracurriculars and field trips throughout the year.
Students' ever-growing needs for new backpacks, more supplies, and the latest clothes—paired with the rising price of supplies—can really overwhelm families. To get the most out of your money this school year, take a look at these tips:
Search the house
Before you step into the store, shop your house and see what you have available. One child may be able to reuse leftover supplies from a sibling who already went through that grade, or you might have some other items you've collected throughout the years hiding away in the closet.
As far as clothes go, this is an excellent time to go through each child's wardrobe and evaluate what they really need. Clothes that have been outgrown or are seldom worn can be given to another sibling or traded into a consignment shop for money you can put towards purchasing other supplies.
Have a Supply Swap
On top of searching your own home, you can ask your friends and family members with school-aged children to do the same thing and then have a supply swap. You can even coordinate with your local school or PTA and make an entire day out of it.

Basic is better
For every item on the list, you'll likely have two options: the generic and plain version and an exciting one with a character or cute design on the front. There is a significant price difference between these two. A simple folder might cost 25 cents, but the character folder is often sold for up to a dollar more.
As much as your kids might beg and plead for the cooler-looking supplies, don't buy them. For the price of one decorated item, you could get almost five plain ones. It adds up.
Instead of giving in, you can suggest that they decorate the basic supplies themselves. Getting out the glue and stickers to personalize notebooks can be a fun afternoon craft project.
Find deals on lunch foods
Packing a lunch for the kids is something you will need to do on a weekly basis. Spending time before school starts to plan out cheap, nutritious meals can be a great time and money saver once the year begins. See where the deals are in the grocery store, and stock up on items you know you will use. Juice boxes on sale? Buy five packs. Think ahead and plan past the first week.
Stock up NOW
While you shouldn't buy unnecessary items like locker decorations or expensive colored pens, purchasing extras of the things you know will be used constantly throughout the year is a good idea. School supplies are the cheapest around this time of year. You may be paying $0.99 per pack of paper versus $3.00. Long term, it'll save you money.
Use coupons
Coupons are free money, and they're everywhere. With minimal work, you can reduce the cost of your purchase. You can find coupons in stores, in magazines, newspapers, and available to print online. Big name brands like Post-it, Crayola, and Kleenex also offer manufacture coupons, which can often be used on items that are already on sale.
Try more than one store
For the common school supplies, you could try office supply stores. Places like Staples and Office Max might have even better prices than places like Walmart. Or, you could try the dollar store. They often have good deals on supplies, and when paired with a coupon, you can get them almost for free.
If you need any art supplies for school—markers, colored pencils, special paper—check out a craft store. Places like Michaels, Jo-Ann Fabrics, and Hobby Lobby regularly offer discounts and almost always have coupons available. These could be 25% off your total purchase or 40% off a single item. Either way, you can get these supplies for so much cheaper if you take advantage of the offers.
For backpacks and clothes, thrift shops can be a perfect place to find deals. Backpacks are often donated since kids frequently get new ones each year. The things you find could be in almost new condition but have significantly reduced prices.
Try shopping online
If you look in the right places, you can find a lot of great deals online. Retailers like Walmart and Target offer discounts just for ordering online and picking up in stores. Or, they could give you a coupon to be used at a later date. Amazon also has some good discounts and offers free shipping on many items.
In addition to saving money, shopping online saves valuable time. The time it saves alone could be worth it for you.