Nuvision donates over 750 toys and raises $6500 for kids in need through local toy drives
Dec 29, 2021, 19:55 PM by Nuvision
Thanks to the overwhelming generosity of our team members and community, our toy drives in California and Alaska were a huge success! In total, we donated over 500 toys in California and over 250 in Alaska, along with almost 100 gifts in Wyoming!
Every single person who donated has helped us make a big impact on disadvantaged kids living in our communities, who were able to experience the excitement of waking up on Christmas morning to new toys under the tree. It's an honor to serve our community in this way and bring joy during the holidays.
Raising $6,500 for the Shop with a Cop program and donating 250 gifts to Project Angel Tree in Alaska
This year, our toy drive benefited two programs run through the Anchorage Police and Fire Departments: Shop with a Cop and Project Angel.
Shop with a Cop & Firefighter- 12/17
With our $6,500 donation to the Shop with a Cop and Firefighter program, we doubled the amount children in the program receive, adding $100 to every account. Run by Anchorage Police and Fire Departments, this program has put gift cards in the hands of 1,300 homeless children over the past 22 years, giving them the special opportunity to buy themselves gifts. Most end up shopping for family, which is why Nuvision stepped in—to ensure they had enough to do both.
"I truly believe that those who are happiest are those who do more for others," said Nuvision CEO Roger Ballard. "When I learned that many children spend their money on gifts for individuals in their families, I knew we had to contribute. Our team is committed to supporting communities across Alaska. We were thrilled to help and wanted to make sure kids this year had a little extra to buy something for themselves."
On December 17th, children were picked up from local homeless shelters in limousines and greeted by Anchorage police and fire employees at a local Fred Meyer, where they got to shop and spend their $225. Nuvision team members joined in to greet the children and first responders, wrap gifts, set up a hot chocolate and cookie station for the kids, and provide coffee for the officers. It was packed! Our volunteer group loved seeing so many happy faces and excited kids.
Shop with a Cop at East Anchorage Walmart – 12/18
Because there were so many children involved in the Shop with a Cop program this year, shopping continued the next day for a second group at a local Walmart. This separate group joined a police officer to shop with a $100 gift card from Walmart, take photos with Santa, meet K9 dogs, and select a gift from our Nuvision Alaska table. We distributed 50 toys at this event.
We were honored to have great feedback from local police and firefighters for our involvement in the programs We were also thrilled to be featured on Channels 2 & 5 news! The segment can be viewed here.
Project Angel Tree & In-branch Toy Drives
In addition to supporting the Shop with a Cop and Firefighter program, we hosted toy drives in every Nuvision Alaska branch. Many of these supported Project Angel Tree, another police-run program that serves students in need identified by the Anchorage School District.
We collected nearly 250 toys, between Amazon and branch donations.
Collecting 500 toys for the Marine-founded Toys for Tots program in California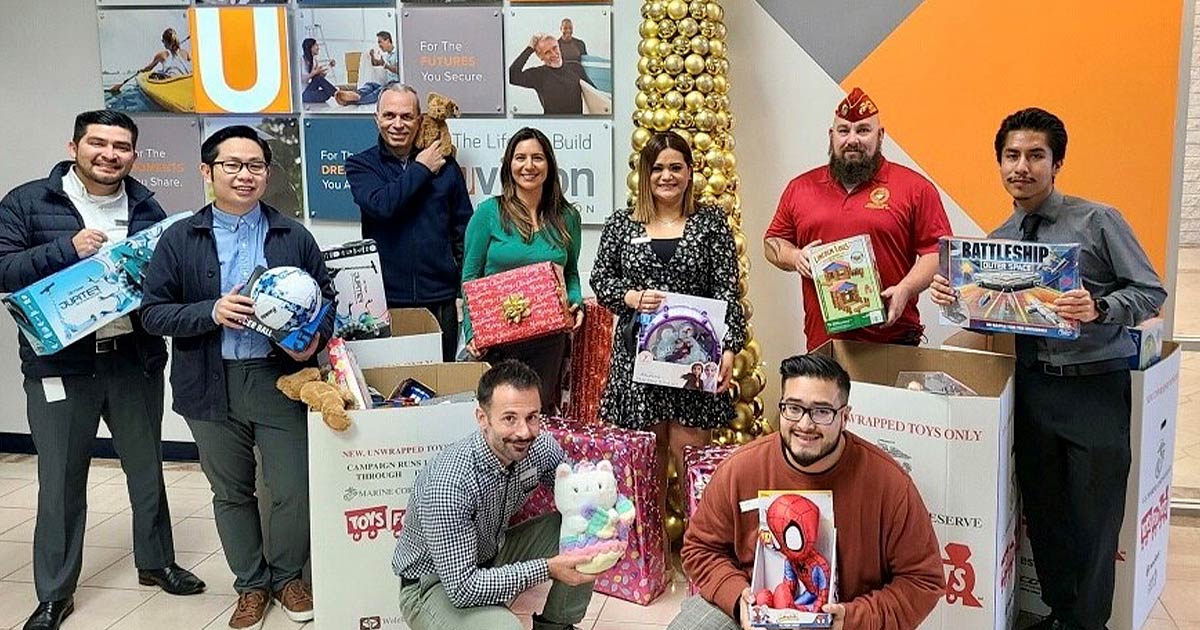 Our annual Toys for Tots drive is an event we look forward to every season. Founded by Marines in 1947, the program has impacted thousands nationwide by collecting gifts for underprivileged children. We're honored to be a part of this mission and to know our efforts help put toys under the tree for kids in our community. This year, we collected 500 gifts!
It's always heartwarming to see members walking through our branch doors with boxes in hand, ready to donate to make a child's Christmas brighter. Our team enjoyed seeing the donations grow throughout December and packing them up to be sent off and enjoyed by local kids.
We were also touched to have Lieutenant Colonel Ken Graham share a heartfelt message about Nuvision's involvement in the program, which can be viewed on our Facebook page here.
Thank you to everyone who donated time, toys, and money to support local children!
Every trip down the toy aisle, dollar donated, and minute spent wrapping boxes has made a difference. Thank you to everyone who spread the word about this program, and thank you to everyone who contributed!
Our annual toy drives are a unique opportunity to both help children in need and support the missions of heroes who keep us safe, the Marines through Toys for Tots and local first responders through the Alaska Shop with a Cop and Project Angel Tree programs.
We are so grateful for our community and look forward to continuing this tradition next year!