Community update: Nuvision honored over 700 veterans with $25 gas cards in November, raised $11,000 for food pantries, and will host holiday toy drives in December
Nov 30, 2021, 09:46 AM by Nuvision Credit Union
It's been a busy couple of months at Nuvision. We've raised $11,000 for food pantries in Alaska, gave over 700 veterans $25 gas cards across all markets, and hosted a number of lunches and events to thank the local military. Now, it's about to get even busier!
As we enter the holiday season, our efforts to serve the community are ramping up. Between toy drives and other holiday festivities, we're excited to continue investing in the neighborhoods we serve. Here's a recap of what we've been up to during the past few months and a glance at what's coming this December:
Alaska
This past month….
Warrior Care Month Breakfast at Joint Base Elmendorf-Richardson
On November 5th, we partnered with the US Air Force Wounded Warrior Program to donate and serve breakfast to active-duty military heroes.
Anchorage Senior Activity Center's Annual Veterans Appreciation Event
For the 2nd year in a row, Nuvision was the proud title sponsor of the Anchorage Senior Activity Center's annual Military Appreciation Lunch. Over 200 in-person and virtual attendees came to hear a special message from Senator Dan Sullivan and notable local veterans. Nuvision donated $3,500 and gave 10 gas cards to veterans in attendance.
3rd Annual Veterans Day Lunch Celebration at American Legion Post 1
This month, we held our 3rd annual Veterans Day lunch celebration at the American Legion Post 1. Our team served nearly 300 veterans a lunch catered by Peppercini's and distributed $25 gas cards in honor of Veterans Day. Veterans enjoyed food, live music, community, and a special presentation where we donated $2,500 checks to both Battle Dawgs and the American Legion post.

It was an honor to spend time with hundreds of courageous veterans with incredible stories to tell. Thank you to every active-duty military member and veteran who attended! We wouldn't have the freedoms we enjoy without the sacrifices you have made.

We would also like to express our gratitude to American Legion Jack Henry Post 1 for hosting, Peppercini's Deli and Catering for preparing a delicious lunch, and Battle Dawgs for speaking on your commitment to supporting vets.

We were also thrilled to be featured on Channel 2 news! To view the segment they put together, click here.

$11,000 Raised During the Help Fight Hunger Food Drive
Through the end of October, we ran our annual Help Fight Hunger Food Drive as part of Alaska Hunger Action Month. The generosity of our members and community members was incredible to see. Because of you, we collected nearly 3,000 pounds of food and raised $6,000. We matched this with $5,000, bringing our total donation to $11,000 for The Children's Lunchbox.
These donations will directly go to filling their warehouse for their pantry pack program.
Additional donations were given to the Kenai Peninsula Food Bank, the Helping Hands Food Bank of Juneau, the University of Alaska Student Food Pantry, and the MatSu Food Bank in Wasilla.
550 $25 Gas Card Giveaway throughout Alaska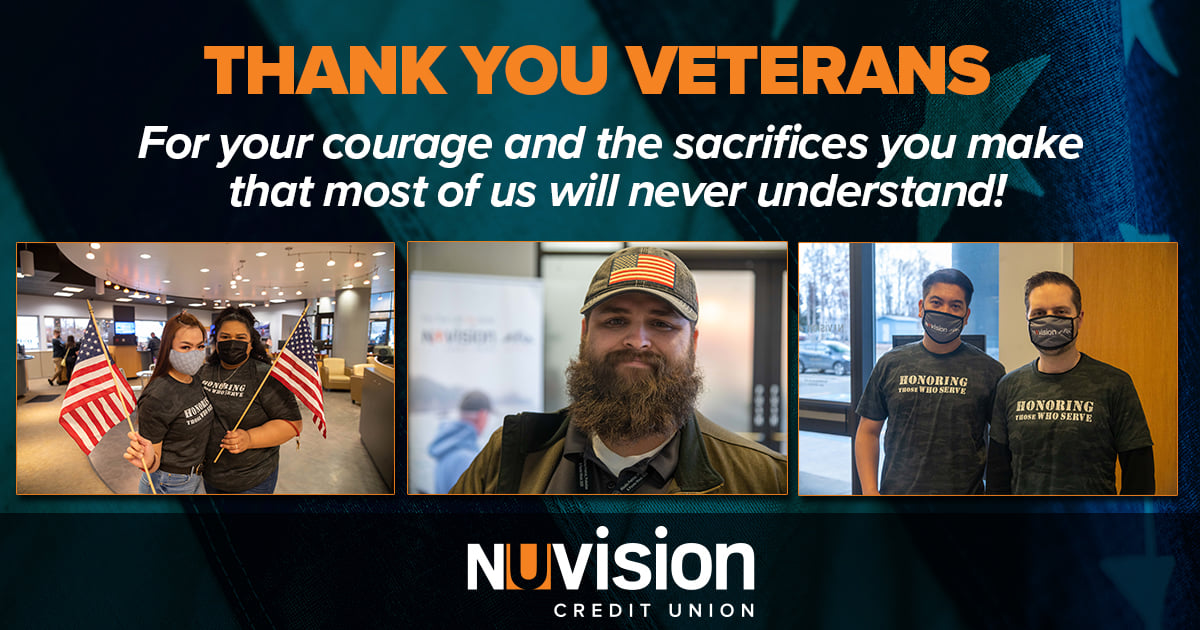 We distributed over 550 $25 gas cards to veterans and active-duty military throughout our branch network in Alaska! These cards were given away at our Anchorage FC, Eagle River, Northgate Fairbanks, Juneau, Kenai, and Wasilla branches on Wednesday, November 10th. Veterans were able to grab a sandwich and coffee from Peppercini's when they stopped by.
Coming up...two partnerships with the Anchorage Police Department to brighten the holidays for local kids in need!
Shop with a Cop & Firefighter
We are excited to be partnering with the 9th annual Shop with a Cop program. Run by Anchorage Police and Fire Departments, this program puts $120 Fred Meyers gift cards in the hands of homeless children to give them an opportunity to shop for themselves.
Though the money is intended for them, many of these children end up wanting to shop for family and friends instead. So, this year Nuvision will be donating an additional $100 per child to the program to ensure every child can purchase gifts for themselves. To learn more about this program, you can view last year's event on the news here.
Project Angel Tree Toy Drive at Nuvision Branches
We are again encouraging all members to join our team in filling our branches with toys during December. This year, donations will benefit the Anchorage Police Department's Project Angel Tree program.
Through this program, gifts are given to children identified as students in need by the Anchorage School District. Many of these children lack a fixed, regular, or adequate residence and often stay in shelters, motels, with friends, in cars, or in transitional housing and would otherwise not receive anything during the holidays.
Members of the public donate unwrapped gifts, volunteers wrap the presents, and APD officers deliver them to the families in time for Christmas.
"Here at Anchorage Cops for Community, we are so excited to partner with Nuvision for this giving season. We are so thankful that Nuvision has committed their support in making this year's Lisa Whitmore Shop with a Cop and Firefighter as well as APD's Angel Tree successful," said Angie Salvato, Community Relations Director for the Anchorage Police Department Employees Association.
"These two programs make Christmas a possibility for children and families in shelters and in housing transition across Anchorage," Salvato said. "Additionally the programs allow the community to partner with law enforcement officers and first responders in a positive way which pays dividends to everyone."
California
This past month….
225 Gas Cards Distributed in Veterans Day Gas Card Giveaway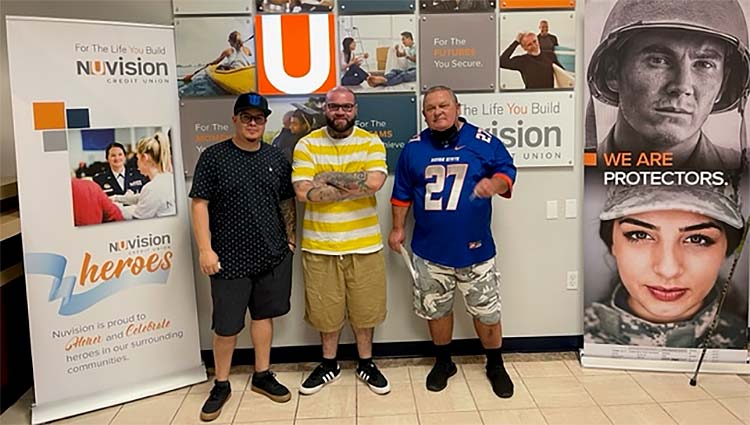 Our branches across California honored veterans by distributing $25 gas cards. This year, we gave away 225! This giveaway is always one of the highlights of our November, and we were grateful for the opportunity to host it again.
Coming up…
Donating Toys to Local Children in Need through Toys for Tots
Every year, we partner with the Marine-founded Toys for Tots program to collect gifts for local families in need. Since 1947, Toys for Tots has been able to bring smiles to the faces of thousands of children because of the generosity of those in the community who donate time, energy, and resources to the program.
This year, over 650 local nonprofits are requesting toys, including the Boys and Girls Club Westminster, which serves over 100 kids through their afterschool and enrichment programs.
We're inviting all members and community members to help us meet the increased demand for gifts by donating a new, unwrapped toy to any Nuvision location. Alternatively, you can donate online through our Toys for Tots wish list and have the item delivered to the Nuvision collection site.
Wyoming
This past month….
250 Veterans Served BBQ Lunch on Veterans Day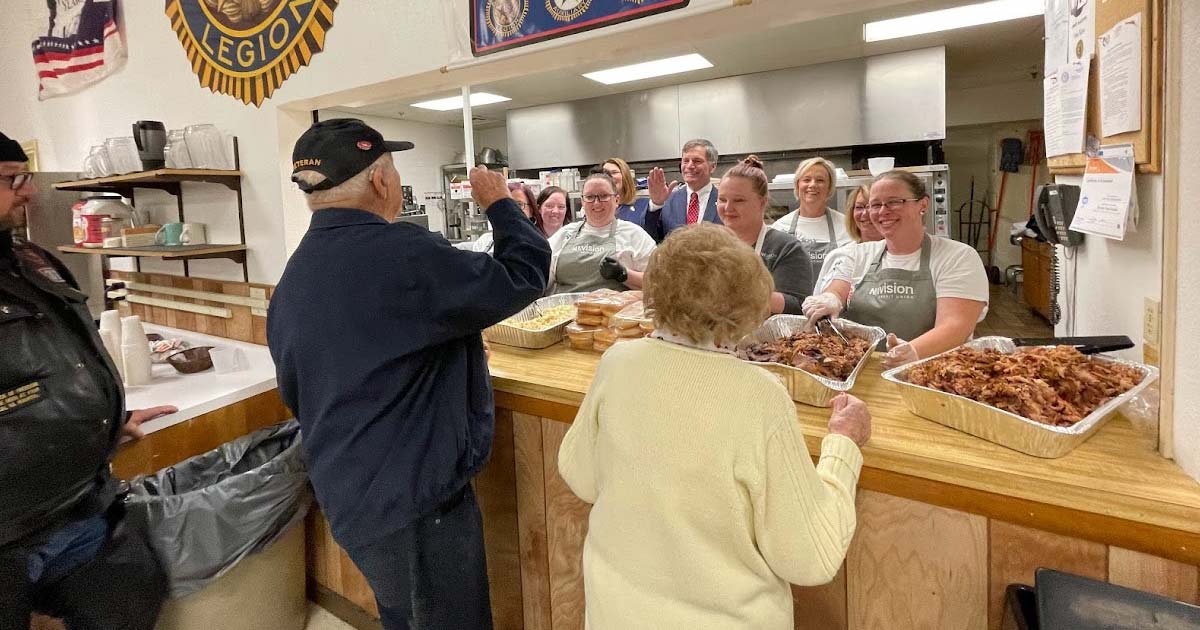 We were proud to host a special event for Wyoming veterans at the American Legion Post on Veterans Day. We were joined by 250 veterans, including Governor Mark Gordon and his wife Jennie. Staff from local Nuvision branches stayed throughout the event to talk to veterans and help serve lunch.
Coming up…
Nuvision Hosting Annual Toys for Tots Drive
To honor the local military and help kids in the local community, we will be hosting our own Toys for Tots drive at the 18th Street and Converse Avenue branches in Wyoming. Like we have in previous years, the Nuvision team will be filling these branches with as many toys as we possibly can. We're encouraging members to join us.
Every toy goes towards helping local children have a wonderful holidays season. We hope you will help us by donating!