Live music, ceremonies, and a scholarship contest—our summer calendar is packed with events to honor hard-working members like you!
May 28, 2021, 08:43 AM by Nuvision
Now that covid restrictions have eased, our calendar for the coming months is filled with exciting events. Whether at a ceremony or relaxed evening with dinner and music, we want to connect with our community, bring people together, and have some fun as we move into this next season.
To kick off the summer, we're celebrating community members like YOU with dinner, drinks, and live music!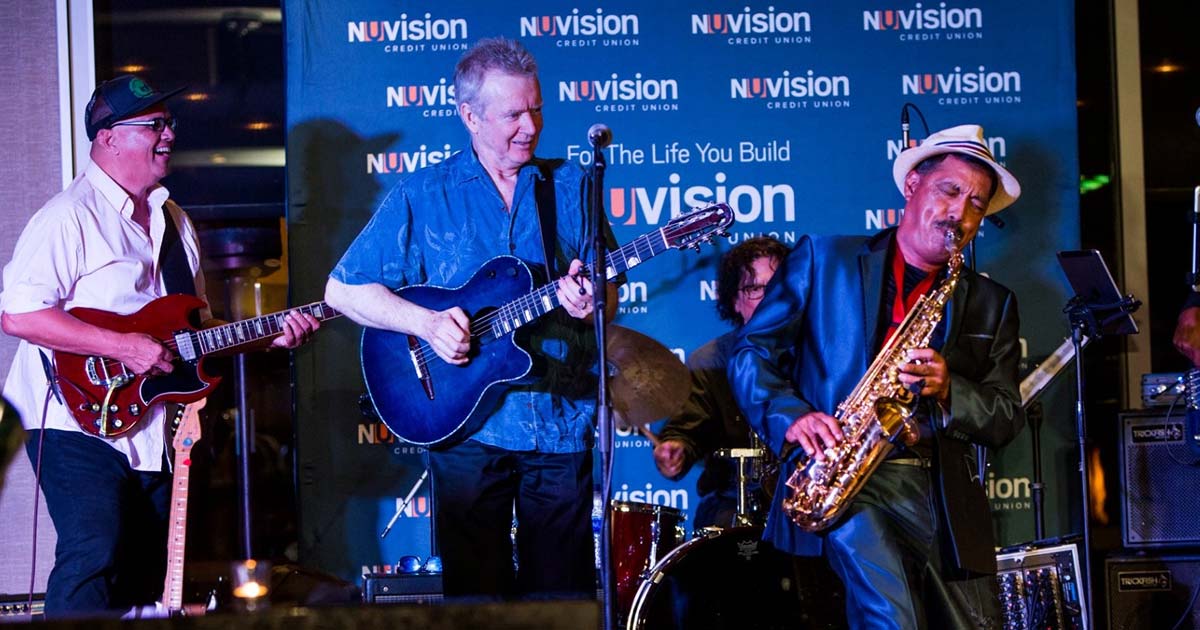 It's been over a year since we last gathered in person. We're making sure our first event back is one to remember.
On Thursday, June 24, 2021, we'll be hosting an evening event at Solita Tacos & Margaritas, located in the Bella Terra shopping center in Huntington Beach. Members like you will be treated to dinner and drinks, accompanied by live music by world-renowned saxophone player Michael Paulo and his special guests.
You're invited to join us as we celebrate all our Nuvision members and community have done to support each other through these difficult times. As a member, you can register now. Spots are limited and fill up fast, so be sure to secure yours today.
Hosting this event is our way of honoring you and supporting a small local restaurant that pushed through the pandemic. It's also an opportunity for us to bring together all of the people who inspire us in one place. Along with members, we're inviting a few of our community heroes, leaders of charities and organizations we partner with, and other hard-working people in the community.
Students can still earn money through our scholarship program with our extended deadline. Applications open now - June 25th.
As we work to build our community through events and outreach, we know students are a huge part of that mission. They're the future, the next generation of hard-working people who will move us forward. Our scholarship was designed to teach foundational financial literacy skills while also providing them the opportunity to earn money for their education.
With summer coming, we wanted to give students a few more weeks to polish up their essays, or write them if they haven't had the opportunity. Through June 25th, students who watch one of our Money Master Class series webinars and submit an essay on what they learned will be eligible to win up to $5,000 in scholarship money.
Two $5000 scholarships and twenty $100 runner-up prizes will be awarded. Winners will be announced on June 30th. Students do not need to be members to apply. They just need to follow the instructions on our Essay Challenge website to enter. Don't miss this opportunity!
Visit our website to register for the Nuvision Essay Challenge. Rules and eligibility can be found here.
Join us Monday as we honor the soldiers who laid down their lives to protect our freedoms.
Family, friends, and community members are invited to join our Memorial Day ceremony this Monday, May, 31st. We'll be giving away $25 gas cards to military members who pre-register, and hosting a ceremony open to all.
We can't repay the fallen soldiers who made the ultimate sacrifice, but we can remember them by celebrating those who continue to fight for freedom. That's what we're doing at our ceremony, which will run from 9-10 am and include free breakfast and coffee, the presentation of the color guard by local youth cadets, the recognition of a few extraordinary local veterans, and the awarding of $2,000 checks to three amazing veteran support charities.
Tacos 4 Troops, a local nonprofit that exists to give back to active duty service members, will be there to cater. Thom Tran, a Los Angeles comedian, musician, and veteran who started his comedy career after a combat injury forced him out of service, will be our MC. Our National Anthem will be sung by Elliott McKenzie, veteran and renowned musical artist. And just like last year, Peet's Coffee will be back to provide refreshments.
Active-duty service members and veterans who reserve their cards in advance can pick up a gift card at the Edinger Branch from 8:00 am-10:30 am.
We love the members in all the areas we serve: Here's a peek into what's coming up at other locations:
In Alaska...
4th of July BBQ – The local community is invited to join us at our Financial Center for an afternoon BBQ to celebrate freedom on Independence Day. There will be lunch, Hawaiian Shaved Ice, activities for the kids, and opportunities for family fun.
Member Appreciation Event – We're planning an appreciation event for members, local heroes, and community partners on August 19th. Guests will be treated to dinner, drinks, and live music by a top local band.
Essay Challenge Scholarship Program – Three Alaska students will win $5000 scholarships. Winners are announced on June 30th.
In Wyoming…
Memorial Day – The Wyoming team will be pumping free gas for military members in Cheyenne this Monday. Last time this event happened, the team pumped gas into 500 cars!
Freedom Ride - We're partnering with High Country Harley Davidson for our first annual Freedom Ride in Cheyenne, which will bring together bikers from across the region to support local first responders, military, and veterans' organizations. The ride will support local veteran charities, like the High Plains Honor Flight and Dogs and Tags of Wyoming.
Member Appreciation Event – On June 30th, we will be hosting our first member appreciation event in the Casper area. Guests will be treated to a catered dinner, drinks, and live music. They'll also enjoy remarks by special guest speakers, a warm welcome by CEO Roger Ballard, and a brief donation presentation from Nuvision to a local charity.