Are you in it to Win it? Today, we start our 15K Added Advantage Giveaway!
Nov 30, 2020, 08:10 AM by Nuvision Credit Union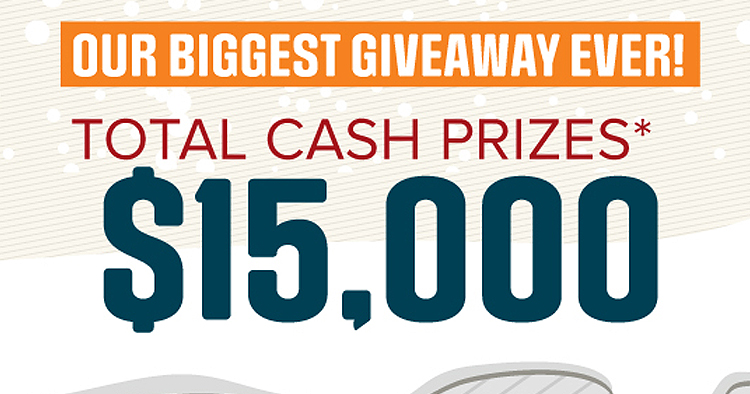 Today, we will be drawing our first winner for the annual Added Advantage Holiday Giveaway. This giveaway is an exciting time for us at Nuvision, and we look forward to it with almost as much enthusiasm as Christmas morning. Why? Because as much as we love the actual holidays, our Added Advantage giveaway is the perfect opportunity to thank hard-working members like you! Consider it a gift—from our Nuvision family to yours.
We understand that this year has been full of difficulties. You've been hard at work, making sure your family is taken care of and trying to keep business running strong. Extra work invites extra rewards, which is why we're thrilled to be offering our biggest giveaway ever with a total of $15,000 in cash prizes.
You could win up to $5000!
This year's potential prizes are three times what they were last year. By signing up, you could be one of ten lucky winners to receive a $500 cash prize or our extra lucky grand prize winner of $2,500.
Because you work so hard, we are also doubling the prize for those who follow us on Instagram @nuvisioncreditunion. That means our grand prize winner can actually win up to $5000.
Drawings happen every Monday, Wednesday, and Friday from 11/30 to 12/21. On New Year's Eve, we'll select our grand prize winner. Click here to register now.
This giveaway is one of many ways we give back.
We love giving back to our members. Our bi-annual Added Advantage giveaways are one of the ways we do that.
In past years, winners have been thrilled and surprised to receive their cash award, "It came in just in time! I can make the holidays more special for my family with this extra cash," one of our winners said in 2018.
"I was shocked to find out I won," said another member of 30+ years. These are the kind of stories that make the giveaway worth it. We love helping our members in any way we can, especially those who have been with us for so long. After all, you're the ones who make Nuvision who we are: the credit union for hard working people.
Accept our gift to you this season—sign up today.
We hope you'll take this opportunity for a chance to become one of this year's winners. To register for the giveaway, visit our Added Advantage Giveaway Page and fill out the entry form. For more information, you can also visit the program homepage here.
If you've already signed up, don't forget to follow us on Instagram for a chance to double your prize.