Nuvision Heroes: Leading By Example
Sep 30, 2020, 07:34 AM by Nuvision Credit Union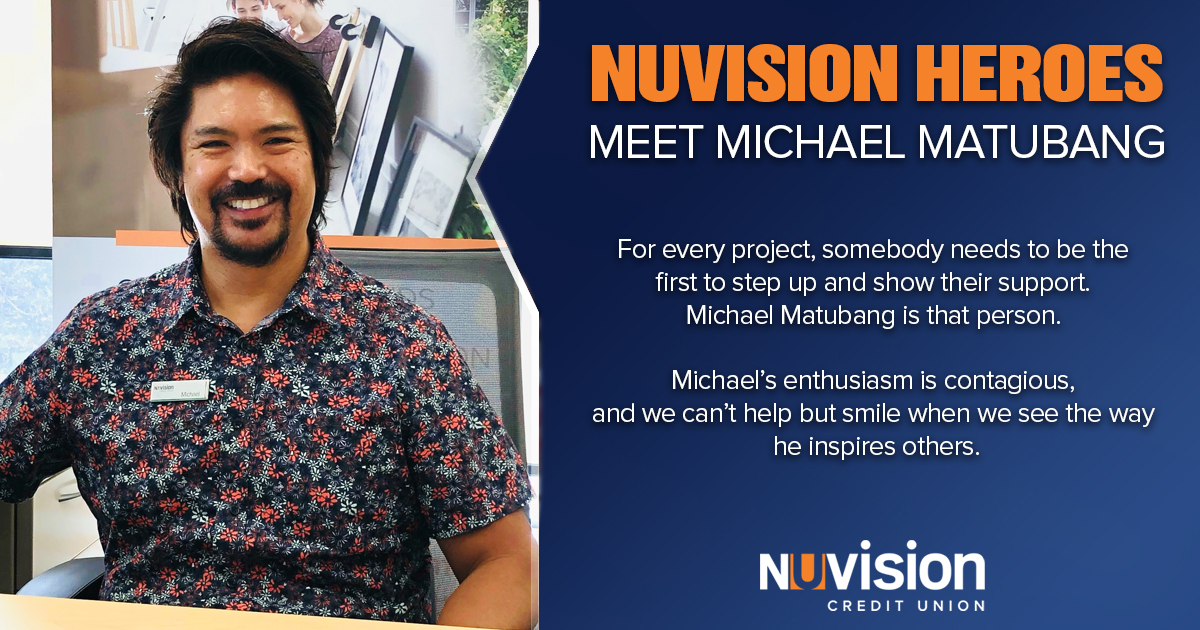 Each month, we like to highlight a member of our team who exemplifies our values of hard work and community service. This month, we choose Michael Matubang—a team member of our mortgage business development team.
For the three years, he's been with us, his cheerful disposition and welcoming personality have made Nuvision brighter. He's passionate, good-hearted, and always ready to serve. "Service means sacrificing your own comfort and security to meet the needs of others," he told us. Michael lives out this definition every day he shows up to work.
As the first to volunteer, Michael leads by example.
For every project, somebody needs to be the first to step up and show their support to encourage others to join. Michael is that person.
He's one of our most engaged team members, always ready to jump in and help. He and his wife have come to countless Nuvision events to lend a hand—Freedom Ride, Memorial Day Gas Giveaways, Toys for Tots, and so many more. Their support has been invaluable.
Michael enjoys the time he spends in service of others, especially at events like the military gas giveaways, "I love to see the faces of veterans who receive free gas. It's incredible to hear that they all come from all walks of life, yet they make a difference for us all as Americans."
"I also love Toys for Tots," he told us. "Even though I don't have children, I always wanted to make a difference for the younger generation and give them something to smile about during the holidays."
Michael's enthusiasm is contagious, and we can't help but smile when we see the way he inspires others.
On the clock and off the clock, he lives to serve the community.
Last year, Michael was recognized as volunteer of the year at our Member Appreciation Concert. While he puts in a lot of effort to show up at Nuvision outreach events, he's equally active in the community outside of work.
Michael assists senior citizens in his neighborhood by bringing them groceries and running errands—a job even more vital during coronavirus times. He also volunteers regularly as a chaperone for the Tim Tebow Foundation's "Night to Shine," a prom night for teenagers and adults with special needs. The program allows them to have an evening full of music, dancing, and fun at churches nationwide.
He's a friend to all--and family to friends.
One of Michael's distinguishing characteristics is his friendliness. He makes friends everywhere he goes and does his best to ensure everybody feels welcome. It's part of the reason he enjoys traveling during his time off, "I love to travel around the world since I have family and friends living in different countries," he said.
While at our events, Michael always tries to introduce himself to new people and make them feel like they are part of the Nuvision family. On the job, he networks with members and realtors to help connects them to resources at Nuvision.
Many of the people he's befriended through Nuvision are business owners. During these difficult times, he's been showing them extra support by ordering takeout and donating money.
Michael says it's just how his parents raised him. Being kind, helping the community in times of need, and helping those who are less fortunate are part of his family's values.
This love for people makes him a great ambassador for our credit union. We can always count on Michael to represent our values of service, hard work, and good conversations.
Thank you, Michael, for all your hard work!
Without team members like Michael, we wouldn't be the credit union we are. We're grateful for all of our staff who go above and beyond to make our members feel welcome and to ensure our community knows we care.