Nuvision Heroes: Honoring a team member who inspires us all to find our unique way of serving the community
Aug 29, 2020, 07:41 AM by Nuvision Credit Union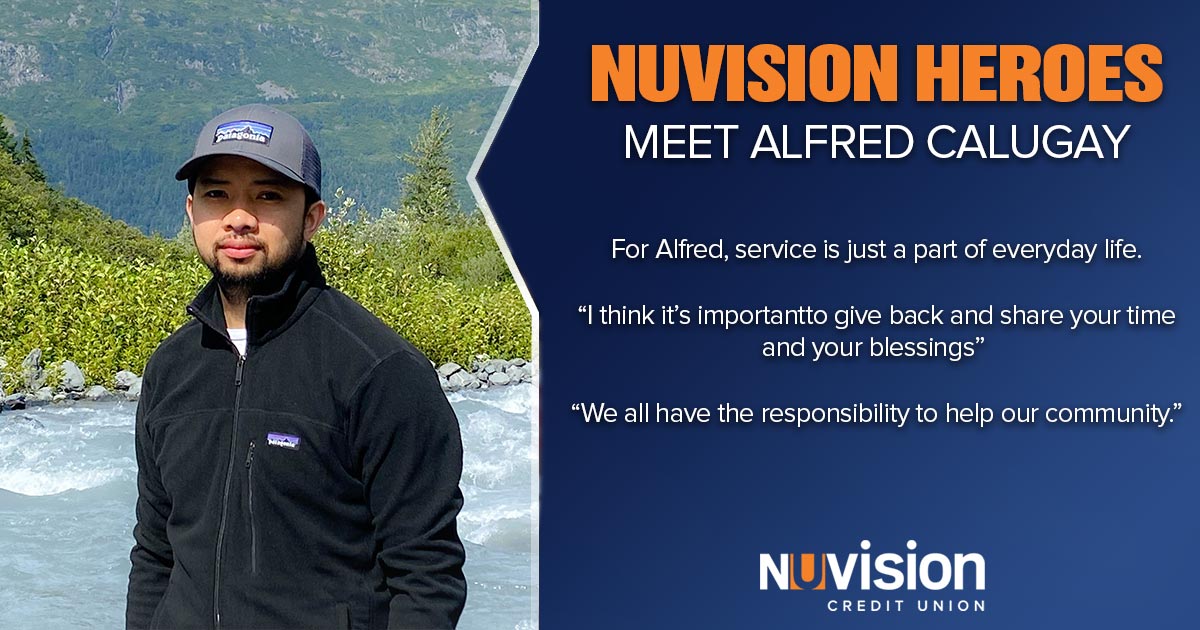 Each month, we like to highlight a member of our team who exemplifies our values of hard work and community service. This month, the Denali team choose Alfred Calugay–one of our inspirational branch managers who reminds us that we all have a role to play in serving our community.
Born and raised in the Philippines, Alfred has been living in Alaska since 2003 and has worked with the credit union since 2008. In those past 12 years, he's made an impact on many others.
Service doesn't take superhuman abilities—just dedication and an understanding of your unique gifts.
For Alfred, service is just a part of everyday life. "I think it's important to give back and share your time and your blessings," he said. "We all have the responsibility to help our community."
Over the years, he's lent a hand to programs like the Anchorage City-Wide Cleanup, Junior Achievement of Alaska, and the Get Real Financial Reality Fair. For the past three years, he's also helped lead the Nuvision Coats for Kids drive for Salvation Army, a program that supports local children and teens in need with winter coats, hats, and gloves to get them through the cold winter months.
Heroes live out their values, inside and outside the office.
Outside of work, he's volunteered at the food pantry, school supply giveaways, and Christmas gift giveaways with Catholic Social Services.
Alfred places a high value on civic engagement and is always looking for ways to use what he has to give back. He believes that everybody has the ability to serve. It's just a matter of figuring out what you can give—whether it's time, skills, or resources.
"Giving back to the community comes in many shapes and forms," he said. "You can make small donations, give new or used clothing, or help out for an hour once a month. Every little thing counts, especially during this pandemic."
Building community connections: The importance of pulling together during tough times
Alfred's idea of a community is one where everybody is involved, pitching in and partnering together during times of need. He shares Nuvision's dedication to lifting up the community and our desire to build relationships that help us better understand how to meet people's needs. "I'm thankful that I work for a company that values community service and encourages employees to volunteer," he told us.
When we asked about the impact of the COVID-19 crisis on his local community, Alfred noted that it has taken a toll on everyone—from local businesses to schools, jobs, and community events. "As a community, we need to come together and help each other," he said. "We are really in this together."
He also mentioned the importance of helping small businesses during this time, something we've given special attention through the recent NuvisionCares initiative to help local restaurants survive. "A lot of people lost their jobs and their business. That's why it's important now more than even that we support our small business owners. Buy local!" he said.
Without hard-working team members like Alfred, we wouldn't be where we are today.
We're grateful for Alfred's dedication to the credit union for over 12 years. It's people like him who allow us to serve members and build up the lives of people in our community. He's a team member who truly pushes us to be better and live up to the high standards we set for ourselves as an organization.
Thank you, Alfred, for everything you do!