Shalimar Relief Fund: Helping our next generation through the COVID-19 crisis
Jun 8, 2020, 16:32 PM by Nuvision Credit Union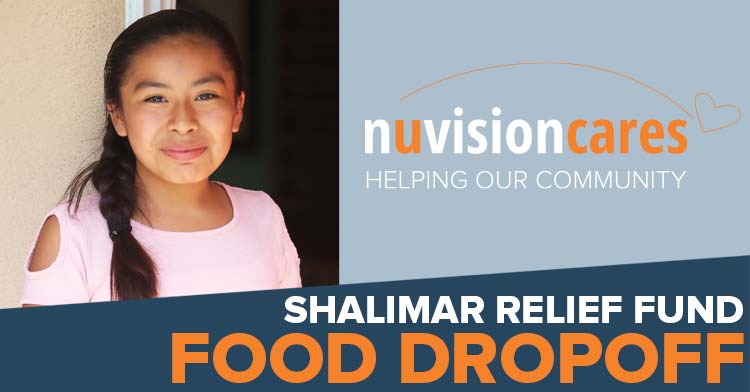 We are teaming up with Think Together's Shalimar Learning Center to help them raise funds for families who have lost their income during the coronavirus crisis. From June 8th through June 30th we will be collecting non-perishable food and goods like household paper goods, diapers and formula. The items will be donated to families with students enrolled in the organization's afterschool programs.
For over 25 years, the Shalimar Learning Center has been providing a safe afterschool place for kids to get help with homework, prepare for college, and set themselves up for future success. The Shalimar Learning Center serves lower-income families and students; people who work everyday to build a better life for themselves.
Many of the parents of these students are hourly workers — housekeepers, gardeners, restaurant workers and hotel personnel — without severance benefits. So, when the Coronavirus crisis hit, many of them went from working full-time jobs to being forced out of work.
When we heard about the Shalimar Relief Fund, we knew we had to help.
Throughout the COVID-19 crisis, we've been helping hard working people financially survive as part of our NuvisionCares program. From feeding frontline healthcare workers to helping 14 small restaurant owners keep their businesses open and their employees paid, we are dedicated to doing everything we can to help our members and the communities we serve get through the crisis.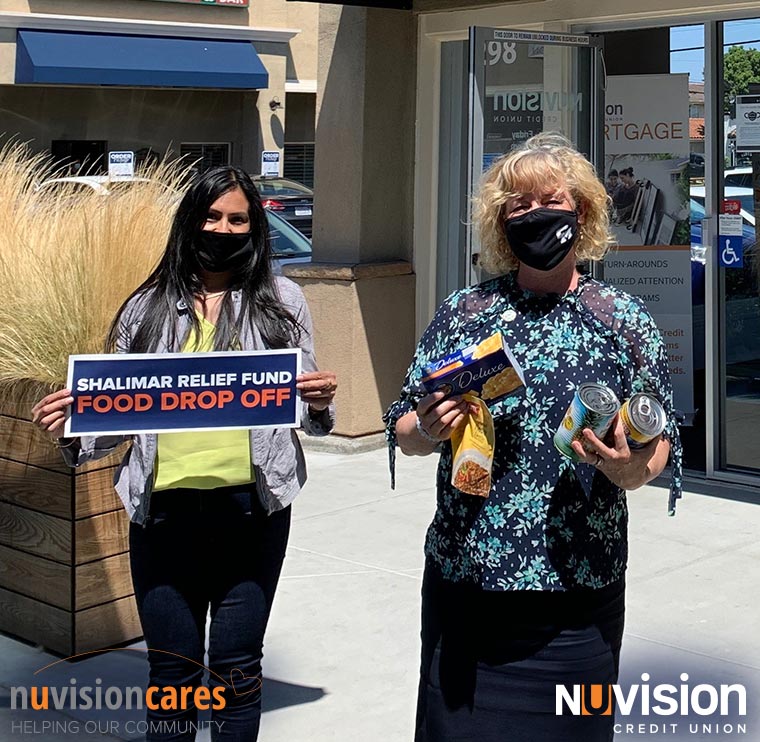 Costa Mesa Mayor Katrina Foley Stopping by Nuvision Credit Union's Costa Mesa Branch to help with the Shalimar Donations
We invite you to drop of the following items and one of our donation centers:
Non-perishable food
Baby wipes and Diapers (sizes 2,3,4,5)
Formula
Household paper goods, cleaning supplies, personal hygiene items
Gift cards: Grocery (Smart and Final/Stater Bros) and Gas (Arco, Shell, Chevron)
Donation Center Locations:
Costa Mesa Branch
3195 Harbor Boulevard, Suite 1
Costa Mesa, CA 92626
714.375.6935
17th Street Branch
298 East 17th Street, Suite D
Costa Mesa, CA 92627
Mon- Fri: 9AM - 5PM
Sat: 9AM - 2PM
714.375.8207
Edinger Branch
7812 Edinger Avenue
Huntington Beach, CA 92647
714.375.8093
Fountain Valley Branch
18629 Brookhurst Street
Fountain Valley, CA 92708
Mon-Fri: 9AM - 5PM
Saturday: 9AM - 2PM
714.375.6955
Lakewood Branch
2660 Carson Street
Lakewood, CA 90712
714.375.8316
Want to Help From Home?
For those that don't feel comfortable dropping items off in person, we've created a GoFundMe account so that you can help from the safety of your home. All of the funds that we raise will go directly to the Shalimar Relief Fund to help these families pay for groceries, medical supplies and basic essentials, plus the costs of emergency relief efforts.