Helping Healthcare Heroes and Small Business Owners through the COVID-19 Crisis
Apr 29, 2020, 08:44 AM by Nuvision Credit Union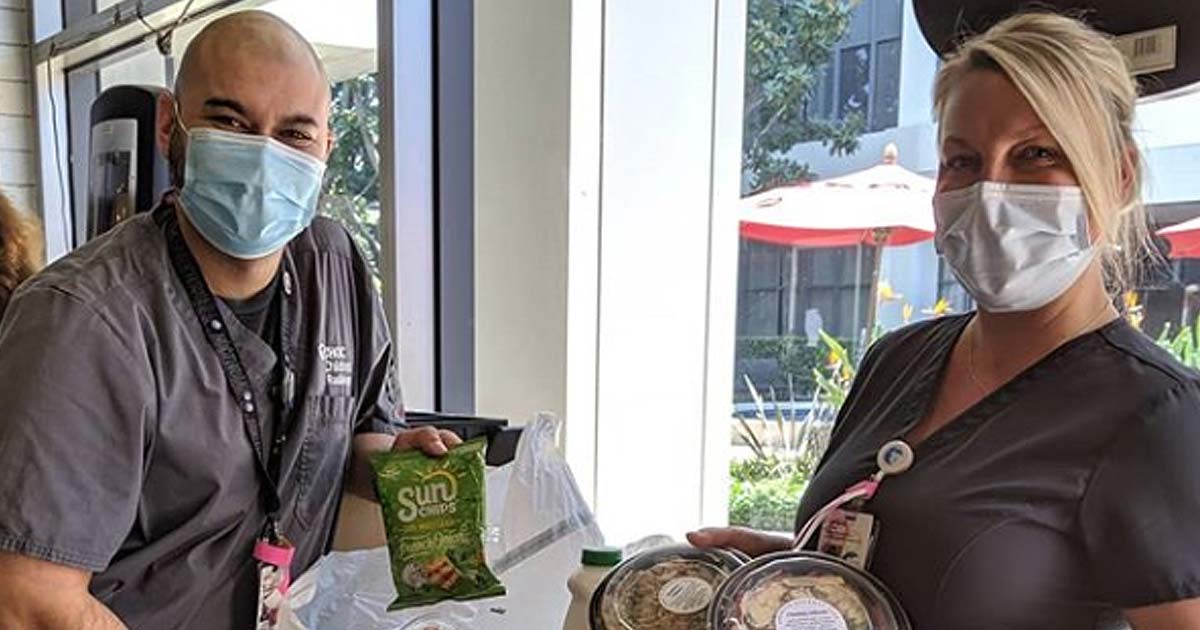 Over the past couple of weeks, Nuvision has been helping local healthcare workers and small business owners adjust to a new normal. From small business owners who have been left trying to figure out how to keep their employees working to healthcare workers who are facing some of the most difficult conditions of their career, the COVID-19 crisis has hit everybody hard.
On April 13th, Nuvision launched the NuvisionCares initiative, a program to help both healthcare workers and small restaurant owners who have been struggling to keep their businesses afloat. While many companies have been helping healthcare workers, we wanted to find a way to go beyond that and help the hard-working business owners in our communities as well.
Over the last two weeks, the NuvisionCares initiative was able to provide over 4,000 free meals to doctors, nurses, emergency staff, and other healthcare workers fighting the COVID-19 crisis. But something we were really proud of is at the same time we were able to help 12 small restaurants bring back workers and provide paychecks for people when they needed them the most. These small business owners and their hard-working employees are truly the backbone of our country.
Southern California
The program kicked off two weeks ago in Southern California, where we helped provide a sense of normalcy for healthcare workers at CHOC Children's Hospital.
We've worked with CHOC before, honoring nurses by handing out KIND bars for nurses day and by participating in the CHOC walk--but this was a different circumstance. Our goal this time was to help alleviate the burden on our frontline healthcare workers.
These hard-working heroes risk exposure every day to keep us safe, and we wanted to say thank you and help them get a little bit of peace during these trying times. In our first week, we served over 1,300 healthcare workers from CHOC at five restaurants who directly benefited from the program.
The five restaurants that we were able to help were Rib Trader, Tutto Fresco, Don Jefe Jalapenos, Cortina's Italian Eatery, and Amarith.
Cheyenne, Wyoming
A week after launching the program in Southern California, we expanded the NuvisionCares initiative into Cheyenne. On April 20th we kicked things off and started providing free meals to frontline healthcare workers from CRMC (Cheyenne Regional Medical Center) and local urgent care centers.
The program has been an incredible way to shine a spotlight on some of the hardworking medical teams in Cheyenne. It's also helped bring business to Bella Fuoco Wood Fired Pizza, 2 Doors Down, and Rib and Chop House. All three restaurants continued to keep their full menu available to customers, including a few other special options during the week.
Denali
As we launched in Cheyenne, we also kicked things off at our Denali branches in Alaska.
In Alaska, the DenaliCares program took what we did in Southern California and Wyoming and helped bring meals to healthcare professionals at Providence Alaska Medical Center.
Four local restaurants--Altura Bistro, Crush Bistro, Pedro's Mexican Grill, and Peppercini's Deli & Catering—were able to benefit from the program.
"The team here at Altura could not be more thankful to be a part of this cause." … "Thank you, Denali for allowing us and our team to continue to pay it forward for the people of Anchorage. Partnerships like this are what truly bring us together and remind us; we are in this together, we're going to make it through it together, and we're going to be better after it together." From owners Nathan Bentley & Janelle Ralston
Giving back to our Hard-working Heroes and Making our Communities Stronger
We are so proud to be able to serve those who serve us all. We are also excited to announce that on top of what we've already been able to do for our local healthcare heroes and the hard-working men and women in our communities, our members have also found a way to help.
Over the last two weeks, Nuvision team members and members from both Denali and Nuvision donated over $6,000 to help healthcare workers who are serving on the frontlines. Seeing people come together like this during a time of crisis has been inspiring to everybody at Nuvision. We are so grateful for every one of our members and thank you for making a difference!