What is the best way to bank while I'm sheltering at home?
Mar 31, 2020, 12:27 PM by Nuvision Credit Union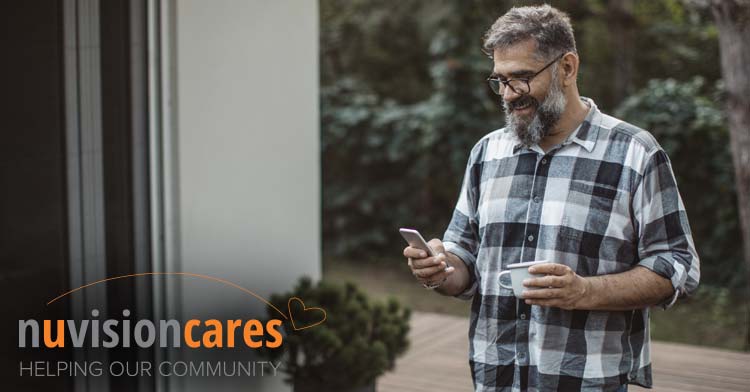 We know many of our members are concerned about the COVID-19 and what it means for the future, but we want to assure you that Nuvision will be here to help you with all of your financial needs throughout the crisis.
To ensure you are able to bank while at home, we want to let you know about all of the options that are available to you. Mobile and online banking are fast, convenient, and easy to use from the comfort of your home. While Nuvision branches remain open, we encourage you to follow all CDC guidelines on social distancing and limit your in-branch transactions.
If you're not already enrolled in online banking, you can click here to enroll now.
Banking from home with our Mobile App
Our mobile banking app is one of the most convenient tools available to members throughout the crisis. The Nuvision mobile banking app is available for free on any Apple iOS or Android device. All you have to do is visit the App Store on Apple or the Google Store on Android.
What can you do on the Nuvision Mobile App?
View account information, balances, statements, and payment history
Manage bills by making a scheduled or immediate payment
Deposit a check
Transfer funds between Nuvision accounts
Make payments on your Nuvision loans
Using Mobile Deposits
One of our member's favorite features of the mobile app is the ability to make deposits right from your phone.
How do I activate mobile deposits on the app?


Click the "Deposit Checks" option from the main menu.
Review and accept the terms and conditions (this will appear as a prompt on your device).
Look for an email confirming your registration and deposit limit within 2 business days.
How do I make a mobile check deposit?:
Make sure the back of your check is signed.
Place your check on a contrasting surface so it stands out.
Ensure the check is inside the green box frame of the viewer.
Keep your checks in a safe place for 90 days after depositing it.
Set up Online Bill Pay: Paying your bills online instead of writing checks.
Bill Pay works through the same Online Banking system you use to check account balances and make transfers.
Schedule payments for each creditor, including the amount and date of payment
Modify, add or delete your personal payee list
View and correct payment information before the payment date
View your payment history
For the latest updates from Nuvision on the COVID-19 crisis, please visit our updates page here.