Scams and Fraud Heat Up during World Cup and Summertime
Jun 29, 2018, 14:10 PM by Nuvision Credit Union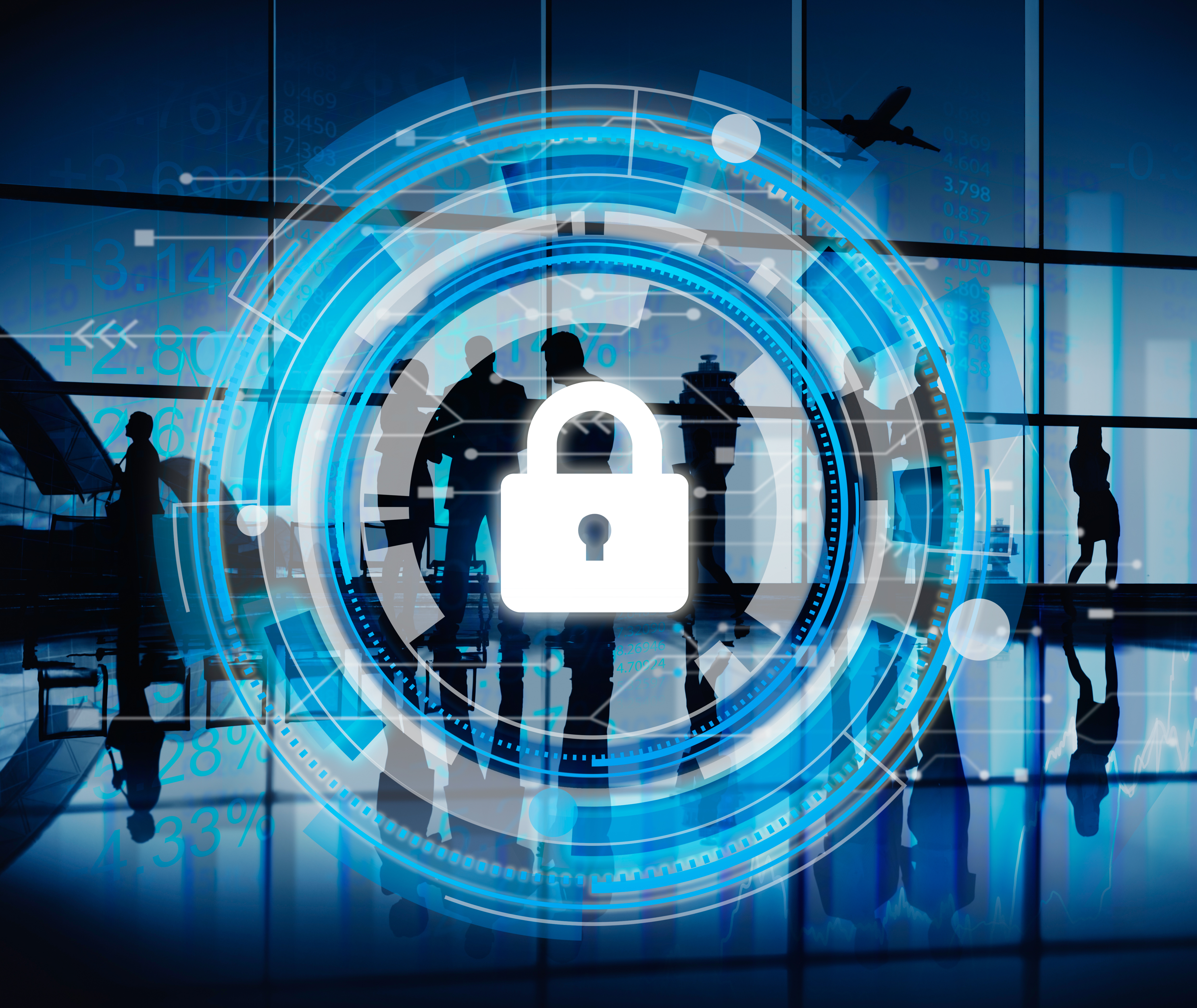 The world's biggest sporting event, the FIFA World Cup in Russia, kicked off earlier this month and June 21st was the first day of summer. With most schools out of session until August or September, it is now vacation and travel season. It is also scam season.
While it's commonly thought that the younger people who grew up with technology are savvier than older generations, that's not necessarily the case. In an article on MarketWatch, more millennials reported losing money to scam in 2017 than senior citizens. Overall, "[t]he amount of money lost to fraud increased 7% last year."
So, whether you are a fan of soccer, have a series of day trips on your calendar, plan to book an extended holiday, or enjoy a staycation, beware of the fraud, scams, and theft that can take your money, ruin your credit, and disrupt your life.
Track reservations and payments
Summertime for many of us means booking travel, making hotel reservations, renting a car, purchasing tickets for zoos, amusement parks, museums, tours, etc., and eating and buying gas in new and unfamiliar locations. With today's technology, we make many of those arrangements on our computer, tablet, or phone. We can see directions and street views through Google Maps, watch destination videos on YouTube, and crowdsource tips and suggestions from our friends and family on Facebook.
According to Trekk Soft:
Given the rise in the use of technology for travel and vacation, it is likely that you enter your name, address, and credit card information multiple times on existing accounts and through new accounts.
While you're reading about password managers, consider one that has a secure online vault. You can use it store backups of important documents, such as copies of your passport, travel insurance, and booking confirmations.
Meantime, make sure the website or app you use to make your travel plans isn't some fly-by-night attempt to steal your personal or financial information. Use secure and encrypted websites. Set up account alerts to track your transactions and reduce your risk of fraud – and to get notified in case there's a transaction you didn't make.
Travel-related sites targeted
The security site Threatpost reported earlier this month that customers of the travel site Booking.com were targeted by hackers in a WhatsApp and text scam. According to the report in the British news outlet Express, Booking.com customers, "were targeted by bogus texts alerting victims to a security breach in an attempt to steal [money]. Users were contacted via text and WhatsApp messages claiming payment was needed."
Of course, during the busy summer travel season, there are more potential victims, so cyberthieves are more active trying to catch you in their scam.
The same Threatpost article also reported an Alaska Airlines scam that uses a post on Facebook. "It purports to be from Alaska Airlines, offering two free tickets in exchange for completing a short three-question survey; once that's done, it asks the person to share the page to their Facebook to finalize the deal."
Alaska's website includes a page, How to spot a scam ticket giveaway.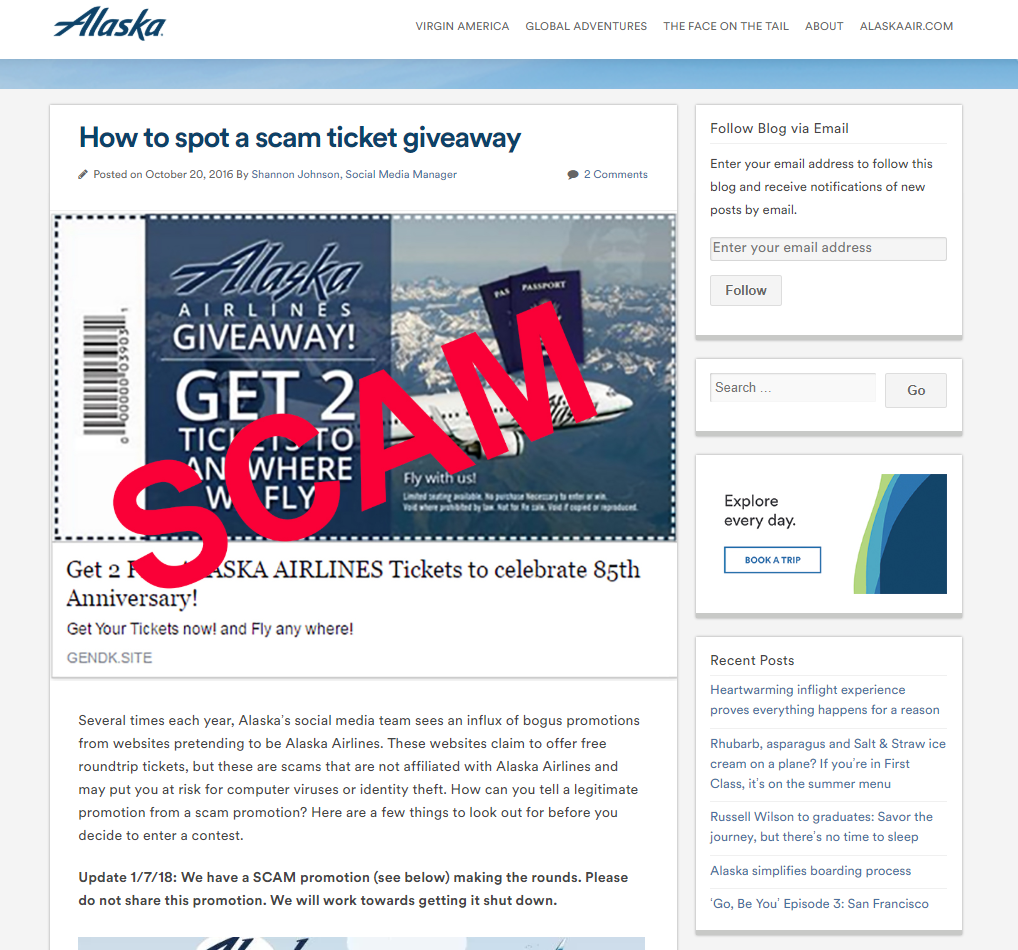 Old-fashioned theft
We're so concerned with cybercrime nowadays that we often neglect the crime that threatens us whether we use technology or not. F-Secure principal security consultant Tom Van de Wiele
reminds us on the Cyber Security Sauna podcast that we need to beware of "opportunistic thieves."
"And it's really about the choices we make to make sure that we can not only use our devices when we want them, but also keep them safe when we're maybe at the pool, or not spending so much attention or focus on these kinds of devices, which are worth a lot of money," Van de Wiele said.
Our phones and tablets carry or provide access to so much personal, financial, and health information. Losing it to a common thief could affect your life for years to come. It's the same reason Nuvision has warned members to be careful when disposing of e-waste. You want to make sure that information doesn't end up in the hands of someone who will use it to commit fraud or sell it to someone else who will.
Beware of public Wi-Fi
If you don't have an unlimited data plan, it's tempting while you travel to use the free Wi-Fi provided in airports, hotels, coffee shops, and elsewhere. Don't – at least not until you understand the dangers of public Wi-Fi and follow safety the tips that Nuvision has written about previously.
How should you pay?
Is it best to pay using your Nuvision Visa® Platinum Credit Card, your Nuvision Debit Card, or cash?
Experts will give differing opinions. When it comes to security, is important to remember, there are no solutions, only tradeoffs.
For instance, Van de Wiele said on the Cyber Security Sauna podcast:
There's no winning formula when it comes to cash versus credit cards. Credit cards are immensely convenient, but with it you risk that you could get skimmed, which means getting your credit card information stolen and reused somewhere without your consent. …When it comes to cash, you can bring a lot of cash and with that avoid that problem altogether, but now you're carrying a lot of cash which can be lost, which can get stolen, and that's of course a risk on its own.
Regarding the risk of carrying a lot of cash, Van de Wiele said, "There's different kinds of travel tips you can read online, that, for example, say to bring a money wallet and try to store your cash in different places, but now you kind of introduced multiple problems to the solution that you were trying to go for, which is that now you have cash everywhere."
Keep in mind that using a credit card comes with consumer protections that aren't available with cash.
World Cup scams
Big events present another big opportunity for those who wish to commit fraud and there's none bigger this summer than the FIFA World Cup. Whether you plan to travel to Russia to catch the final round games, play the Bracket Challenge, or commemorate the event by with Panini Stickers or other collectables and souvenirs, you need to avoid World Cup scams. The Federal Trade Commission issued a consumer information alert about it:
Ignore any email that claims you've won World Cup tickets or a lottery prize to attend the Cup. The offer may seem promising, but the truth is, scammers are simply phishing for your personal information. Never open files or click on links sent by strangers. And never pay a fee to claim a prize.

FIFA.com is the official source for tickets. If you choose to buy tickets from a reseller or ticket broker, you run the risk of your tickets not arriving in time for the match, not arriving at all, or being invalid. Paying by credit card gives you protections, such as the right to dispute charges for items that you paid for, but never received.

Buying team apparel? Scammers often create fake online stores. Read reviews to see what people are saying about the seller or the website. Search online using the seller's name or website with terms like "reviews," "scam" or "complaint."
In addition, Identity Theft Resource Center also covers some World Cup-related scams, including fraudulent websites that purport to offer online viewing, friend scams, and knock-off event memorabilia.
Don't get burned by scams this summer
Southern California is a premier travel destination, which means many of Nuvision's members are in prime scam, fraud, and theft territory. Cybercrime is on the rise and cybercriminals will continue to risk getting caught as long they have the potential to steal millions of dollars.
We can tend to let our guard down on lazy summer days, and especially when traveling. Also, when on vacation, being in new and unfamiliar places can distract our focus.
Don't get burned by scams this summer and follow the suggestions above when booking travel and reservations and making payments. Moreover, if a travel offer or giveaway looks too good to be true, check again. Go to the home page of the company, or contact them directly, to make sure you aren't about to become the victim of a scam. And finally, don't get too caught up rooting for your favorite team in the World Cup to miss signs of potential fraud.
Stay connected
To stay on top of Nuvision alerts and information related to the risks of fraud and identity theft, financial and data protection, and cybersecurity, check our Fraud Protection blog or follow Nuvision on Facebook and Twitter to receive updates when new articles are published.