Don't Let Cybercriminals Unearth Your Personal Information on Earth Day
Apr 20, 2018, 09:14 AM by Nuvision Credit Union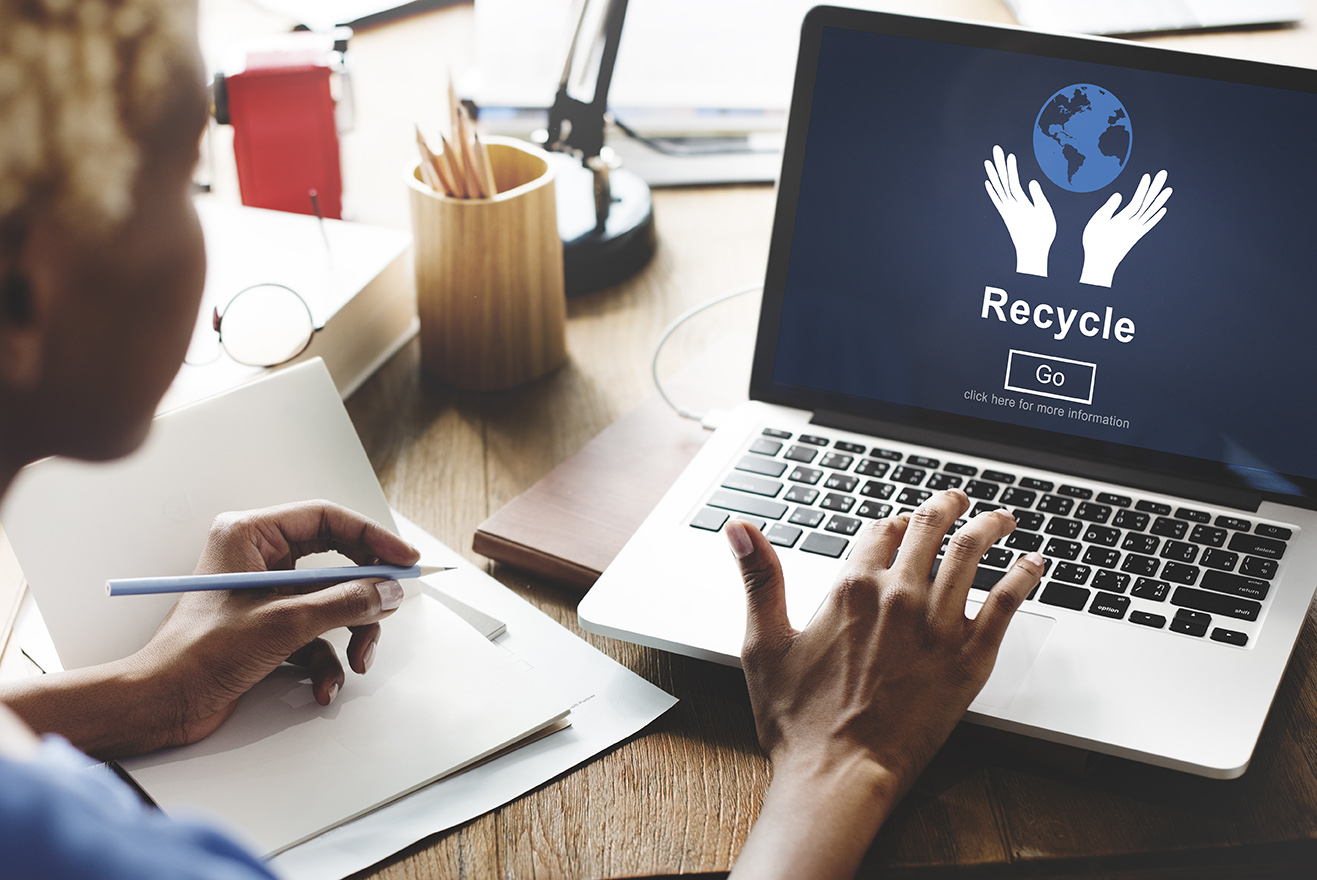 April 22nd, as everybody knows, is Earth Day. If you're thinking of doing something meaningful and worthy, kind of earthy, like disposing of e-waste, make sure to ask yourself, what am I going to do to protect myself from fraud and identity theft?
That was an attempt to honor Dramarama's 1991 ode to Earth Day, What Are We Gonna Do? But it's an appropriate question if you plan use the annual environmental recognition day as an opportunity to properly discard or recycle used electronics. Who among us has a phone or laptop that doesn't contain personal data and information, stored passwords, or apps with access to connected devices, such as fitness trackers or smart home hubs, outlets, and appliances?
Dispose of e-waste properly
By now, most people should know that you don't just throw phones, tablets, computers, and other electronic devices in the trash. They contain toxic and caustic materials and you should not send them to a landfill. If you don't plan to donate, give away, trade in, or sell your old electronics, your best bet is take them to an e-waste recycling center. There are dozens in Orange County and Los Angeles County. The California Department of Toxic Substances Control lists other resources to dispose of electronic hazardous waste.
However, don't take your old PC or smartphone to an e-waste center without first taking steps to protect yourself as well as the earth.
Connected devices have a relatively short lifespan
Americans have grown increasingly attached to their connected devices. A Pew Research Center survey released in February 2018 revealed that 95 percent of U.S. adults own a cellphone of some kind while 77 percent own a smartphone. The numbers are even higher for young people, who tend to see electronics as more disposable.
Statistics show that 79 percent of those surveyed in 2017 changed their smartphone within the previous two years. Only 7 percent used their current smartphone three years or more. The online statistics portal, "estimates that in 2018 the average desktop PC in use will have been operating for 4.45 years." Laptops, because they are portable, tend to suffer more abuse and typically have a shorter average lifespan of two to three years. Less research is available for tablets, but lifespan estimates are based on the number of cycles (battery charges) they support, which means two to four years depending on use.
All of this means that someone with a phone, a tablet, and a desktop or laptop computer sends at least one of their devices to the scrap heap every 12 to 18 months.
A vast amount of personal information
The ubiquity of phones and tablets means most Americans carry with them a vast amount of sensitive data and personal information.
Your phone, tablet, and computer likely contain hundreds of names, addresses, and phone numbers. You might have banking, insurance, and investment apps and information stored. Many people use health and fitness trackers. Social media apps show who our friends and family are, where we work, shop, vacation, go to school, or live. Depending on your settings, the map and GPS function can show a timeline of your location over the past days and weeks.
"Any device that connected to your identifying information, no matter how innocuous or sensitive it might have been," says the Identity Theft Resource Center, "has the potential to be stripped for information by a hacker."
Don't let that happen.
Reset and wipe your phone or tablet
Before you get rid of your mobile device, you'll need to remove all personal information. The best way to do that is by performing a factory reset to wipe the memory clean and erase all data. This type of reset is also known as "formatting" or a "hard reset."
If you're switching from an old phone or tablet to a new one, make sure to perform a backup first. The procedure depends on what type of device you have.
Once you've backed up your data, you can proceed with the reset.
If you have other devices, such as an eReader, you can find backup and reset information with a Google search. Type in the name of your device and "factory reset" (without quotes).
The Identity Theft Resource Center also provides advice before you get rid of your old device.
Delete information from your computer
You'll want to wipe the hard drive and clean all the information off your computer, as well.
Consumer Reports provides instructions to wipe Macs, Windows PCs and Chromebooks. As the article mentions, erasing the hard drive "won't deter a truly determined hacker who is intent on retrieving your files." Consumer Reports says that, "To be completely safe, you can remove the hard drive from your PC or Mac before you let the computer out of your hands."
Smart TVs and other electronics
Don't forget about your smart televisions and media streaming devices.
If you have Apple TV, Roku, Google Chromecast, or Amazon Fire TV, you should log out and remove your account information before you cast it aside.
Video streaming services, including Netflix, Hulu, Amazon Video, Watch ESPN, FuboTV, and others, also contain your login and password. You'll need to delete those apps and information before it hits the junk pile.
Protect yourself, you family and your friends
Don't invite fraud or identity theft by leaving sensitive personal, financial and health information on your electronic devices. In addition to yourself, you will help protect your family and your friends. So, don't send your phone, tablet, PC, or laptop to recycling heaven until you double check that you have reset and erased all data.
As Dramarama sang in What Are We Gonna Do?, "I can't write a song to send a message but it seems to me that this message needed to be sent."
Happy Earth Day.
Stay connected
To stay on top of Nuvision alerts and information related to the risks of fraud and identity theft, financial and data protection, and cybersecurity, check our Fraud Protection blog or follow Nuvision on Facebook and Twitter to receive updates when new articles are published.