Nuvision Heroes: A veteran and former firefighter who pushes himself to the limit raising awareness for the wellbeing of men and women in uniform
May 28, 2021, 08:55 AM by Nuvision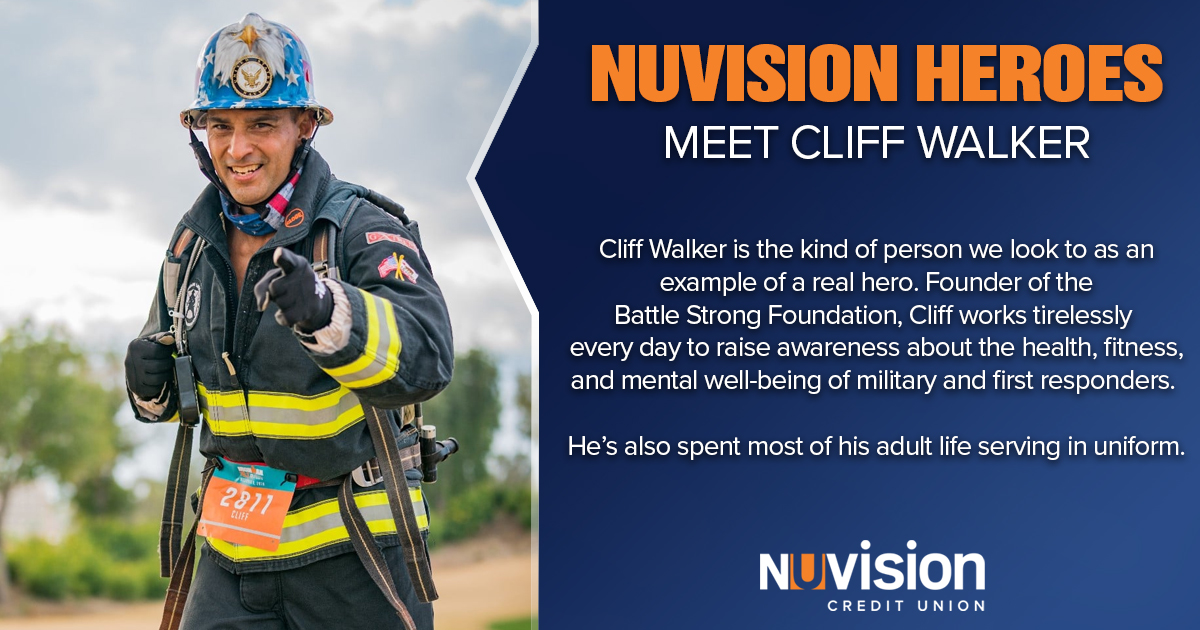 Typically, we chose Nuvision team members for our monthly hero spotlight. But every so often we like to recognize someone in the community who exemplifies what it means to be a hero. Someone who shows the qualities of hard work, perseverance, selflessness, service, and sacrifice.
Cliff Walker is that kind of hero. Founder of the Battle Strong Foundation, he works tirelessly every day to raise awareness about the health, fitness, and mental well-being of military and first responders. He's also spent most of his adult life serving in uniform.
Navy veteran, former first responder, Guinness World Record holder, and non-profit founder.
Cliff has many titles. And he's earned them--spending 6 years with the US Navy and serving 23 years as a civilian Federal Firefighter/Paramedic for the Navy.
He was even our first nominee for last year's initiative to share first responder stories. When we first featured Cliff's story, he had just run a marathon decked out in full firefighter gear, weighing 70 lbs., in an attempt to break the Guinness World Record. This was a step-up from his previous challenge: running a half marathon carrying a surfboard and wearing flip flops (which he currently holds the world record for).
But Cliff's goal isn't earning titles. His mission is to serve.
The fitness challenges Cliff completes are always to raise money for charity or promote the well-being of men and women in uniform. In 2017, he ran a marathon in his firefighter gear to raise money for another firefighter's son, a four-year-old fighting stage four brain cancer. His non-profit, which he founded while working for the San Diego Fire Department, also exists to give back to countless frontline military and first responders.
Since 2016, his non-profit has held the USS BATTLE SERIES fitness competition. These events are held on board retired United States Naval aircraft carriers and battleships to pay respects to American heroes. They help honor and raise awareness for the health of military members and first responders.
Competitions are held across the country and are happening soon in California, New York, Hawaii, and Texas. Their mission is to "give honor and pay respect to our Military & First Responders past and present who paid the ultimate sacrifice for our freedoms and those currently protecting life and property 24/7 around the globe and at home."
Nuvision is partnering with Cliff for his next competition.
In November, military, first responders, and local athletes will gather for an intense USS BATTLE SERIES competition. When competitors board the ship, they will be reminded of its long legacy of preserving American freedom.
Nuvision is grateful and proud to be a sponsor for this year's event. We look forward to seeing how local heroes benefit from Cliff's work.