Nuvision Heroes: A team member who leads through service
Feb 26, 2021, 08:25 AM by Nuvision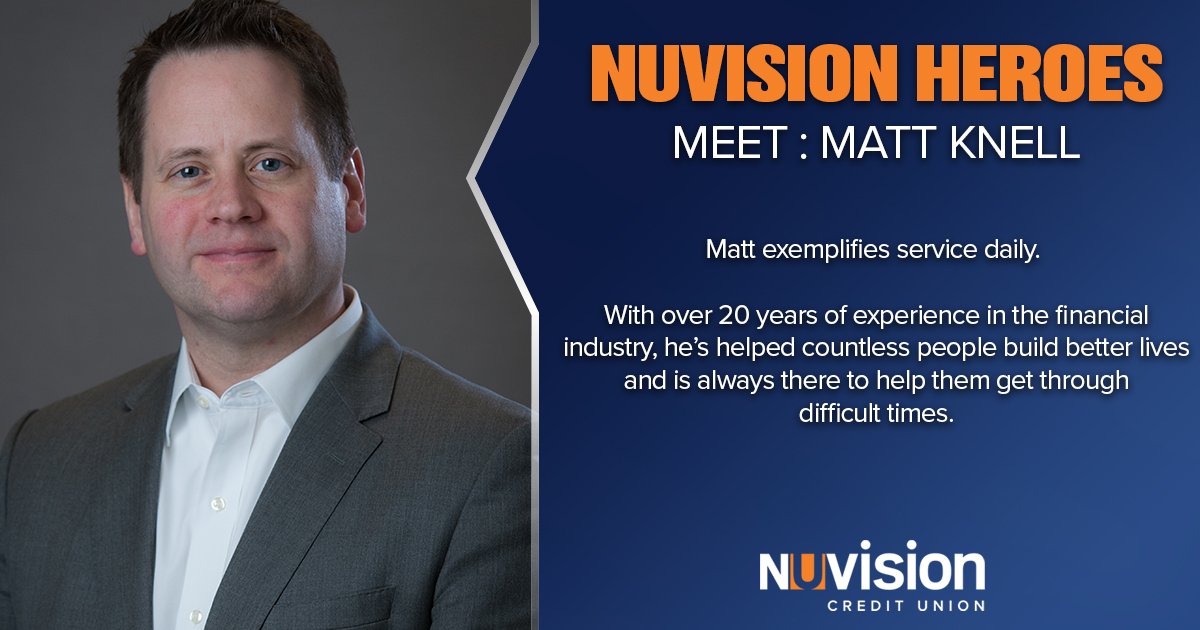 "It's hard to know the impact my service might have on someone else," said Matt Knell, a financial advisor at our Anchorage branch, "but I hope to encourage others and maybe even make them smile."
Matt exemplifies service daily. In his 20 years in the financial industry, he's encouraged countless people and helped them do much more than smile. Currently, his role as a financial advisor enables him to help members at times when they are facing difficult and confusing decisions.
Being in a community means support from those you trust, but it also means responsibility.
Matt moved to Alaska nearly two decades ago to be with his wife, Tabitha, who grew up here. He's been involved in the community ever since then. "As a member of a warm, caring community, I benefit from the support of my family, friends, and neighbors," he said. "I also have the responsibility to share that same support with and show acceptance toward other community members."
Matt serves in all of these areas—at work, at home, and in the community. Along with other Nuvision team members, he volunteered to distribute meals to veterans on Thanksgiving and helped at our blood drive for Blood Bank of Alaska. "While I haven't served in the military, I have a great deal of respect for the sacrifice it is to serve," he said. "I also loved seeing the impact on our local military service members and their families of giving gas cards away just as a way of thanking them for their sacrifice."
"It is better to give than to receive."
Matt referenced this quote to emphasize how central service is to leading a fulfilling life. "It shows who you really are," he said.
Outside of work, Matt volunteers as a board member for the Alaska Zoo. As someone who loves the beauty of Alaska and spends ample time exploring the outdoors with his boys, he enjoys this position. Being a parent, he is also involved at his boy's school, Grace Christian, and often helps with high school wrestling tournaments.
Matt has been grateful for opportunities to serve with his family. In past years, he and his wife took their kids along to help to prepare and distribute meals for families in need at Thanksgiving Blessing.
Modeling service for family, co-workers, and community.
Matt is driven by the ethic of servant-leadership, which he says is the marker of any truly great leader. To make an impact, you do not have to be the one doing the most visible work. You just have to show up ready to care for and help others.
He's noticed this kind of attitude often inspires others to join his mission. "Service inspires team members, family members, community members, and employees to serve in turn," he said. Matt doesn't always get to see the results of his service, but he knows it is worth it no matter what.
Like Matt, we believe the service of one can inspire many. That's why we're grateful for team members like him.
Matt's comments on servant-leadership and setting a positive example for others ring true in so many ways. The stories of our other Nuvision Heroes have had this same effect. People as young as 12-year old Adalya, who collected 150 gifts for our Toys for Tots drive, and the kids in the youth cadet programs, who we awarded a donation for their service, have already changed their community for the better.
It's people like Matt and our Nuvision Heroes who encourage us to keep going on our mission and help push everyone around them to think about others first.
Thank you, Matt, for your care for the community and the example you set.