Nuvision Heroes: A 12-Year Old Girl Who Taught Us What it Means to Give
Dec 31, 2020, 10:25 AM by Nuvision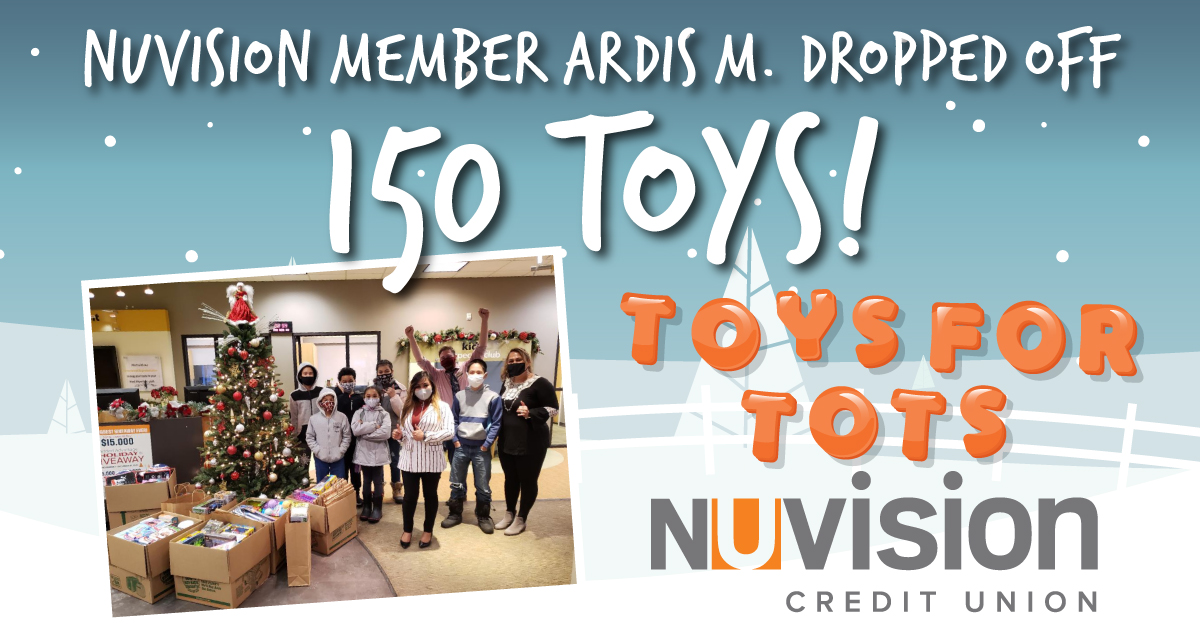 Staff at our Anchorage Financial Center branch was shocked when Ardis Mitini walked through the door. She was there for the Toys for Tots drive, but she wasn't just carrying a few boxes of action figures or Legos in her arms. Ardis had brought with her 150 gifts—by far the most generous donation we've received this season.
Knowing there had to be a story behind the huge haul of toys, a team member asked what inspired her to drop off so much. Ardis told our team that her family just enjoys giving back together. "We like to donate to the less fortunate," she said.
Last year on Thanksgiving, they cooked 150 meals to distribute to homeless people on the street. After seeing this year's Toys for Tots drive email, they sat down as a family to come up with ways they could contribute. Adalya, Ardis' 12-year old daughter, volunteered to take up the project.
150 gifts, one kind-hearted young girl.
Once Adalya was involved, the project took off for the Mitini family. She suggested that each family member share about the program on their Facebook account. She also came up with the idea of starting a Go Fund Me to raise more money for purchasing toys.
But that wasn't the most incredible part of Adalya's efforts. Determined to make a difference, she decided to put up her own $300 in savings. Between her personal contribution and their fundraising efforts, the family raised $800 to purchase toys.
Ardis, her mom, said that Adalya cried as she was doing this project because she was so happy how many kids it was going to help. She felt good about what she was doing and was glad to have put in the effort.
With young people like Adalya in our community, we know the future is bright.
Seeing the things our members do constantly pushes us to be better, do better, and serve better. Adalya is no exception, and her kindness has inspired our team. At just 12-years old, she has taught everyone at Nuvision what it means to give back.
Adalya is proof of the difference one person can make when they put their mind to something. Though she's only in middle school, her organization and drive in gathering resources with her family made a significant impact on many children this year.
Purchasing all these toys doesn't happen overnight. We know this kind of thing takes a lot of time and effort, which is why we would like to extend a thank you to the entire Mitini family and to everybody who helped them reach their goal. And to Adalya, we want to give a special thank you. You're going to do great things. Keep up the generosity!