Take advantage of Nuvision's low 4.49% rate HELOC offer with these seven spring home renovation ideas
Apr 10, 2023, 13:32 PM by Nuvision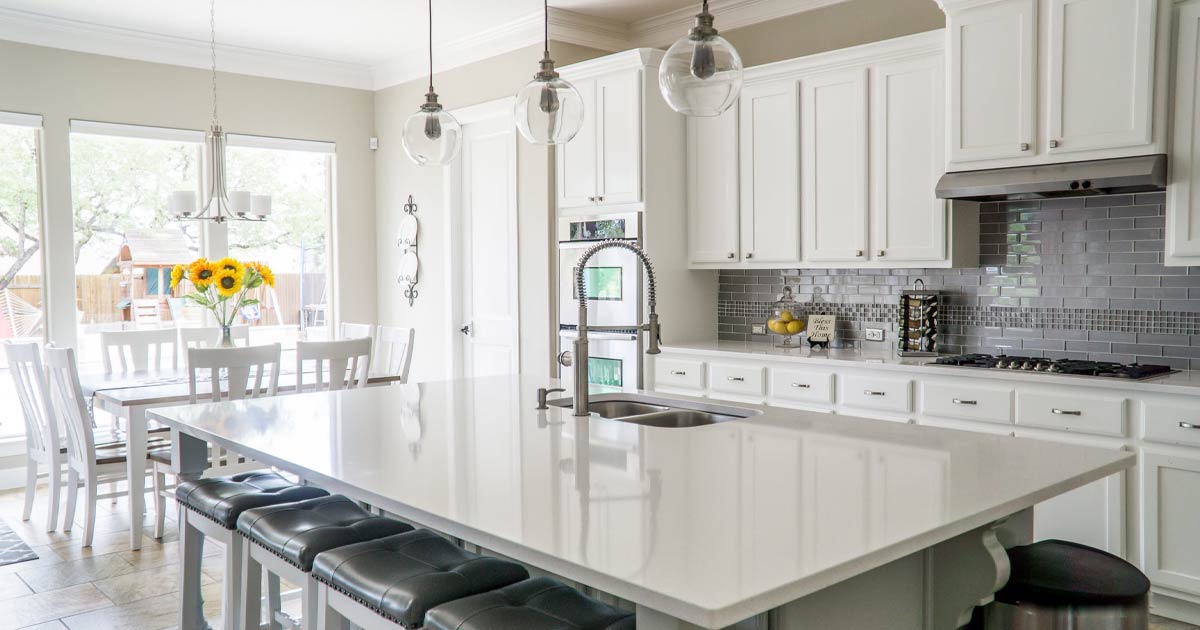 Spring is a season of new beginnings, which means it's the perfect time to spruce up your home and fix the things that have been driving you crazy all winter. Start now, and you can finish just in time to enjoy your hard work during the summer.
Whether you want to dive into major kitchen remodels or brighten up your yard with new plants and landscaping, home improvements can add value to your home. Here are seven areas to consider improving this spring, along with specific ideas to get you started:
Make those kitchen upgrades.
A cramped or poorly designed space makes cooking less enjoyable and adds unnecessary stress to your day. If you've talked about upgrading the kitchen for months but never have, now is the time.
Fix the sink. Certain problems may increase your chance of developing a mold problem, so you want to make sure it is in good shape.
Add storage space. Clearing clutter from the countertops is one of the easiest ways to immediately improve your experience. In small spaces, get creative by using rollout shelves.
Check your HVAC system
Getting your air conditioner inspected might not be as glamorous as installing a new marble countertop, but it's essential, especially heading into the summer months. It also saves you money in the long run by helping you use less energy and regulate your home temperature more efficiently.
Change the filter.
Get an HVAC checkup.
Make sure your AC is working.
Do landscape work.
During the summer, you'll spend more time enjoying the warm weather outdoors. Create a beautiful space to spend it in by taking care of your yard or adding new elements.
Get rid of weeds and overgrown plants.
Clear dead leaves, branches, grass, and other built-up debris.
Trim the trees. Overgrown branches can cause damage when they scrape up against the house or other constructions in your backyard.
Plant new flowers or a garden to create beauty.
Give it a fresh coat of paint.
Paint is an inexpensive way to dramatically change the look and feel of your home. If you've been aching for something different, head to your local hardware store and break out the paint samples. Before you start, don't forget to do the prep work that will ensure your hard work lasts, like cleaning dirt and filling cracks.
Paint bedroom walls.
Change the color of your front door and exterior to make your home look newer.
Do touch-ups to fading or chipping paint and keep your current look.
Improve your windows.
Windows might not be the first item on your home improvement list, but they can make a big impact. Keeping them clean and in good shape can even reduce your electric bill.
Install screens. This helps you enjoy the beautiful weather and fresh air without opening your home to every wandering insect.
Reseal. When caulk gets worn down, cracked, or falls off, it's no longer effective for keeping a consistent internal temperature. To keep your AC use reasonable, you'll want to make sure they are sealed well.
Spruce up your backyard.
Adding a few simple elements can transform the way you use your outdoor space. Everyone's space is different, but you should maximize it by choosing upgrades that suit your lifestyle and needs.
Build a fire pit.
Add backyard furniture and an entertainment area.
Create shaded areas.
Install a pool or patio.
Personalize your home office.
Maximize your productivity by creating a space you love to work in. This is especially important for employees working from home.
Invest in a comfortable desk and chair.
Create built-in bookshelves.
Soundproof your walls.
Deep clean.
Keeping up on daily and weekly chores means doing the dishes, vacuuming, cleaning the bathrooms, doing loads of laundry. Jobs that don't happen frequently, like getting the carpet professionally cleaned, can be forgotten easily. Tackling these tasks can make your home feel new and bright.
Power wash the exterior and driveway. If you can't do this on your own, you can hire a professional.
Clean the outside windows.
Clear the gutters. You want your gutter to be in good shape—capable of keeping the water from spring rain away from the inside of your home or the foundation. Not clearing the debris that collects over time can also damage your gutters and reduce their lifetime.
Your home is an investment. Make the most of it!
Keeping your house in good shape through regular maintenance prevents it from deteriorating and can reduce the risk of costly future fixes. Likewise, add-ons and improvements can raise a home's value.
If you need help financing your improvements this spring, Nuvision is offering a competitive low starting rate of 4.49% on home equity lines of credit (HELOC). HELOCs are flexible and allows you to tap into the equity you've already built in your home for whatever needs arise. Plus, rates are significantly lower than a credit card or personal loan.
Learn more about the benefits of a HELOC by calling us at 800-444-6327.
If you want to learn more about opening a HELOC or how it can help you meet your spring renovation goals, just call 800-444-6327 for a free consultation. We'll walk you through the steps, help you understand your benefits, and determine what credit limits make sense.
You can also visit our website for more information or to apply online.