Nuvision Heroes: A branch manager who encourages others to sprint towards success
Aug 31, 2022, 10:45 AM by Nuvision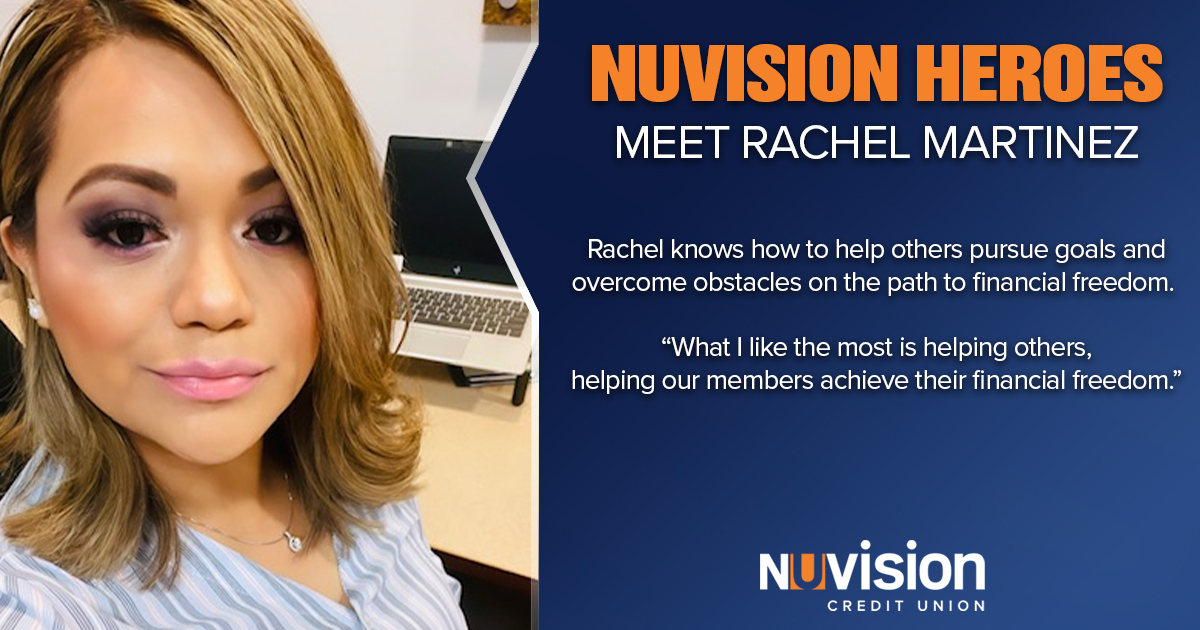 "What I like the most is helping others, helping our members achieve their financial freedom," said Rachel Martinez, this month's Nuvision Hero.
Rachel's journey with Nuvision started back in 2005, when she began working as a part-time teller at the Huntington Beach office. She'd worked at a bank before coming to Nuvision, but the credit union model of community involvement motivated her to make the switch.
Now Branch Manager at our Edinger location, Rachel's passion for helping others remains unchanged, a trait her co-workers often pick up on. She's volunteered at nearly every Nuvision event—law enforcement appreciation lunches, blood drives, Toys for Tots, gas giveaways, first responder lunches, member appreciation events, our recent clothing drive—and consistently pours her time into helping members.
Running towards the goal of seeing others lead successful lives.
Outside of work, Rachel is an avid runner. She began running for her own benefit, but now that she's more experienced, she loves to encourage others starting out in the running community.
"Encouraging others and helping them get started makes me feel good," she said.
Charities receive the funds from many of the runs Rachel participates in. For her, this is another way she can serve the community while doing something she enjoys.
Service takes energy and endurance. It can be difficult when results don't come immediately; commitment and a sense of purpose are required to keep going and truly make a difference.
As a runner, Rachel knows how to keep working towards a goal. She knows service pays off, even when the results are unseen. That's why Toys for Tots, which provides Christmas gifts to underprivileged children, is her favorite of Nuvision's outreach efforts.
"Even though I can't see [the child's] smile, I picture it while I'm selecting their gift," she said. "It makes my heart happy."
Showing young people the path to financial freedom.
Guiding young members at the beginning of their journey towards achieving financial freedom is a passion that motivates Rachel's daily work.
"I love the reward that you get at the end of the day knowing that you helped someone out," Rachel said. "Either to save money, to build their credit, or to simply educate those members when it comes to finances."
Nuvision puts a heavy focus on equipping young adults and teens with financial literacy and money management skills. Our Essay Challenge scholarship program teaches teens what they need to prosper in the real world and how to make the most of their college experience. As Rachel works with members, she tries to direct them towards options and opportunities they may not have considered.
Just last week, Rachel was going through a list of loan requests and came across a young member's credit declined card application. After giving him a call, she found he had recently joined the Air Force and was trying to build up his credit score from the ground up.
"From the beginning, I just wanted to help him," she said.
After promising they would review his application a second time, he was approved for an unsecured card.
"It was really rewarding because I could feel his gratitude over the phone," she said. "I put it in my calendar to follow up in three months and see what else we can help with."
Team members like Rachel keep us on track.
Our desire to help members build better lives, our mission to establish meaningful connections in the community, our efforts to serve the hardworking people around us; none of this would be possible without team members who shared the vision. Rachel is one of those people.
We're so grateful for the past 18 years of Rachel's committed work, community service, and drive to see Nuvision's members achieve their dreams. Thank you, Rachel, for everything you do!