Nuvision Heroes: A team member who has been serving our community for 22 years
Dec 29, 2021, 20:06 PM by Nuvision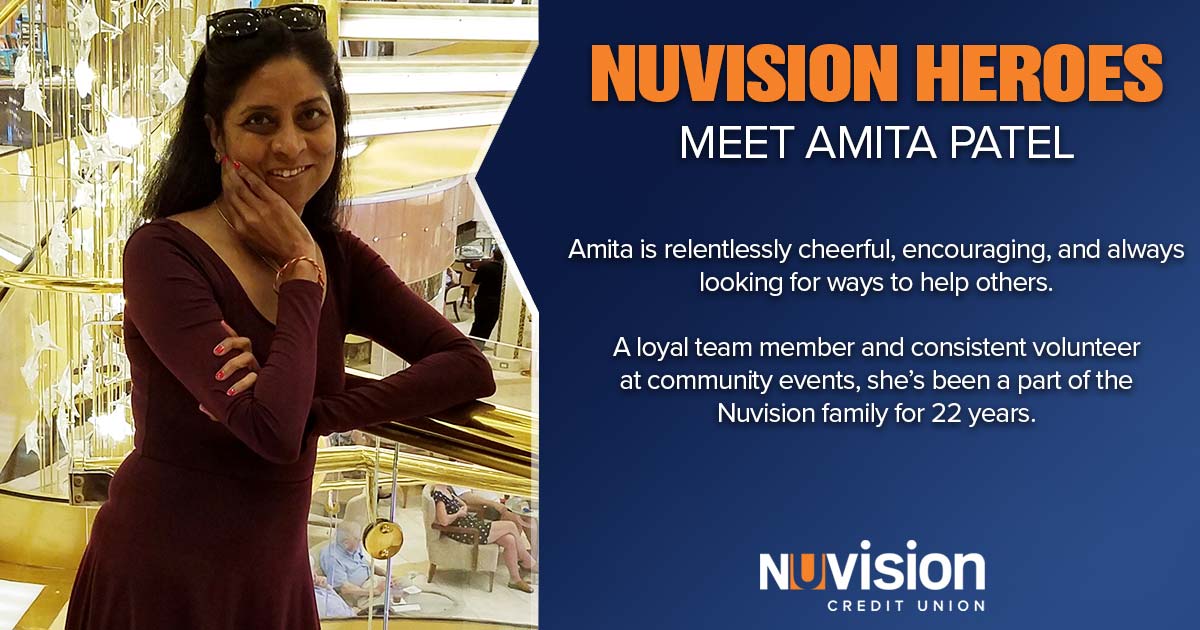 Amita Patel is relentlessly cheerful, encouraging, and always looking for ways to help others. A loyal team member and consistent volunteer at community events, she's been a part of the Nuvision family for 22 years. To her, it's like home.
"Nuvision is my first home," she said. "I love our members and our team members. Everyone is so friendly."
From India, to California, to home at Nuvision
Chatting with members during an event, a few asked Amita where she was from.
"They didn't believe I'm originally from India and migrated here," she laughed. "They say, 'You don't have an Indian accent.' But I do! I came here when I was 14."
After coming to the US from India, Amita spent some time attending high school before dropping out junior year. But she returned to her education soon afterwards, working hard to get through classes in accounting and computer applications to gain the skills she would need.
Amita got her first taste of the financial industry at a California bank, where she worked for 13 years. Eventually, she looked for something different and easier to commute to. A credit union was going to be a new experience, but she decided to apply.
"I've been with Nuvision for the past 22 years. I work as a deposit operation rep."
Her favorite part of the job is the service she participates in and the people she gets to meet.
"It is a pleasure doing volunteer service for Nuvision. I try my best to put a smile on members face and making them feel like they are the most valuable member."
"Community service means lots of fun. Helping members with their needs. Answering their questions for their financial needs or anything credit union related. Any type of questions I'm willing to take care of and put the smile on their face and make them happy."
Friendly and talkative, Amita strives to give everyone her best.
Amita loves her job. In her free time, she also loves to cook. But what she loves most are people--listening to them, serving them, smiling with them, laughing with them, and, most of all, sharing conversations with them!
"I enjoy talking to members," she said. "I'm a very friendly, talkative person."
That's why she comes to nearly every Nuvision event, from our Veterans Day ceremony to our Halloween block party to Member Appreciation Nights. She says our most recent Nuvision Member Appreciation Night, where she helped with set-up, check-in, and serving and welcoming members, was the most memorable.
"Oh, I had a blast," she said. "Members loved that. They were taking pictures with me and posting on their Facebook of me with them."
A strong team member, through thick and thin.
We're so grateful for Amita and her unwavering commitment to Nuvision's mission: helping members build their lives. She's always there, ready to help rain or shine. In spite of personal struggles and health conditions make work sometimes difficult, she still gives it her best effort to make it out as much as possible.
Thank you, Amita, for everything you've done for Nuvision over the past 22 years! We're encouraged by the joy you bring to members and co-workers each day.