Nuvision Heroes: A business owner committed to helping young adults and families become financially free
Sep 30, 2021, 10:57 AM by Nuvision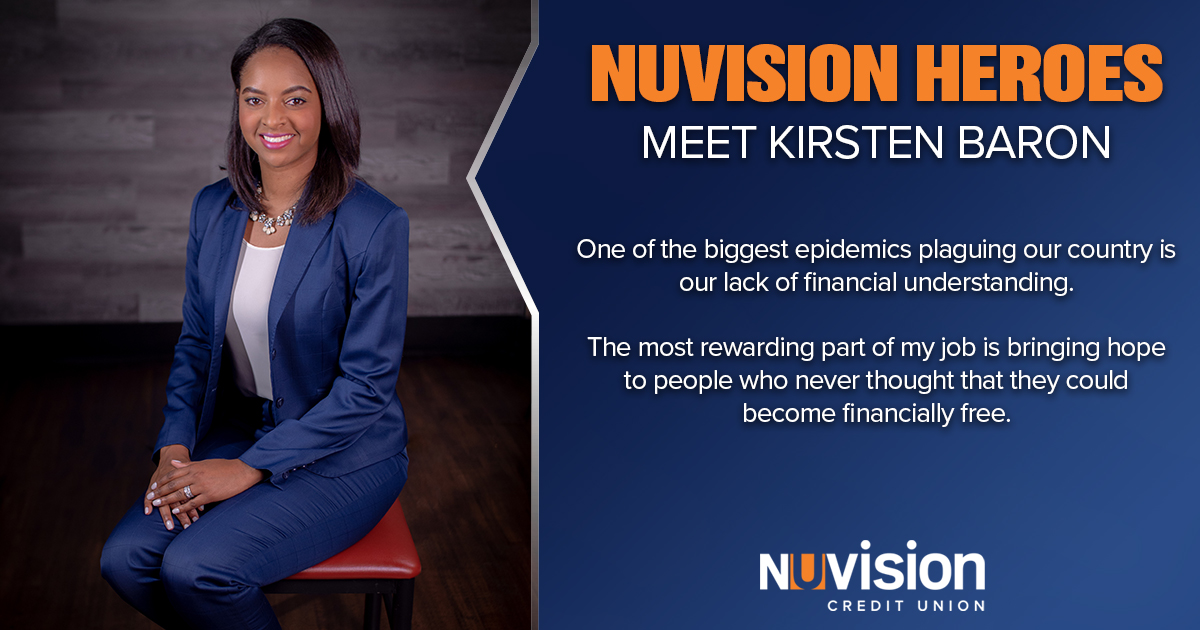 Kirsten Baron is driven, knowledgeable, and ready to take on any challenge. She's helped countless people overcome obstacles they thought they never would. A former social worker with the LA Department of Children and Family Services, she now works full-time in the financial services industry, where she and her husband have built a practice helping families strengthen their financial futures and mentoring agents who want to make a living as business owners.
"The most rewarding part of my job is bringing hope to people who never thought that they could become financially free," she said.
A deeply rooted passion for helping people find financial freedom has naturally made Kirsten a huge supporter of Nuvision's mission to equip young adults with the money management skills they need to succeed. For years, she's partnered with us to lead financial workshops for high school students across Southern California. That, along with her commitment to community service, is why we choose Kirsten for this month's Nuvision Hero.
Kirsten works to alleviate one of the biggest causes of stress in peoples' lives—money.
Together, Kirsten and her husband supervise a team of nearly 100 agents in 21 different states working to equip people to take control of their finances. Running a business—one that makes a real difference in people's lives—is a long-time dream come true.
Enabling people to effectively manage their finances brings significant relief. Kirsten pinpoints this as one of the key factors that motivates her work.
"Financial stress is one of the leading causes for divorce and suicide," Kirsten said. "I am passionate about what I do because everyone needs it."
Across the country, countless people struggle with money management. If we want to see this trend change in a meaningful way, Kirsten says it has to start with our youth. That's why she loves helping with Nuvision's Essay Challenge, which is designed to provide scholarships and teach young adults what they need to know to successfully navigate the world of finances in college and beyond.
"We have been blessed to be able to be a part of the Nuvision's vision to provide financial education to not only adults but also high schoolers," she said. "I especially love speaking with high schoolers because they dream big and have great goals and aspirations on what they want to do in their lives."
Everything Kirsten does is motivated by a love for helping people.
"Outside of my business, my husband and I are very active in our church community," she said. "We are passionate about giving back."
Kirsten also volunteers with a non-profit organization in Los Angeles dedicated to providing victims of sex trafficking with educational classes, services, and support. It's the perfect fit for her social work background and current role as a financial advisor. She helps lead classes for women on budgeting, setting financial goals, and understanding how to save and build retirement wealth.
For Kirsten, building a community of like-minded people who also want to help others is one of the most powerful ways to change lives.
"Community to me means a group of people who care for each other and have each other's best interests at heart," she said. "Together we can make a difference, and truly change the trajectory of people's lives by the knowledge that we teach."
We are thankful for people like Kirsten who help us build up the next generation.
"One of the biggest epidemics plaguing our country is our lack of financial understanding," Kirsten said. "We are not taught financial education courses in high school, and out of the 50 states in the US only 7 require the completion of financial literacy courses to graduate."
Kirsten believes it is important to reach young adults early on, before their lack of financial disciplines causes them to fall pray to credit card companies and fall into thousands of dollars of debt.
We couldn't agree more. It's why we believe programs like our Essay Challenge are so important. But these programs wouldn't be possible without outstanding community partners like Kirsten. Thank you, Kirsten, for your commitment to helping others find financial freedom!