Nuvision Heroes: A community member on a mission to improve the lives of local veterans suffering from PTSD
Jul 30, 2021, 08:31 AM by
Author Unknown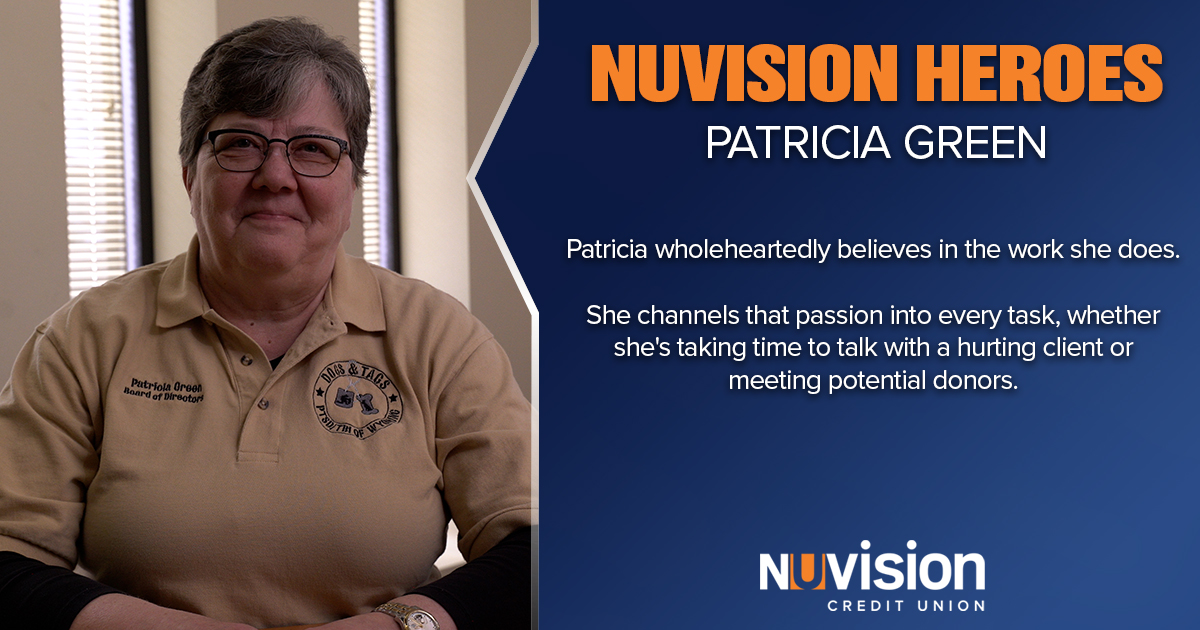 For this month's Nuvision Hero, we wanted to highlight an incredible person from one of our strongest partners, PTSD Dogs and Tags of Wyoming, an organization that helps veterans and civilians suffering from PTSD by training service dogs to become their companions. Patricia Green stood out as a clear choice.
Patricia wholeheartedly believes in the work she does. She channels that passion into every task, whether she's taking time to talk with a hurting client or meeting potential donors. Her primary role on the Dogs & Tags board of directors is treasurer, but she's also dedicated many hours to directly assisting clients, helping train dogs, and doing outreach at events.
"We all act as peer advisors to other clients within the group that are involved in training their dog," she said. "[When] you're around the shop and somebody is having a particularly rough day, you can help by taking them aside and spending one-on-one time with [them]."
Patricia loves dogs and has three of her own, including her service dog, Sally, a German Sheperd Rottweiler. That's how she got involved with Dogs and Tags, as a civilian client hoping to train Sally to become her own PTSD service dog in 2016.
Building support in the local community
"I met somebody that was involved with Dogs & Tags at a church event," Patricia said. "She had her service dog there, and I was very impressed that, as somebody with PTSD, she was able to be out functioning with her dog."
Patricia ended up going through the yearlong training program with her dog and becoming passionate about Dogs & Tag's mission.
"During that time as a client, my interest in the organization grew," she said. Eventually, they asked her to join the board of directors—an offer she gladly accepted.
"I've been involved ever since," she said. Having experience as a client has grown Patricia's connection to those who come in seeking help. She says her first-hand knowledge of the training process and personal struggle with PTSD makes the work "very fulfilling," especially when making connections in the community.
"We spend a lot of time talking to people about what we do and how we can help the community," she said. "They do have a way to get help without having to go out of state to find somebody who understands what they're going through and what their needs are."
Cheyenne has a large veteran and military population. For many, knowing there is a local organization dedicated to meeting their needs is a relief.
'We help rescue twice'
Dogs & Tags highly values community partnerships, not only for connecting with clients but also for finding dogs. Most of their animals come from nearby shelters.
"We help rescue twice," Patricia said. "Because we rescue the dog, and then the dog, in turn, helps rescue the veteran or person they're going to be matched with as a service animal."
A lot has to happen before a dog is ready to help a person. The community plays a significant role in supporting, funding, and matching the right animals with the right people.
The course of training a dog generally lasts a year, with one-hour sessions every two weeks. After some basic training, dogs learn to do their jobs in public—at feed stores, restaurants, and even Nuvision branches.
"We've been invited to start taking the dogs into Nuvision branches here in town," Patricia said. "They love it."
Patricia shares Nuvision's passion for serving veterans.
One of the things that Patricia loves most about the partnership between Nuvision and Dogs & Tags is the shared passion for veterans. When asked what her favorite experience has been since she started working with Dogs & Tags, she responded without hesitation that it was the recent Nuvision Freedom Ride.
"Being there and feeling the rumble of the bikes as they rode away brought a lot of memories back for me," she said, recalling how she and her husband used to ride. Patricia's husband, who she has been married to for 15 years, is a disabled veteran.
"I have a very soft heart for veterans that have disabilities," she said. While Dogs & Tags serves all people, veterans make up a majority of their clients, so Patricia sees them regularly.
Her background made talking with military members and veterans at the Freedom Ride especially meaningful.
'Nuvision has been by our side'
At the Freedom Ride, Nuvision gave Dogs & Tags a $2,000 check that Patricia says was "totally unexpected" and helped support their charity golf tournament, putting them over the top for their donation goal.
"Our partnership with Nuvision has just really been great. They support the military. They truly support our love of animals. They just always seem to be right there by our side," she said.
Dogs & Tags first reached out to Nuvision nearly three years ago asking for a donation. That request sparked a partnership that has lasted and grown, providing support at just the right times.
''Ever since then, Nuvision has been at our side to help us out, with cash donations, helping us procure what we needed. They've always been there it seems like at the opportune moment for us to get what we needed," she said.
Most recently, Nuvision helped fulfill a specific need for a dog they wouldn't have been able to get through the shelter. Patricia was deeply appreciative of the high levels of support Dogs & Tags has received.
"It's very important that we thank Nuvision," Patricia emphasized. "We look forward to continuing that relationship for many years to come."
At Nuvision, we also look forward to growing our relationship with Dogs & Tags and continuing to support the important work they do. We're especially thankful for people like Patricia, who dedicate time and energy to supporting veterans in need of support. Our community is stronger because of it. Thank you, Patricia, for your service!