What does freedom mean to you?
Jun 29, 2020, 07:19 AM by Nuvision Credit Union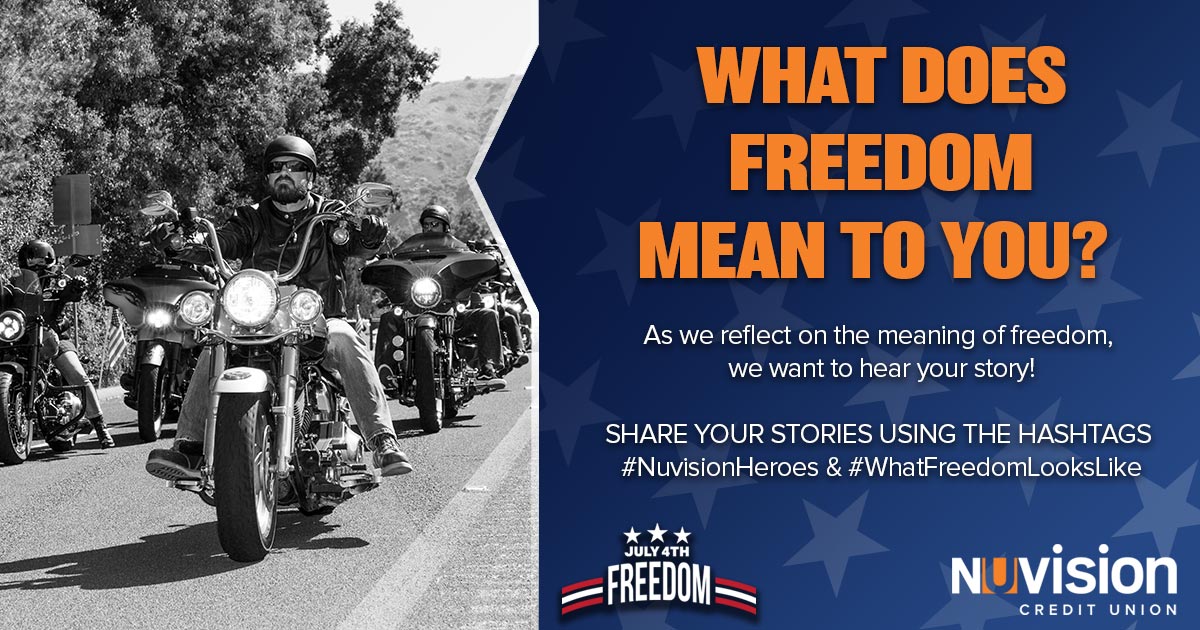 When the founding fathers picked up their pens and signed the document of boldly declaring each man's right to life, liberty, and the pursuit of happiness, no fireworks filled the sky, no marching bands sounded their trumpets, and no crowds erupted in applause. Instead, these men were left with the threat of death hanging over their heads, the promise of hardship and pain on the battlefield, the loss of their homes and belongings—and something more important than anything else: a renewed determination to win their freedom against all odds.
We remember Independence Day as America's birthday, the day the Declaration of Independence was signed by the delegates of each colony. But it's also much more than that. It's the celebration of the hard work and brilliant minds that devised a constitution that could stand the test of time, of generations of men and women who gave their lives to protect our freedom, and of the kind of life we have the opportunity to lead here in America. Even more, it's a time to reflect on what freedom really means.
At Nuvision, we make a big deal about this day.
We know that freedom isn't free. Our freedom was bought by the many who have put their lives on the line defending the rights we hold dear. These people, the military and first responders who risk everything, deserve a huge thank you.
That's why we host our annual Freedom Ride, a motorcycle ride that brings together brave service members and honors them for all they do. Last year, we celebrated these heroes with a 2-hour long bike ride through the Orange County canyons, free BBQ at Cook's Corner, a free concert with Gethen Jenkins, and a special appearance by Marine veteran and Medal of Honor Recipient Dakota Meyer.
To us, freedom sounds like those motorcycle engines revving and boisterous crowds cheering in celebration. While we're disappointed we have to postpone this event, we are still excited to honor the brave men and women in this country in other ways.
How to celebrate from home
To mark the occasion, we wanted to share some ideas our team members came up with that they will be using to celebrate this important day in our history:
Light up the night with sparklers and fireworks. Even if bigger firework shows aren't an option, you can always buy some small ones to shoot off at home.
Fly the flag and deck everything out in red, white, and blue. From the food to the tablecloth to your outfit, join in the celebration by donning patriotic colors.
Fire up the grill. Nothing says summer more than a backyard barbeque—and Independence Day is the perfect time to have one! Grab a couple of hamburgers, buns, and some family members to enjoy them with, and you'll have a night to remember.
Watch fireworks on a live stream. Several places are still hosting and streaming their annual firework displays. The Macy's 4th of July show will be broadcast on NBC, and the D.C. Fireworks can be viewed on PBS.
Listen to some classic patriotic songs. Pull out the speakers and blast classics like "God Bless the USA", "The Star-Spangled Banner", or "America: My Country 'Tis of Thee".
Consider the meaning of freedom. Too often, we take our freedom for granted. Take some time to reflect on the meaning of the word, talk about it with others, and realize how you have been impacted by this incredible principle our country was founded on.
What does freedom mean to you?
As you're reflecting on the meaning of freedom over the next week, we want to hear your thoughts! Tell us your stories--whether they're about your own or a family member's experience in the military, your family's story of coming to America, something you were able to accomplish because you live in this country, why you are thankful, anything!
Email us at [email protected] with your ideas and pictures about what freedom means. We'll be sharing responses from members over the next week, and we will be giving $10 gas cards to those that we select to share, so keep an eye out on our Facebook page for those posts. Follow us on Facebook, Twitter and Instagram.