Nuvision Heroes: An Alaska restaurant owner whose community-centered vision has helped his company impact countless people
Oct 29, 2021, 08:26 AM by
Author Unknown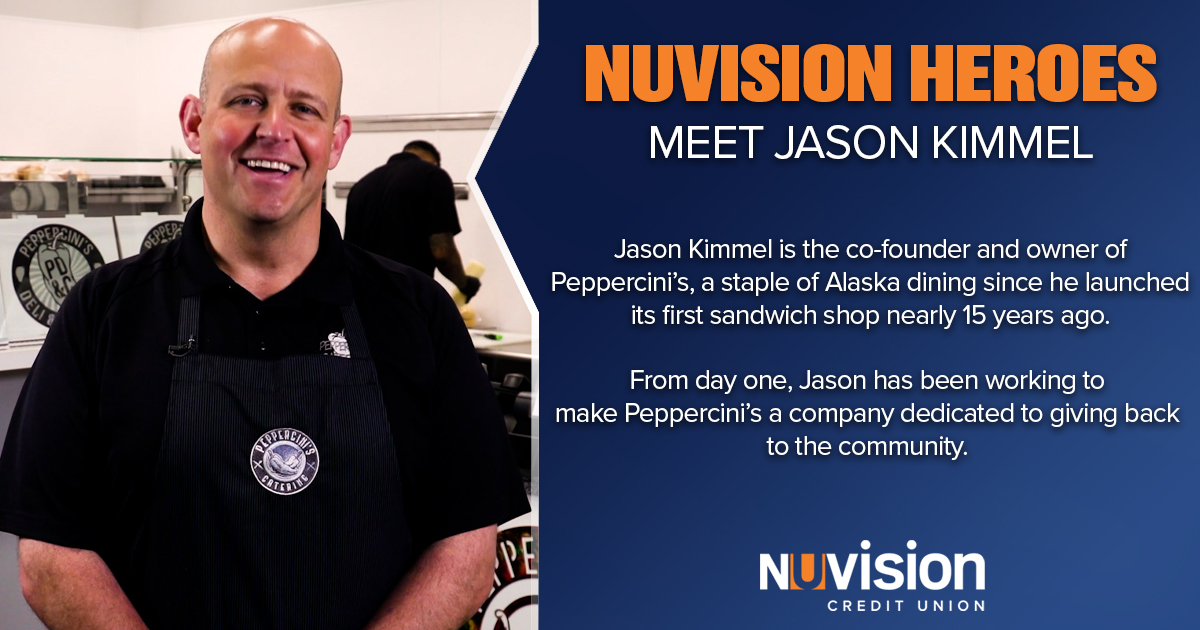 Peppercini's has been a staple of Alaska dining since its founding nearly 15 years ago. From day one, Jason Kimmel, co-founder and owner, has been working to make it a company dedicated to giving back to the community.

"Growing up here in Alaska, specifically in Anchorage, and now being in business here in Anchorage, I know a lot of people," Jason said. "Really the most rewarding part of it is being able to work with friends, family members, and have a really tight-knit crew, and then get to know a lot of our customers and form relationships with them."

Jason and his team at Peppercini's are not only frequent partners in Nuvision's outreach programs—like the NuvisionCares program that provided meals to frontline healthcare workers–but they also constantly provide donations to other local organizations. To thank Jason for his dedication to the Alaska community, we're recognizing him as this month's Nuvision hero.

A vision to make a difference

After launching a Chili's franchise with three locations in Alaska, Jason sold his stake in the company to invest in his own restaurant. In 2007, Jason and his brother launched a sandwich shop in the University Center. That was the beginning of Peppercini's.

What started as a small shop in the UC has grown into a full-blown catering company, one deeply connected to its community and capable of serving thousands. Jason says he tries to give back as much as he can and "rarely ever" says no to an opportunity to donate.

"[We] try to give as much as we can, to as many organizations as we can," Jason said.

The Alaska Business Magazine has named Peppercini's as "Top Caterer in Alaska" for the past six years. One year, Peppercini's also won in the category of best employer.

The secret to Peppercini's success, Jason says, is simple: the staff really cares about each other and Alaska.

"We just really value our coworkers, each other, and try to take our jobs seriously but not ourselves," he said. "Things have worked out pretty good. We've been around almost 15 years now."

A tight-knit community helps Peppercini's to thrive through trials

"We have the best of both worlds," Jason said. "Small enough with only 18-20 employees to still have a mom-and-pop kind of independent feel, but big enough to cater for thousands of people, multiple days in a row, or for people to leave town and take days off---and not have to close the business down."

The closeness of the staff has made the last two years, when the restaurant industry was hit especially hard, remarkably successful for Peppercini's. The team was able to stay flexible, switch gears when plans fell through, and keep their doors open—adding 14 staff members over the summer at a time when many in the industry were struggling to keep doors open.

"As soon as all the catering dropped off last spring, we switched gears and started providing food for the oil companies and the fishing industry," Jason said. "We thought it was just going to be a six-to-eight-week contract, but here we are, [in] October, still doing it."

To thank the staff for working so hard over the past 15 months with little time off, Jason is taking the core group of 13-14 full-time employees to Mazatlán, Mexico for a five-day vacation in January—all-expense-paid airfare, hotel, and passports.

"Everyone here has worked so hard," he said, "hard, stressful hours, long hours, and early mornings."

Nuvision gave me my first loan back in 2006.'

In 2006, when Peppercini's was still only an idea in Jason's head, Nuvision funded a loan that helped him get started.

"I've always had a place in my heart for Denali, and now Nuvision, because they helped me get off the ground initially," Jason said. Since that first loan, Jason has been closely involved with Nuvision's mission to build a stronger community.

Back in Spring 2020, Peppercini's was quick to step up when Nuvision wanted to help out front-line healthcare workers. They prepared and packaged meals, delivered them to the local hospital, and kept operations going at the height of the pandemic.

Jason said there are many times he has been proud to partner with Nuvision, but that the NuvisionCares program was especially "remarkable."

"[Nuvision] gave all this money—$25 to 1000 people in the hospital there, who were overworked and stressed," he said. "Seeing those people come by and get their meals, and going and delivering them to the hospital, and hearing people say how much it meant made us feel really good."

Peppercini's shares many other values with Nuvision, like a high respect for the military. They not only provide food for Nuvision's veterans' lunches and outreaches, but Jason also holds the title of honorary squadron commander, a civilian position designed to invite community leaders to learn more about the local Air Force, for the 703rd.

"I've been honorary commander, civilian, for about six or seven years," Jason said. "I attend a lot of stuff on base, change of command [ceremonies], they call them hail and farewell…So we've always had a really good relationship."

We're grateful to have such a strong community partner passionate about the same causes we are. Thank you, Jason, for everything you do!