Nuvision Heroes: A team member whose positivity connects and inspires her community
Jun 29, 2021, 10:13 AM by
Author Unknown
When members need advice, they know one person who can always be counted on: Jamie Wooding.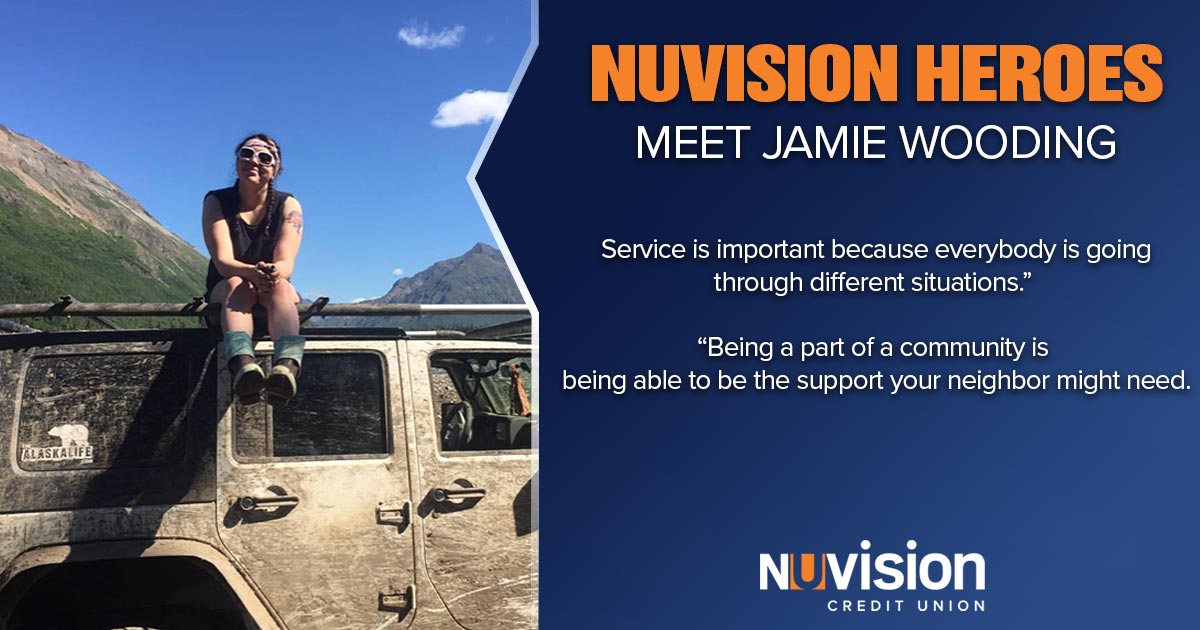 For Jamie, who grew up as a military kid always active in community service, building connections and listening to people's stories is a way of life. That's why we chose her for this month's Nuvison hero.
Jamie's positivity invites others' trust and enables her to serve them in meaningful ways. Her co-workers are quick to note her patience when answering questions and her commitment to going the extra mile—no matter the task.
"The best part about my job is really being able to make the connection with people," Jamie said. "The people we work with are just so kind and caring."
For Jamie, service is a way to build tight bonds with others.
"Service is important because everybody is going through different situations," Jamie said. "Being a part of a community is being able to be the support your neighbor might need."
"It builds a tighter bond with the people around you," she added. That's something she's learned through her long record of community service, which started when she was young.
For nine years, Jamie was part of the International Order of the Rainbow for Girls youth organization. Her many outreach projects included collecting pet supplies for the ASPCA, making flower bouquets for nursing homes, collecting school supplies for the Foster Kid Network, helping with a canned food drive for the Food Bank of AK, and collecting health supplies for women's and kids' shelters.
All these efforts earned Jamie the state Miss Service award for 500 hours of community service. Though she's now aged out of the program, she still likes to help out with some of the projects.
As a military daughter, Nuvision's mission to serve veterans holds a special place in her heart.
For the past two years, Jamie has volunteered for the Nuvision Veteran's Day Luncheon. Talking with guests while serving food reminded her of her own experiences.
"Both my parents were in the military. My dad was military police, and my mom was a finance admin in the Air Force," Jamie said. Her background allows her to connect with military guests in a special way.
"As an adult now, fully understanding and seeing what families and people go through being in the military, there's just a deeper connection," she said. "As soon as I tell them I'm a military kid, it's just like 'Oh! You understand."
Jamie loves to just sit and listen to guests' stories. "A lot of these people don't have anybody else to talk to," she said. "This is the place they go to connect with people."
Other guests are just grateful for the opportunity to enjoy a relaxed lunch with friends and family. In some ways, Jamie has seen her childhood experience come full circle in the families that attend with their children.
"One kid was talking about how he was glad that his dad was back home," she said. "Just being able to be around the whole family and enjoy the event was a big deal for them."
Jamie is passionate about connecting with people and turning professional relationships into personal ones.
While she loves to participate in specific outreach events, Jamie also finds ways to serve in her day-to-day job. As a team member in digital communications, she does this every time she responds to members. Many now know her by name and will address her as a friend.
"Sometimes, the answers we give them are a huge relief, especially through covid. It's nice to see that connection and be able to make somebody's day," she said.
Jamie has seen these relationships work both ways. While she strives to help members, she's also been encouraged by the members she interacts with, especially by one member who lives down the street.
"When I moved departments, she was always asking, 'Is Jamie still working there. Is Jamie doing good?' she said. "She always wants to know how it's going--if I'm going camping this weekend, or if the Jeep is broken, or how the dog is doing. She goes out of her way to check in."
"It's more than a professional relationship," she said. "It's a really great experience to bridge that gap from professional to personal."
Team members like Jamie are the ones who keep us going, serving members with personal care and genuine concern.
Like Jamie, one of our goals at Nuvision is to build relationships in the community. Our member celebrations—recently held in California and upcoming in Wyoming and Alaska--are one way we do that. It's an opportunity to treat members to dinner and an evening out. It's also a chance to get to know you better.
Connecting gives us more opportunities to serve and helps us better understand what you need to build your life. We're so grateful for team members like Jamie who share this priority and help us keep our focus on it.
Thank you, Jamie, for all your service, care, and hard work!