What makes a Hero: Stories of incredible first responders that reveal what it takes to serve
Sep 22, 2019, 13:51 PM by Nuvision Credit Union
Over the last month, we've highlighted some of our local heroes, and tried to honor the tremendous sacrifices made by our first responders. Everyday they work to make our communities stronger and safer.
They do so quietly, in the way they serve their community and the strength they show. Being a hero isn't about the uniform you wear or how strong you are; it's about having a heart to serve people. First responders are special people—they share many qualities that really make them shine as true heroes.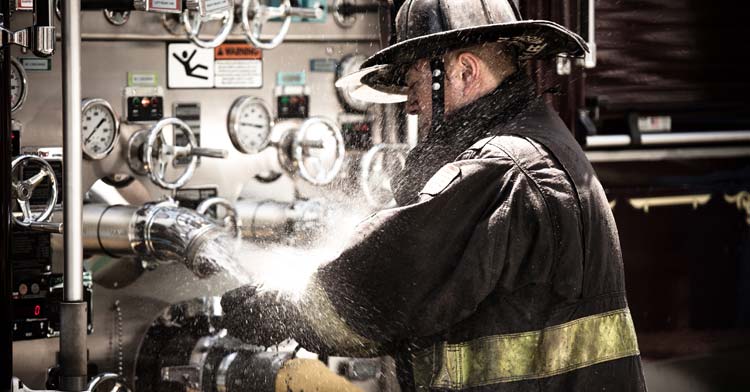 Selflessness
When you're a first responder, work hours are often long and unpredictable. Firefighters can't control when a fire starts; they just have to stop it, no matter how inconvenient the time. Likewise, a police officer can't leave a crime scene just because their scheduled shift is over and it's time to go home. They have to make sure the situation is safe before leaving.
Because of the time commitment alone, first responders make substantial personal sacrifices. Whatever activities, hobbies, or family time they enjoy often takes a backseat to their service to the community
But time isn't the only thing first responders sacrifice. Every day, they put their safety on the line for our benefit. They run into dangerous situations, so we don't have to, sometimes risking their lives in the process.
To understand just how selfless these heroes can be, you only need to look to last year's wildfires, which saw over 6,400 firefighters from across California join forces to control the blaze. They worked around the clock—doing all they could to save lives and hardly taking breaks for themselves.
Adaptability
In a true disaster, things get messy. All the scenarios you've rehearsed in training go out the window, and you're left having to quickly figure out how to survive. As a first responder, you also have to figure out how to best protect those around you.
That's a huge burden to bear, but the quick thinking of heroes has saved many lives. In November 2018, flames from the wildfire spread to the Feather River Hospital in Paradise, California, forcing staff and patients to evacuate. A group of quick-thinking nurses were able to rush elderly and newborn patients into vehicles, later finding shelter in an abandoned garage and providing care for the patients until help arrived. Thanks to their heroic efforts and ability to keep a cool head under stress, many lives were saved.
Kindness
Another quality that sets first responders apart is their commitment to people off duty. Not only do they have the skill and selflessness to save somebody from a dangerous situation, but they also have the compassion to help them after the fact. There are plenty of first responders whose acts of kindness in their personal lives have had a significant impact. One example is police officer Michael Kohr, who saw the police report of a little girl's stolen Minnie Mouse bicycle and decided to replace it himself. The day after the mother filed the report, he showed up with a brand-new bike.
First responders don't just show up, do their job, and go home. They genuinely care for the community and do everything they can to make it better.
Perseverance
First responders just don't give up. They are heroes to the core and will continue to work, even when it gets tiring and difficult. Los Angeles Fire Captain Mark McCurdy shows this trait well.
It started at the Las Vegas shooting, where he got his wife and injured sister-in-law to safety, and then went back to search for another fire captain's wife who had been separated. Shortly after arriving home from the tragedy, he received a call to fight in a Ventura wildfire. He didn't let the recent experience stop him. For thirteen and a half days, McCurdy and his crew worked to control the blaze and save local residents.
When he did go home, he spent some time with family before resuming regular calls. He worked on Christmas Day, serving so other firefighters could stay home with their families.
McCurry shows the relentless spirit of the first responder committed to protecting the people in his community. Even after multiple catastrophes in the span of just a few months, he was back on duty, taking calls and serving people.
Bravery
Bravery is having the heart to help people, and the strength to follow through. Despite the risks—first responders do everything they can to help those in need. That's what they signed up to do on this job: save lives.
One local example of bravery is Officer Ernesto Betancourt, who won the Long Beach Police Department Meritorious Award for Heroism for his courageous rescue in a structure fire in June of 2018. He had requested aid and residents had begun evacuating the building, but he worried there were still people trapped inside the second-floor apartment. In an act of courage, he entered the burning apartment and found three members of a family who had not been able to get out. Thanks to him, all three evacuated safely and survived the fire.
Organizations helping first responders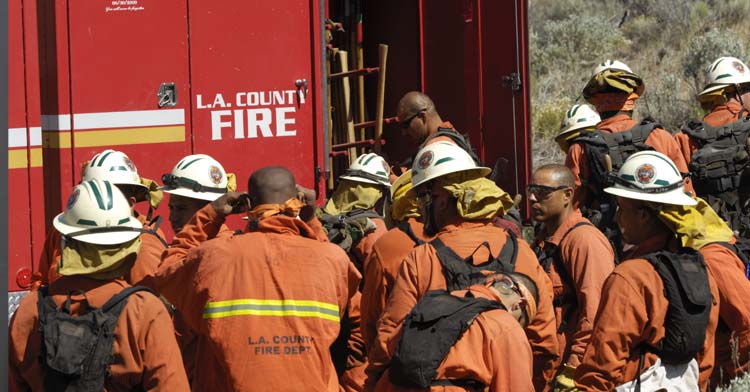 Out first responders do so much to protect us. In doing so, they face many challenges daily. Whether it's exposure to dangerous situations or just the stress that comes from doing their job—we need to be supporting them in every way we can. Today, we wanted to feature some groups who are doing this by honoring first responders and helping them with the daily challenges they face.
Founded in 1987, the California Fire Foundation is a nonprofit organization that provides a variety of programs to firefighters and the families of fallen firefighters. They offer emotional and financial assistance, fire safety education, and scholarships for the children of fallen firefighters. They also spend this month of September, which was deemed Firefighter Appreciation Month by the California State Senate, honoring and paying respects to the extraordinary men and women in our community.
First responders are the ones on the front lines; they see things and experience stress and trauma most of us couldn't imagine. As a result, our heroes are at a higher risk for stress and mental health issues like anxiety and depression. Simple Recovery provides substance abuse and mental health treatment tailored towards the specific needs of first responders. Through a partnership with other first responder organizations, they get each firefighter, police officer, and emergency worker the help they need to lead better lives.
There is a significant amount of stress caused by the situations first responders face every day. The First Responder Support Network understands this and runs a retreat specifically for first responders to de-stress and deal with the issues caused by their work. The West Coast Post-Trauma Retreat brings together mental health clinicians, staff trained in trauma recovery, and fellow first responder peers to help retreat participants regain control over their lives and gain a better perspective on coping with stress. As one of only two residential treatment facilities of this kind in the world, the WCPR has helped many first responders get back on their feet and conquer issues like PTSD.
The IRF is committed to providing tools to help veterans and first responders live healthier physical, mental, emotional, and spiritual lives. Their goal is to equip first responders with the necessary support to deal with mental health challenges that arise as part of the job, like stress, anxiety, and depression. With more first responders dying of suicide than in the line of duty, they recognize the pressing issues first responders face today and are working hard to solve them.
Over the past two years, Operation Gratitude has successfully delivered 125,000 Responder Care Pouches to over 350 fire and police departments across the nation. They are committed to honoring the people who protect our communities. The care pouches they create are filled with many useful items—energy shots, cleaning wipes, sunscreen, treats, paracord bracelets, and more—and are assembled by volunteers at the Forward Operating Base in LA. Packages go to local departments, as well as others nationwide.
Thank You First Responder advocates for the people who serve and protect our communities by encouraging others to thank them, sharing the stories of heroes, and spreading the word. They also worked with recording Producer and Engineer Darrell Thorp to create a song, "Thank You First Responder" to become the anthem for the bravery of first responders. Along with their advocacy and outreach, TYFRO works with Mental Health First Aid to provide a training course for first responders to better understand the challenges of mental health and how to address them effectively.
This nonprofit helps provide funding for the Long Beach Police Department through donations from businesses and individuals. They work to support officers, keep the community safe, and educate citizens on all the police force does. Each year, they also run an awards ceremony recognizing men and women affiliated with the LBPD who courageously go beyond the call of duty to protect citizens.

How you can help us support first responders
You can help too! Many of these organizations are looking for volunteers or donations, so reaching out would be a great way to get involved. By supporting Nuvision and sharing articles like this, you're also helping spread awareness for the courageous work these people do.
Honoring the heroes in our community is such an important thing to do, and it shouldn't just be limited to a specific holiday. Let's work together to honor them every day.
Thank you to all of our first responders. We support you in everything you do.