Inflation? Recession? The Job Market? Find out where the economy is heading and how to protect your financial future.
Feb 27, 2023, 21:46 PM by Nuvision
With worries of a possible recession still weighing heavily on many people's minds, people are struggling to figure out what to do with their money and how to prepare financially for the future. With record consumer spending at a time when supply chains are buckling and inflation has skyrocketed to a 40-year high, it's safe to say that the current economic outlook is anything but certain.
During times of uncertainty, we want to be here to provide some much-needed balance.
We know people are concerned. In fact, a recent Bankrate study showed just how confused people are and how it is taking a toll on their savings and outlook on the future:
According to Bankrate, 74% say economic factors are causing them to save less right now, including 68% who say inflation is to blame.
Eighty percent of people in households making under $75,000 a year were saving less due to at least one economic factor.
68% of people are worried they wouldn't be able to cover their living expenses for just one month if they lost their primary source of income, including 85% of Gen Zers
Almost 4 in 10 say they have less emergency savings than they had a year ago.
Bankrate suggests that "in periods of economic uncertainty, it's a good idea to try to pay down debt quickly and build up your emergency savings in case of a loss of income." While that is easy to say, as their survey shows, most people still have difficulty figuring out how to do that in today's economic climate.
We hear it daily from members; most people are just downright confused about what is happening in the economy and are just looking for answers.
That's why we have been bringing in some of the top economic experts to provide you with the answers you need to make smart financial decisions to ensure your future success. From our monthly housing market updates, where we share the latest data on what's going on in the real estate industry, to our upcoming economic forecast series, we are dedicated to being there for you and helping you with the life you build.
To help you understand it all, we invite you to attend our exclusive LIVE Economic Forecast series, where we will help answer the tough questions and bring in experts to provide you with the knowledge you need to make smart financial decisions that will help ensure your success.
Join us as we bring in economic expert Dr. Christopher Thornberg of Beacon Economics for an informative series of LIVE webinars to answer all your questions and tell you where he sees the economy heading in 2023. For more information on the first webinar in our series, Click here!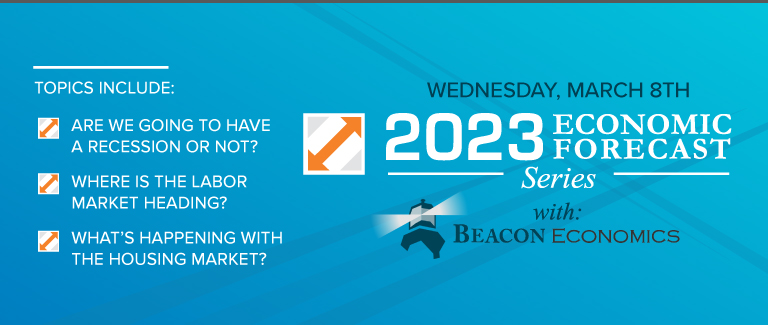 And for those looking for a way to jumpstart their savings, we are now offering a new high-interest savings certificate to help combat the high-inflation marketplace. Click here for more information on our latest certificate offer.