Nuvision Heroes: A Vietnam veteran who continues to make his community stronger
Oct 31, 2022, 09:40 AM by Nuvision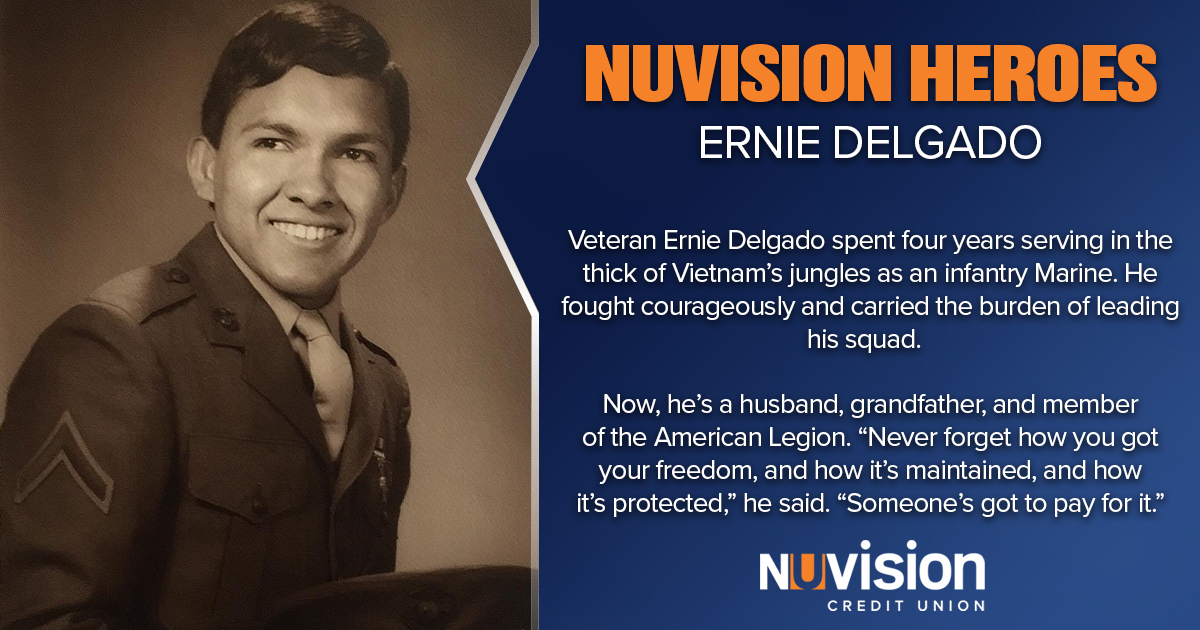 When Ernie Delgado was still in high school, some of the friends and cousins he grew up with on the streets of LA began returning home from Vietnam. "I started noticing they were coming back different," he said.
It was the same with the Sailors and Marines Ernie encountered working his first job after graduation at Knott's Berry Farm. The men were quiet. They kept to themselves.
Ernie was curious. Why were these men so changed? "I said, I want to join. I want to see what it's like." So in 1969, just one year out of high school, Ernie joined the Marines.
He spent twelve weeks training at the San Diego Marine Corps Recruit Depot, four years on active duty, and two years in the reserve. He was an infantry Marine.
"My job was pretty much trained to kill, and that was it," he said. "We went on patrols. We searched for the enemy in the jungles, called it the bush, and we made contact."
Ernie displayed courage in fighting for his country, and perseverance in the years following. For his service and current involvement with helping local veterans through the American Legion, we're honored to name Ernie as this month's Nuvision hero.
'Never forget how you got your freedom.'
Ernie arrived in Vietnam at the tail end of the war, when there was still fighting, but the US had slowly started withdrawing troops under President Nixon's peace treaty with North Vietnam.
"I'd make friends, then maybe one or two months later, they're gone," he said. "They went home."
But there was one person Ernie formed a strong connection with: Sergeant Nelson from North Carolina.
"He was always picking on me to go with him on these little scout hunts," he said. "Our squad would always stop and set up the defense, and he'd say 'Delgado! Go with me.'"
When Ernie would ask why, Sergeant Nelson would tell him: "Because you're good!"
"I don't want to be good," Ernie would reply. "I want to go home alive."
Ernie remembers when, about six months later, the Lieutenant told his squad Sergeant Nelson was going home---and told Ernie he was the new squad leader. The same role that had been so burdensome for Sergeant Nelson.
"He would totally be crushed because he would send a Marine out, and we'd watch him die," Ernie said. "[I'd tell him], 'It's ok, sarge. It's ok. You did what you had to do."
"I [went] through the same experience he did, losing Marines and watching them die… That's the pain that a veteran goes through when they're in command."
"They don't talk about the weight of giving those orders, Ernie said. Not in the movies and not on TV. But Americans need to understand what their liberty cost to obtain."
"Never forget how you got your freedom, and how it's maintained, and how it's protected," he said. "Someone's got to pay for it…Someone's got to do the dirty work. The building, the tearing down, the bombing, the saving, the killing. Whatever it takes."
Understanding the struggles and stories of those who fought
As a member of the American Legion, Ernie sees many homeless veterans. "Sometimes I hear people make negative comments about these folks," he said. "They don't know their story."
Ernie faced his own share of homecoming difficulties. Among the last Marine combat teams to leave by boat in June 1971, his squad's return was quiet. "No parades," he said. "No nothing."
He finished his time out in the reserves, found a girlfriend, and got married. It didn't last. He met another girl. Same thing: she left. Depression hit. Therapy didn't seem to help, so he stopped going.
"My little brother, because he is a Christian, said, 'You need to go back to church, brother.' I said, 'What for?' So, he talked to me, and I went with him," Ernie said. "And I gave my life to Christ."
That was a turning point. Ernie soon met his wife Sylvia, who he has been with for over 40 years. Today, he has three sons, one daughter, nine grandchildren (or 'Viking kids,' as he calls the children of his oldest son, a pastor in Denmark), and one great-grandson.
"I'm living the good life right now," he said. "I put my wife through a lot. She's been sticking along with me."
Ernie still faces trials from his time in the war. He's disabled and has been diagnosed with Parkinson's due to what he says was from exposure to Agent Orange, the herbicide used by the U.S. military in Vietnam to kill enemy crops and eliminate forest cover. "They were spraying that stuff, unbeknownst to us, until years later. It was killing us," he said.
Still, looking at his family and the life he now leads, Ernie is grateful. "All I can say is I'm totally blessed, and I'm glad I made it home alive."
How to thank a veteran
Ernie said joining the American Legion eight years ago has been a high point. In the American Legion, he found a community of other vets who understand what he's been through. He found a way to keep busy and help the community through volunteer work.
They march in parades and provide honor and color guard ceremonies wherever needed. Celebrating veterans brings "great satisfaction," he said. So does hearing people respond.
"It brings a lot of happiness to me when I hear them say thank you," he said. "That's all we ask, you know."
In our often-divided country, he wants people to recognize that the important thing is to stay united. And for those veterans on the streets and others facing countless other hardships, he hopes people will get to know them.
"If we just take the time to hear their story, and why they got to where they got, maybe attitudes would change," he said. "If you meet a vet, just say hi. Can I ask you some questions? For the most part, they'll give you an answer."
Nuvison is proud to work with the American Legion for our upcoming Veterans Day Breakfast on November 11th, where Ernie will be recognized. Thank you for your service, Ernie, and for your continued commitment to serving veterans in the community.