Nuvision Heroes: A nonprofit CEO who won't rest until no Alaskan child goes hungry
Sep 30, 2022, 09:58 AM by Nuvision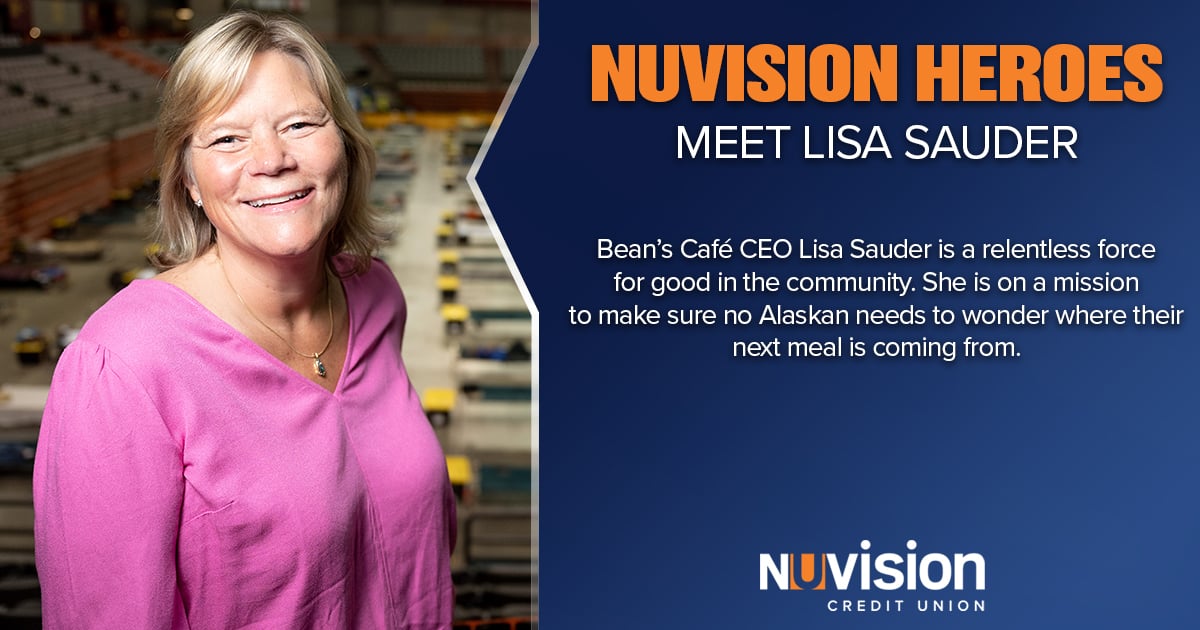 Bean's Cafe CEO Lisa Sauder is a relentless force for good in the Alaska community. Always busy with some project to help those in need, she was a clear choice for this month's Nuvision Hero.
While sharing her story with us, Lisa was on the way to an elementary school garden to assist with the harvest of potatoes, which local families spent their summer days watering.
"They've been doing it now for 20 years," she said. "This year, they'll have over a thousand pounds of potatoes. The carrot weight is still to be determined."
Local schools grow produce to help meet Bean's Cafe's massive needs for food to feed the hungry and homeless in Alaska. But schools are just one of many institutions that partner with the organization.
Each day, college kids, church mission groups, business executives, and everyone in between can be found volunteering to serve food on site. Companies like Nuvision also work alongside the organization to provide support and donations. "Anybody who grows up in Anchorage has a Bean's Cafe story," Lisa said.
Lisa's own Bean's Cafe story began with a tug on her heart nine years ago.
Service has always been a "family tradition" for Lisa. So, making the switch from her first job in bank marketing to the non-profit sector was a natural transition.
After running a chamber of commerce, doing economic development, and working as the American Heart Association Alaska's Executive Director, Lisa was looking for a change of pace.
"I was at the point in my life where I really wanted something where I felt a bit more of a connection between the donor, the recipient, and the community directly," she said. When she encountered an ad for Bean's Cafe, Lisa felt compelled to apply.
"I feel very fortunate to have served as the leader of the organization now for over 9 years," she said, calling her current role "the hardest job I've ever loved."
For Lisa, the job has personal meaning.
"I had an uncle who was homeless for many, many, many years," she said. "I know firsthand how hard that was on my mom, my aunt, and my family."
Her uncle received help from an organization like Bean's Cafe in Seattle, which provided him with food, shelter, tools to get sober, help accessing his benefits as a veteran, and ultimately reconnected him with family.
"When I look at a homeless person, I know that every one of them is somebody's child, somebody's parent, somebody's brother," Lisa said. "They all deserve to be loved and cared for with dignity and respect."
Since its founding in 1979, Bean's Cafe has grown deep roots in the community.
As a local, grassroots non-profit organization that receives little to no government funding, Bean's Cafe is dependent on donors.
Thankfully, the people in Anchorage are exceedingly generous. Just a few weeks ago, an individual donor dropped of thousands of pounds of food, purchasing everything on their wish list. It cost thousands of dollars and was enough to last several days.
"Many times, these kinds of things happen when we need it the most," Lisa said. "Every dollar that is raised here is spent here in Anchorage."
Despite lacking a steady source of income, Bean's Cafe has managed to transform the community, filling a particularly crucial role through covid.
"[Sullivan Arena] was the largest covid response emergency shelter in the country for most of covid, and we did operate that for about 18 months," Lisa said. Bean's Cafe is still providing three meals a day for the nearly 200 homeless individuals recently released from the arena to live in Centennial Campground.
Lisa strives to eliminate barriers people have to accessing food. Bean's Cafe has adopted new distribution models over the past few years to meet people where they are, even providing pantry packs direct to their doors.
'I love to bring people together around food.'
Lisa is the kind of person who loves to form connections, something as clear in her personal life as in her work at Bean's Cafe. Every weekend, she gathers family and friends for Sunday dinner.
"That's been a tradition for a number of years," she said. "I love to cook for people."
People matter to Lisa, especially the people in her state. "Alaska's always been home," she said.
Beyond Bean's Cafe, Lisa remains involved in the community through Anchorage Rotary, Women Who Care, and several other local and national non-profits. She's been recognized as Alaskan of the Week by US Senator Dan Sullivan, and—her personal favorite honor—named Lady Trapper for Fur Rondy, Alaska's annual winter festival.
"It's one of my favorite times of the year," Lisa said. "I've always been a huge fan from the time I was a little kid going to the carnival in my snowsuit to the time I was an adult."
We look forward to working with Lisa again during our Help Fight Hunger Food Drive!
We are so thankful for our partnership with Bean's Cafe and for everything Lisa does to ensure the organization continues to meet the community's most pressing needs. Now through October 31, 2022, Nuvision will be participating in Alaska Hunger Action Month by collecting donations for The Children's Lunchbox, the arm of Bean's Cafe aimed at serving kids.
"It's really critical to understand how many Alaskan families and children are facing hunger on a daily basis," Lisa said. "If we can take one burden off that family and have them not worry about where that next meal is coming from, it's going to help them stay stable, stay working, stay focused on taking care of their family, and ease a little bit of that anxiety."
You never know who may be in need, as one story Lisa shared of a Bean's Cafe volunteer demonstrates.
"She lost her job during the pandemic and found herself without a way to feed her children and herself," Lisa said, noting that she had been a frequent volunteer in the kitchen. "To come full circle to needing the services and understanding where it came from was really, I think, so important."
For those who can donate, we encourage you to consider doing so during this month's food drive. To those who can't, there are still many ways to help. "Everybody has a gift to give," Lisa says. You can join the effort through volunteering or simply being an advocate. Those who need assistance themselves can also find more information on the Bean's Cafe website.
As Lisa said, "we're only as strong as we support each other."
"One day you may be the person giving to someone else, one day you may be the person who needs to be given to. That's all ok," she said. "We're going to make it together."
Click here to learn more about Nuvision's current food drive.