Nuvision Heroes: Mentoring and inspiring the next generation.
May 30, 2022, 19:25 PM by Nuvision Credit Union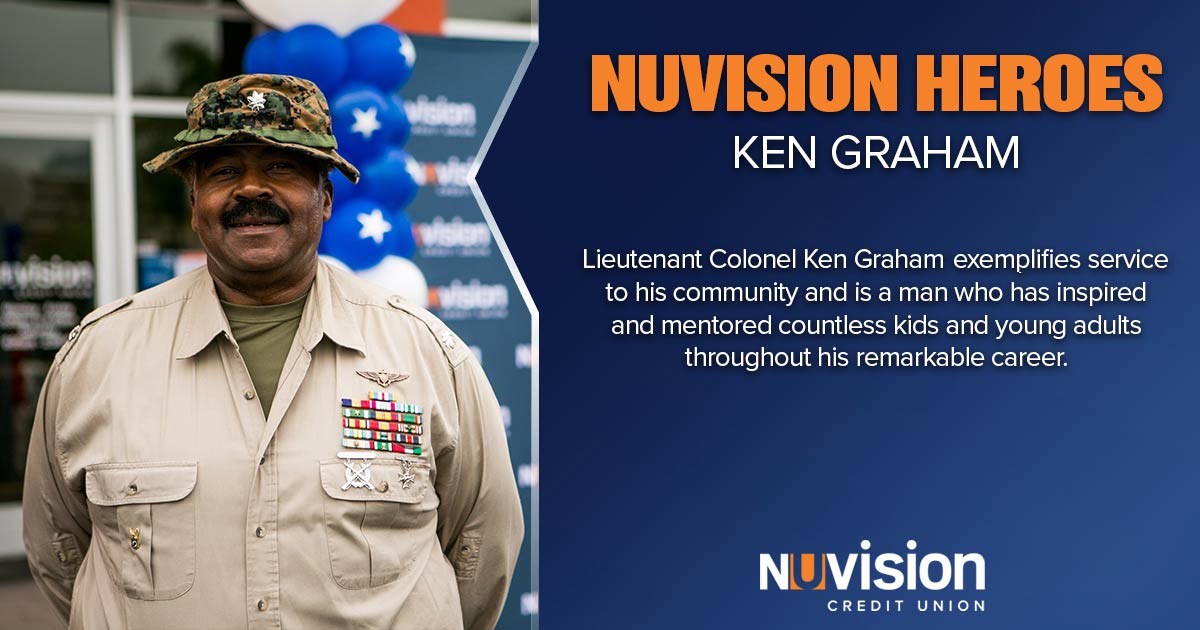 When we started Nuvision Heroes, we had a simple premise in mind – we wanted to raise awareness and highlight people who do great work in our communities. These people, who we consider heroes, often go unrecognized by the media, which is unfortunate because their impact on our communities goes far beyond measure.
This month, our Nuvision Hero exemplifies service to his community and is a man who has inspired and mentored countless kids and young adults throughout his remarkable career. We caught up with Lieutenant Colonel Ken Graham earlier in the month, who was nice enough to take time away from his busy schedule to share his story.
Combat Pilot, Marine Corps Veteran, Judge, Youth Mentor, and this month's Nuvision Hero: Lieutenant Colonel Ken Graham

Lieutenant Colonel Ken Graham's resume is beyond impressive. Raised in Philadelphia, Graham grew up looking up to family members who served in the military. He was profoundly inspired by his brother and other family members serving in Vietnam, and he dreamed of becoming a pilot one day. In order to meet the military requirements to enter flight school, he became the first member of his family to attend college, enrolling in Temple University.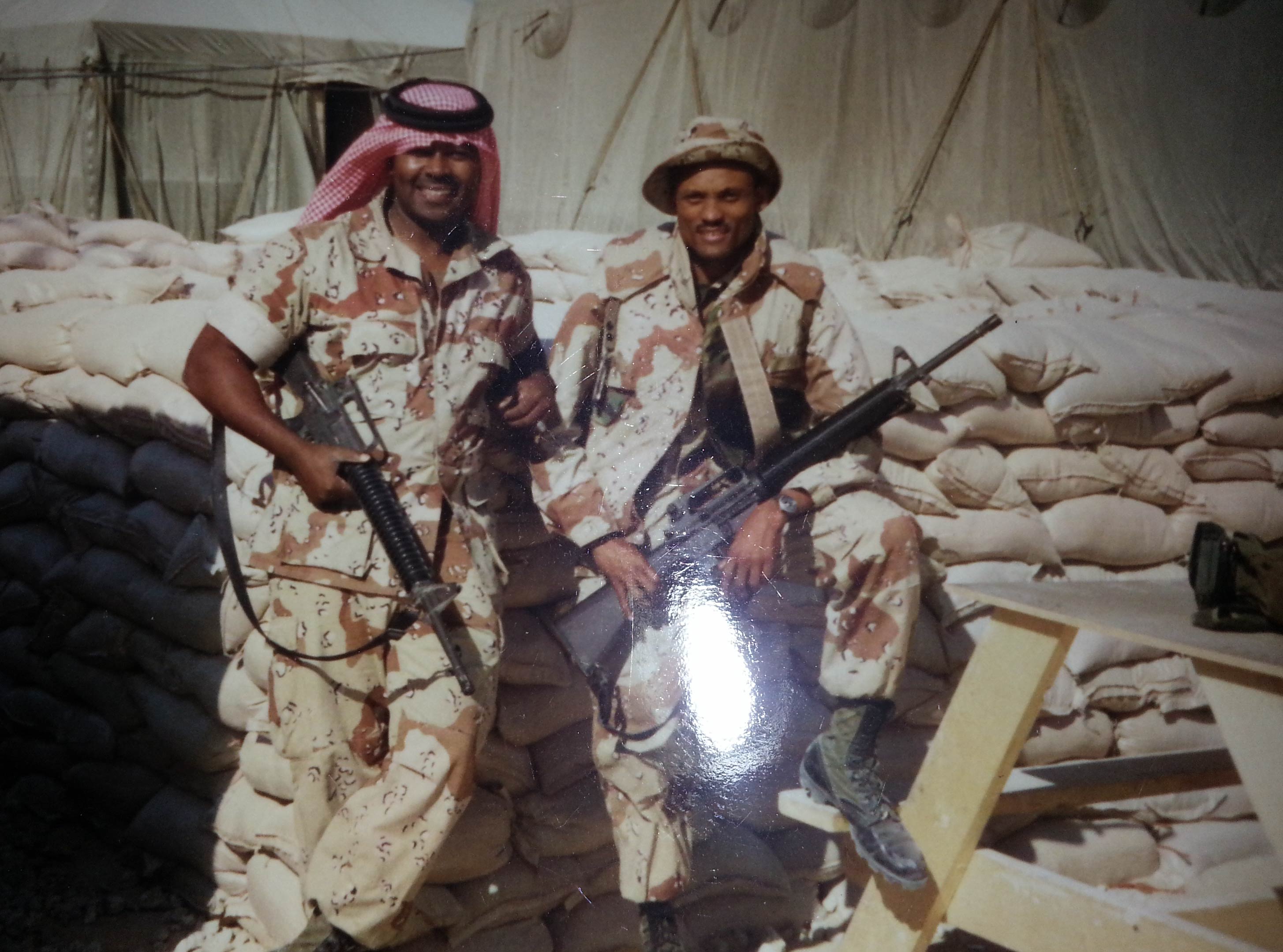 Upon graduating from Temple University, he was commissioned a 2nd Lieutenant in the U.S. Marine Corps and entered flight school. He went on to serve for 21 years, helping countless people in humanitarian missions throughout the world and doing a combat tour during Operation Desert Storm as a pilot.
When he retired from the military, he returned to college and entered USC, where he received his law degree and Ph.D. doctorate. Today, he is an administrative immigration judge. But Graham never stopped being a Marine; in fact, the discipline and service ingrained in his heart during his 21 years of service to our country continue today.
After leaving the military, Lieutenant Colonel Graham dedicated himself to a life of service and outreach. He is a member of the Veterans of Foreign Wars (VFW), a member of the American Legion, and a member of the Marine Corps League.
In his spare time, Lieutenant Colonel Graham loves to sail and fly planes and helicopters on the weekends. But always one to serve, he told us that one of his favorite things to do around the holidays is to prepare meals and go out and feed the homeless.
It's just part of who he is!

Like many of the brave men and women Nuvision has had the honor of working with, Graham told us many times that he did not consider himself a hero. Instead, he wanted us to know that the real heroes are the ones who didn't come back, the ones who made the ultimate sacrifice and gave their lives out on the battlefield.
He reminded us that "freedom is not free!" He told us, "I hope we don't forget the sacrifices that our young men and women are making for the cause of freedom."
That's why we love working with Lieutenant Colonel Graham. While he is wary of being called a hero, here at Nuvision, we feel it's important to recognize those in our community who often go unrecognized. People who make it their daily purpose to go above and beyond to serve their country, community, and fellow man.
Here at Nuvision, we appreciate being able to work with Lieutenant Colonel Graham and know that we can always count on him to not only show up but to be front and center at all of our military appreciation events. From our Memorial Day and Veterans Day gas giveaways to our annual Toys for Tots drive, we couldn't do what we do without people like Lieutenant Colonel Graham.
Every year, we join forces with Ken and make it our mission to bring as many toys as possible to underserved children in our community. Lieutenant Colonel Graham serves as part of the Marine Corps League and the Marine Corps Reserve, where he has dedicated himself for almost 20 years to collecting toys for the Toys for Tots program.
Tom Sweet, SVP of Marketing at Nuvision Credit Union, told us, "Lieutenant Colonel Graham is amazing. He is always ready to jump in and help, and the young adults he mentors are some of the most well-disciplined future leaders that we've come across. It's always a pleasure working with him and his cadets."
Mentoring and inspiring the next generation.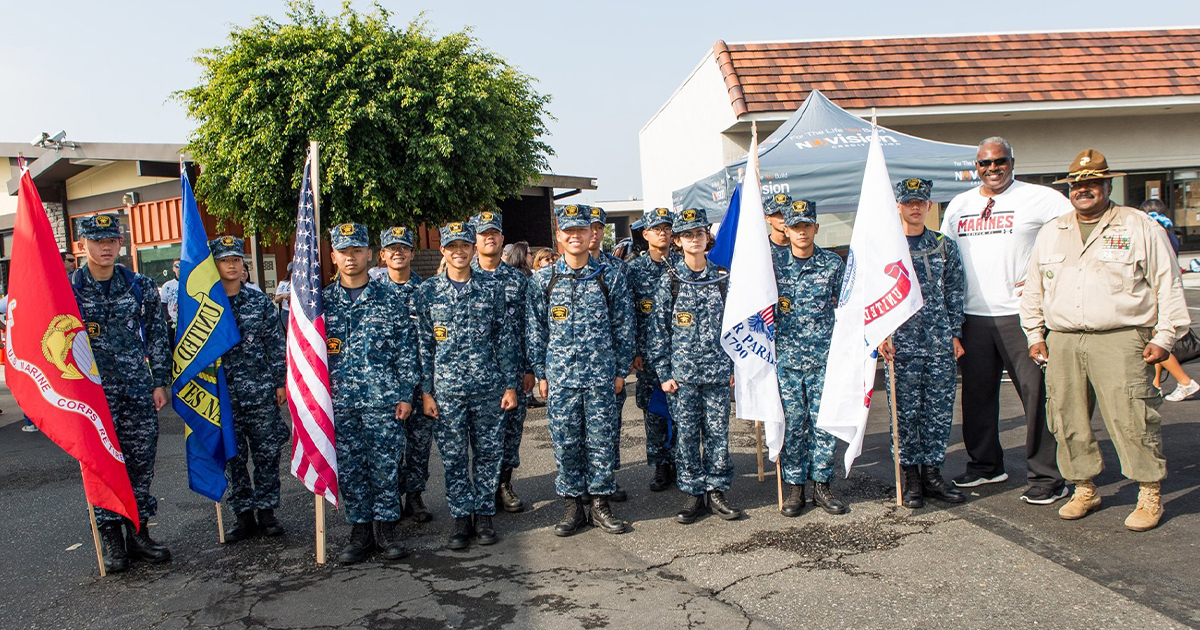 One of Lieutenant Colonel Graham's passions is working with the next generation. He is a professor of constitutional law at USC, where he has taught and inspired young adults for over 20 years. He loves serving as a mentor and being able to "guide the direction and careers of students."
As part of his mission to provide guidance and direction to the next generation, he also works with the Young Marines and the Young Naval Cadets. This is one of the highlights for Nuvision Team Members, who get to witness how his mentorship impacts countless teenagers and young adults every year.
"To me, it's all about serving as a guide and role model to prepare these young men and women for a future in national service." He says that almost fifty percent of the kids he works with go on to serve their country.
If you've been to a Nuvision military event, you've probably met one of these extraordinary young men and women he mentored from the Naval and Young Marine Cadet Programs. They are a shining example of how he influences the next generation, teaching them the value of teamwork, discipline, character, and service. These young men and women are always there to provide support at our military events, and their dedication and commitment are a direct result of Lieutenant Colonel Graham's leadership.
I'm not a hero; I'm a conduit.
As we ended our conversation with Lieutenant Colonel Graham, he again wanted to stress that he didn't consider himself a hero. He told us that he was okay if we didn't even mention his name but instead talked about the importance of his mission and service to others. He spoke about Martin Luther King Jr, who once said, "Everybody can be great, because everybody can serve."… "You only need a heart full of grace, a soul generated by love."
Graham ended our interview by telling us, "I'm not a hero; I'm a conduit. I just like to showcase the true heroes." He said his mission is to make sure people remember those who gave the ultimate sacrifice in service of their country and provide the next generation with the skills and discipline they need to become heroes in their own community.