Six simple ways you can support the military this month
May 11, 2022, 14:09 PM by Nuvision Credit Union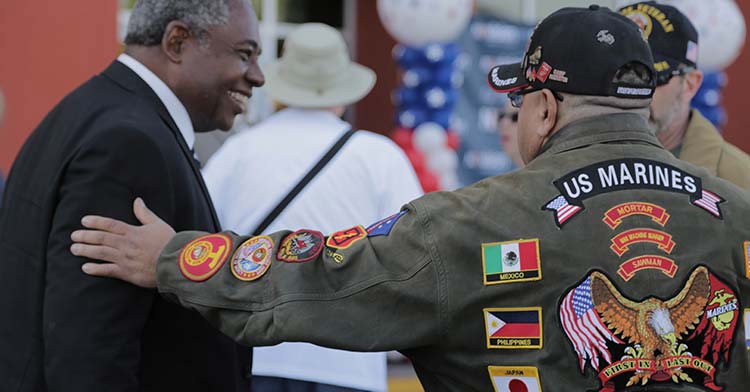 Pull out your American flag and get ready for celebrations, because this May is military appreciation month. For the coming weeks, the nation will be honoring our military and reflecting on all they do to keep us free. Here at Nuvision, we have a few special things planned for this month as well.
Today, we wanted to share a few ways you can join in and help us show the brave men and women in uniform our appreciation. Showing you care doesn't have to mean over the top gifts or elaborate plans, in fact, sometimes it's the smallest acts of gratitude that mean the most. A simple thank you could make somebody's day. Here are our top suggestions for supporting the military this month:

Write a letter
Many see handwritten notes as a thing of the past, but their power shouldn't be underestimated. The personal touch your handwriting adds will make it stand out among a sea of manufactured greeting cards we so often get. Sending a letter is a thoughtful gesture, and although it's simple, there's just something special about knowing that someone took the time to sit down and write to you.
For the soldiers who don't have any family to communicate with back home, getting a letter can mean a whole lot more. It shows them that somebody really does care about what they are doing, and it may even give them the boost in motivation they need to pull through.
There are a few organizations that help connect civilians with soldiers, like Soldiers' Angel and A Million Thanks. Be sure to check them out if you're interested.

Send a care package
We all love getting a box full of goodies in the mail, but soldiers especially enjoy getting packages. Many of them are stationed in a foreign place they are not familiar with, and may not have access to things they were used to back home. Things like baked goods, comfort items, favorite foods, entertainment, and toiletries are always appreciated and can make a difference in the life of a service member. If you need a soldier to send to, there are some groups that can help you out. Operation Shoebox, Any Soldier, and Operation Gratitude are just a few organizations with care package programs.

Recognize their sacrifices
Most Americans regard service members with a special kind of respect, but many in uniform never actually get recognition aside from the group. When we talk about "honoring veterans" or "supporting the military," we don't always think about the individuals who make up those groups. As a result, many of the stories of those who served and sacrificed go untold.
This month, make it a point to highlight the individual people who have dedicated their lives to protecting our freedom. You could share their story with a friend, send out a newsletter featuring the veterans in your company, or even just talk to them and show a genuine interest in their life. When you give them your time and are open to a conversation, they'll feel more appreciated, and you might even learn something.

Say thank you
Next time you see somebody in uniform, just walk up and say thank you. Too many service members have never actually been told they are appreciated. Though it is often expressed publicly, they don't get many people thanking them face to face. Hearing it from you, a perfect stranger, could be just the encouragement they need.

Pay them a visit
Take a few hours to top by older or wounded veterans into the hospital. There are a lot of hospitalized veterans who have no family or friends who can visit them, so your visit could help them feel less isolated and more cared for. Go to the Veterans Administration website for more information about signing up to volunteer and finding a VA hospital near you.

Volunteer
There's plenty of ways you can volunteer throughout the year, like visiting a VA hospital, but this month is especially good for finding opportunities to get involved. With Memorial Day and other military-related celebrations all happening in May, there are many local events honoring veterans coming in the next few weeks, including our Memorial Day Free Gas Giveaway. These days are quickly approaching, and many of the event hosts are now looking for volunteers willing to give their time. You could sign up to help run the events, and make sure the honorees are getting everything they need.
For a list of all Nuvision-sponsored events this month click here.