Nuvision heroes: A mortgage team member who brightens her co-workers' days with selfless service and positivity
Apr 28, 2022, 23:43 PM by Nuvision Credit Union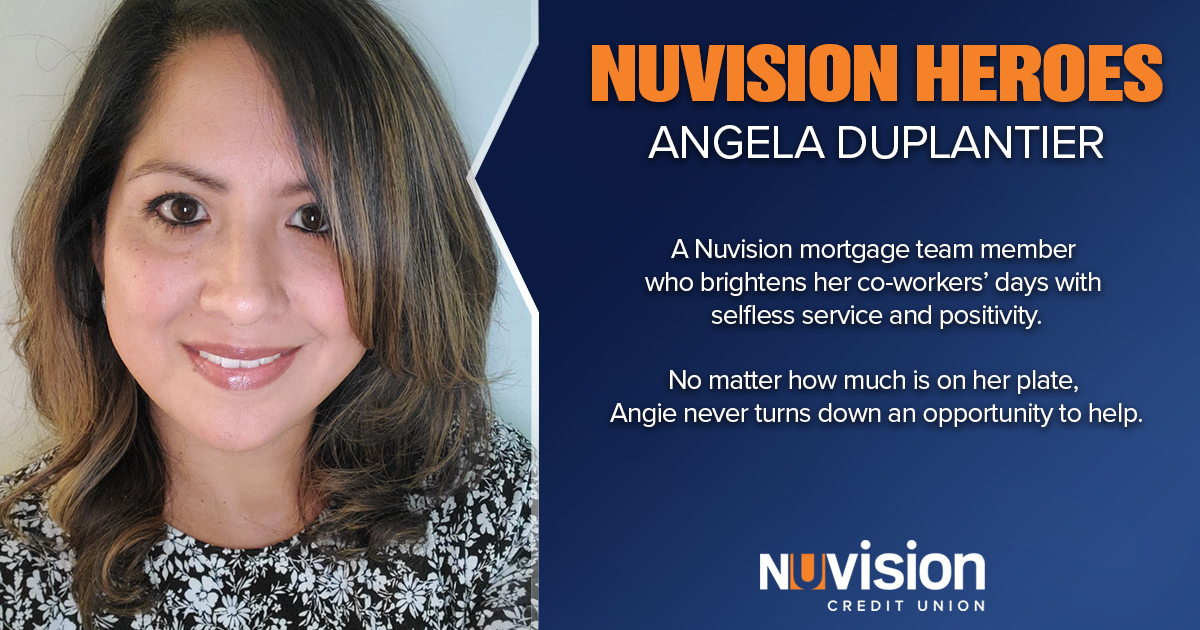 Since she joined the mortgage team in 2017, Angie's presence has made workdays more enjoyable and the workload easier to manage. Her co-workers can always count on her to jump in when a need arises, whether it is serving a member or taking on an overlooked need last-minute. Her hand is the first to go up to volunteer for Nuvision community events, like our Memorial Day Gas Giveaway.
Angie's care for others shows itself at work and at home. She loves spending time with her four grown boys and husband of twenty years, doing everything from bowling, to visiting local farmers markets, to watching her boys' basketball games. Born and raised in Orange County, Angie knows the community well and loves to serve its people through her work.
No matter how much is on her plate, Angie never turns down an opportunity to help.
Last year, Angie's department found themselves facing a backlog. Not wanting any member to wait for the money they needed to borrow, Angie happily stepped in. She took on extra roles on both the sales and operations sides.
"She wore so many different hats to try to make sure the member was taken care of," her boss Mike Sternquist said.
Angie always takes initiative when problems arise. At a recent Nuvision community event, there was nobody to manage the registration. Angie saw the need and took on the role herself, ensuring guests enjoyed their time.
"I don't focus on the issue," Angie said. "I just focus on the member."
Angie especially enjoys volunteering. She helps at so many of Nuvision's outreach events that she says it's hard to choose a favorite, though one does stand out: the Memorial Day Gas Giveaway.
"I really have a heart for our veterans," she said. "It's just awesome to be able to give back to them."
Angie's unwavering positivity brings joy to everyone she works with.
What makes Angie shine isn't just the work she does. It's also how she does it. Angie's co-workers say that her presence on the team makes everything easier. Her boss calls her approach to the job "selfless."
"Angie approaches her job more selfless than anything," he said. "She's taken on so much for us and never been upset about it. She's always been positive."
Angie's first priority is always to ensure the member receives the care that he or she needs. She always goes the extra mile to meet needs.
"With whatever I do, it's always thinking about the customer," Angie said.
Angie believes in, and lives out, Nuvision's mission to help people build their lives.
Nuvision's goal is to help people build better lives. In everything we do for our members and community, we strive to make a difference in this way. That's why we are so grateful for team members like Angie. Team members who share the same vision, are passionate about helping people, and seek to do good in the community. Angie exemplifies all of these qualities.
Thank you, Angie, for everything you do.