Supporting those who support us: Nuvision branches recognize five stellar grocery store employees and partners with $250
Feb 22, 2022, 10:24 AM by Nuvision Alaska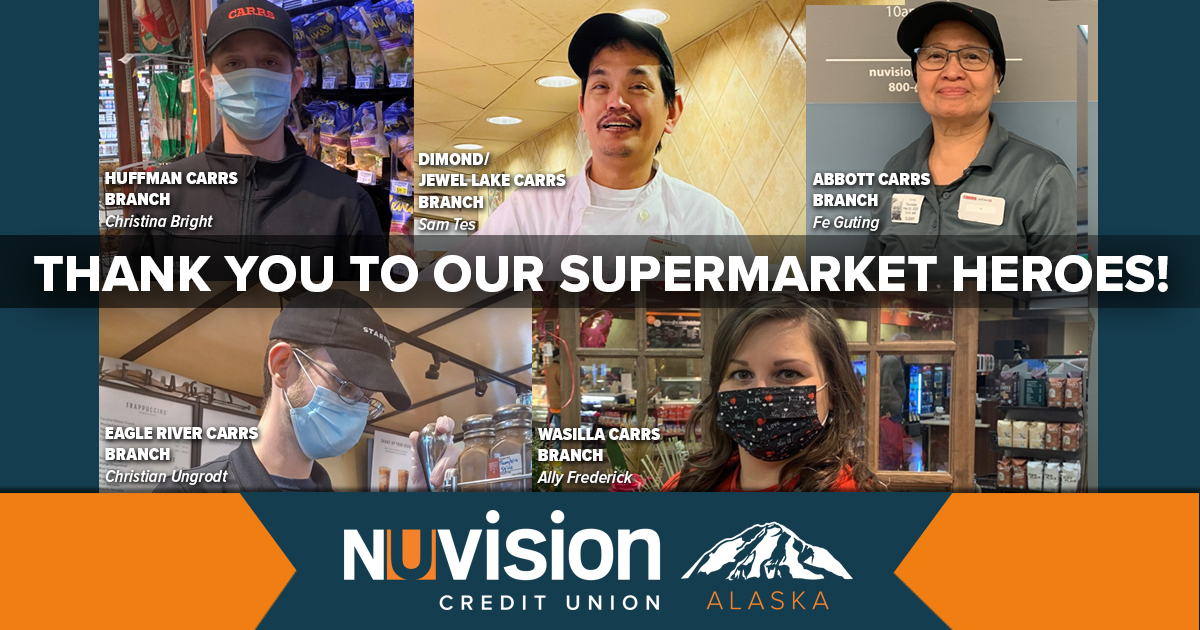 At Nuvision, we love to recognize community heroes—frontline healthcare workers, first responders, police officers. In honor of the 2nd annual Supermarket Employee Appreciation Day on February 22nd, we want to celebrate another kind of local hero: the workers who meet our daily needs. Today, we're recognizing five local grocery store employees, nominated by the teams at our Nuvision Alaska branches located in Carrs Safeway stores.
In addition to honoring these outstanding individuals here, we're awarding each of them $250 as a thank you for their steadfast service and commitment to supporting the community. Without their consistent efforts day in and day out, we wouldn't be able to meet our most basic needs.
Fe Guting
Combination Clerk at the Abbott Carrs
Over the past few years, Fe has been exceptionally understanding and willing to help customers, knowing the tough times many are going through.
"Fe is always smiling and always willing to help customers. Even if the store is really busy, we've never heard her complain. She treats everyone like family," our team said when asked why they selected Fe.
Fe loves chatting with customers at checkout and says small talk is the best part of her job, which she has been working for nine years. It's just another way she can connect with and help the people in her community.
Sam Tes
China Express Supervisor at the Dimond/Jewel Lake Carrs
A credit union member since 2003, the Nuvision team has known Sam for a long time. Our team says he is "hilarious" and "very friendly," making him a clear choice to honor this month.
Sam loves looking for people who come into the deli, where he has worked for 19 years. Cooking, which he does frequently on the job, is his way of showing people he cares.
Ally Frederick
Floral at the Wasilla Carrs
For Ally, service means taking the extra step to brighten someone's day. She consistently exceeds expectations and does the little things that make a big difference—saying hello, stopping to check in with people, and paying attention to needs.
The Wasilla branch team nominated her because she is "an amazing human who is always happy and makes everyone laugh." Ally works exceedingly hard to provide excellent customer service, something both our team and Carrs management have noticed.
Christian Ungrodt
Department Manager Coffee Kiosk at Eagle River Carrs
Through his interactions with customers, Christian aims to create an oasis from the stress of everyday life. For two years, his favorite part of the job is having quality conversations and getting to know people in the community.
Our team selected Christian because of his upbeat attitude, thoughtfulness, and excellent understanding of customer service.
"He knows what our team likes to drink, and will often go above and beyond to deliver the drinks to us here at the branch when we order from him," the branch team said.
Christina Bright
Deli Department Manager at the Huffman Carrs
Christina has delivered excellent customer service in the Huffman Carrs Deli Department for 8 years. She loves serving and working with people in the community.
"We chose Christina because her attitude is always positive, her smile is infectious, and the customer service she provides is the best," our Nuvision branch team said.
Nuvision is committed to recognizing local heroes and supporting those who support us.
Each of these employees will receive $250 from Nuvision as an acknowledgment of their hard work and going the extra mile. Our goal is to continue supporting and recognizing all local heroes, including those in our essential grocery stores.
Thank you again to all of the incredible workers who put in the effort each day to keep our community running strong!