Nuvision Heroes: The Anchorage Cops for Community co-founder dedicated to meeting needs and building positive community relationships
Jan 30, 2022, 18:59 PM by Nuvision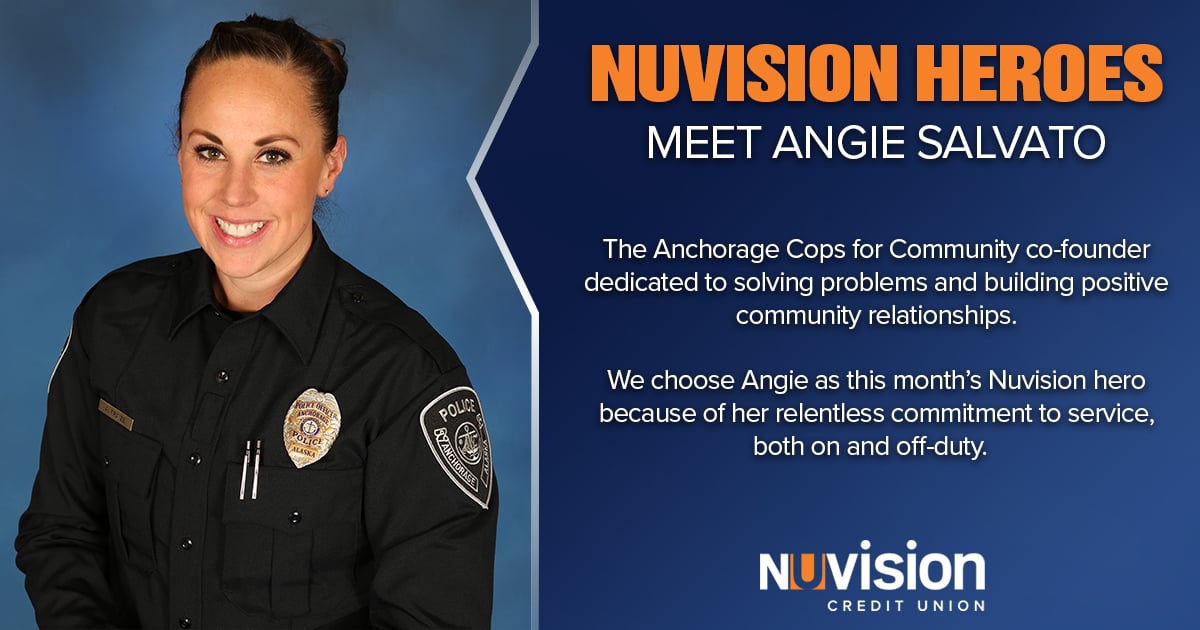 Angie Salvato has worked as a probation officer, a firearms instructor, an APD police academy trainer and criminal law teacher, spent 8 years on patrol, and now works in police recruiting. She's also won the YWCA Women of Achievement Award and made an appearance on the Race to the Center of the Earth National Geographics show. But what stands out most is Angie's focus on caring for people—seeing beyond an individuals' struggles and helping him bring out his best.
Whether through her work with Anchorage Cops for Community or in a local non-profit for special needs children, Angie seeks to understand people and meet their needs.
"I have an 8-5 job, where I do backgrounds and recruiting," she said. "After work is when I do all my community outreach."
We choose Angie as this month's Nuvision hero because of her relentless commitment to service, both on and off-duty. She's been an invaluable partner to Nuvision, connecting us with the Shop with a Cop program, Project Angel Tree, and a recent Law Enforcement Appreciation meal drop-off. Born and raised in Alaska, she exemplifies what it means to build up the community.
Building community trust and relationships: How Angie's non-profit works to 'humanize cops'
In 2017, Angie and several other law enforcement officers came up with the idea that would become Anchorage Cops for Community (AC4C), the non-profit charity arm of the Anchorage Police Department Employees Association.
"We sat in the room and drew the logos up, picked a name, and went through the process of getting with lawyers to figure out bylaws and become incorporated," she said. "I serve as their chair still."
Since its inception, AC4C has sought to humanize police officers and build relationships between officers and members of the community.
"[Police officers] are interested in lots of different things—like ice skating, or weightlifting, or their parents," Angie said, adding that not everyone gets to see this side of them.
That's the gap AC4C aims to fill. Year-round, they host events that help officers invest in the lives of people they serve--shop with a cop, coffee with a cop, golf with a cop, fundraisers, wine tastings--everything and anything to connect officers with community members and build trusting relationships.
Angie highlighted one example, the Clothesline Project, which serves homeless children and families in need by providing free clothes, inviting them to check out the police cars, and allowing them to interact with officers positively.
"A lot of times, with those kiddos, unfortunately we're in their house because a there's a domestic violence situation, taking mom or dad out in handcuffs. So we really want to have our officers see these families on their best day, as opposed to those tough days," Angie explained.
Along with the police force, children with special needs are close to Angie's heart.
Angie has a passion for special needs children, which she channels off-duty through her volunteer presidency at the little Eagle River/Chugiak area non-profit, Family Outreach Center for Understanding Special Needs (FOCUS).
Angie loves the organization, which served her daughter through three years old, because they put kids above everything else—and find a way to make big ideas a reality, even when working on a tiny budget.
"They're so small, that even if it doesn't make sense to open a preschool for kids with autism…[because] they're going to lose money, they do it anyway, which I love about them," Angie said.
Angie's passion comes from growing up with her uncle, who was born with down syndrome and raised in her house, and from raising her daughter, who was also born with down syndrome.
With a Master's in Early Childhood Special Education, Angie has both the knowledge and personal experience to make a difference in this area. She served two years on the Governors' Board for Disabilities in Special Education, which focused on legislative priorities for special needs children.
We are proud of Angie's work and grateful to call her a partner.
Angie's strength makes her more than capable of facing challenges many would shrink from and keeping up with the demands that come with a career in law enforcement—and constant community service.
When it comes to the organization she chairs, AC4C, Angie says she is thankful for the many community partners like Nuvision who support the mission and contribute to hundreds of families in need in the Anchorage area. As a 100% volunteer-operated organization with no income stream, those partnerships are vital.
"We operate solely on these kinds of partnerships," Angie said. "If it weren't for donations, we would cease to exist."
People like Angie show what happens when communities come together for the good of those around them. Through our partnership with her and AC4C, Nuvision was able to impact hundreds of children over the holidays in the Shop with a Cop program.