We're giving away up to $14,000 in prizes this month. Have you signed up for the giveaway?
May 28, 2021, 08:30 AM by Nuvision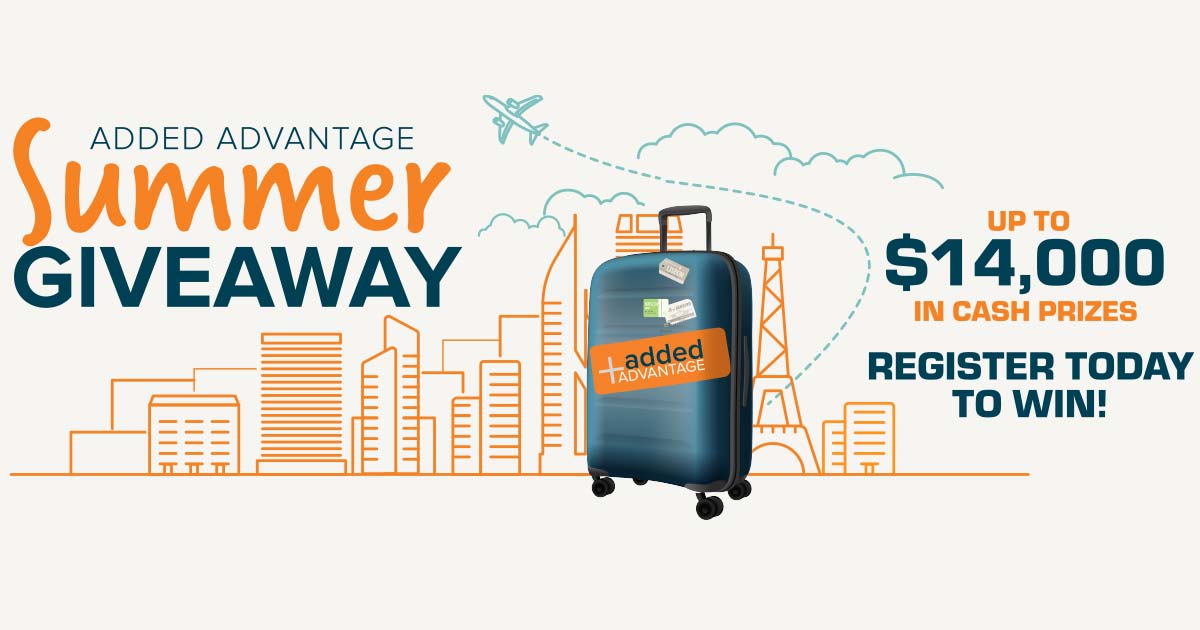 An extra $1,000 could be in your wallet by next week, just waiting to be spent on whatever summer adventure you've been dreaming about.
If you want a chance to earn free cash—for your last-minute getaway, your surprise party for a loved one, or your home improvement projects—now is the time to sign up for our annual Added Advantage Summer Giveaway.
Registering today means you won't miss a single chance to become our next big winner.
Our first drawing will take place on Monday, June 7th. On that date, we'll be choosing our first $500 prize winner. We'll continue selecting $500 winners every Monday, Wednesday, and Friday from June 7th through the 26th. On July 1st, we'll announce our $2,500 grand prize winner.
Sign-ups will remain open all month, right up until our grand prize drawing. But don't put registering off. Entering early means your name is put into more drawings. And more drawings mean more opportunities to win! Just click here to fill out the form.
Once you sign up, don't forget to follow us on Instagram to double your prize money!
We want to give members like you even more cash to make this summer count. So, we're offering to double the prize amount for winners who follow us on Instagram.
That means you could win as much as $5,000, simply for taking ten seconds to tap the "follow" button on your phone. You can find us on Instagram at @nuvisioncreditunion.
Entering costs nothing. If you're an Added Advantage member, you can sign up for the giveaway instantly here.
Not part of Added Advantage? Join thousands of other members in experiencing the benefits.
Joining Added Advantage is as easy as entering this year's giveaway! Signing up not only makes you eligible for the giveaway, but it also allows you to enjoy countless daily benefits, like access to lower rates, discounts on fees, incentives on loans, and more.
Our members love the program, too. See what some of them have said about it:
"So many companies are focused on getting new members, but I appreciate that you guys thank members who have been loyal for a long time." - Alice, 2019 summer giveaway winner and Nuvision member since 2006