Nuvision Heroes: A Team Member with a Heart to Serve in all Circumstances
Apr 30, 2021, 08:32 AM by Nuvision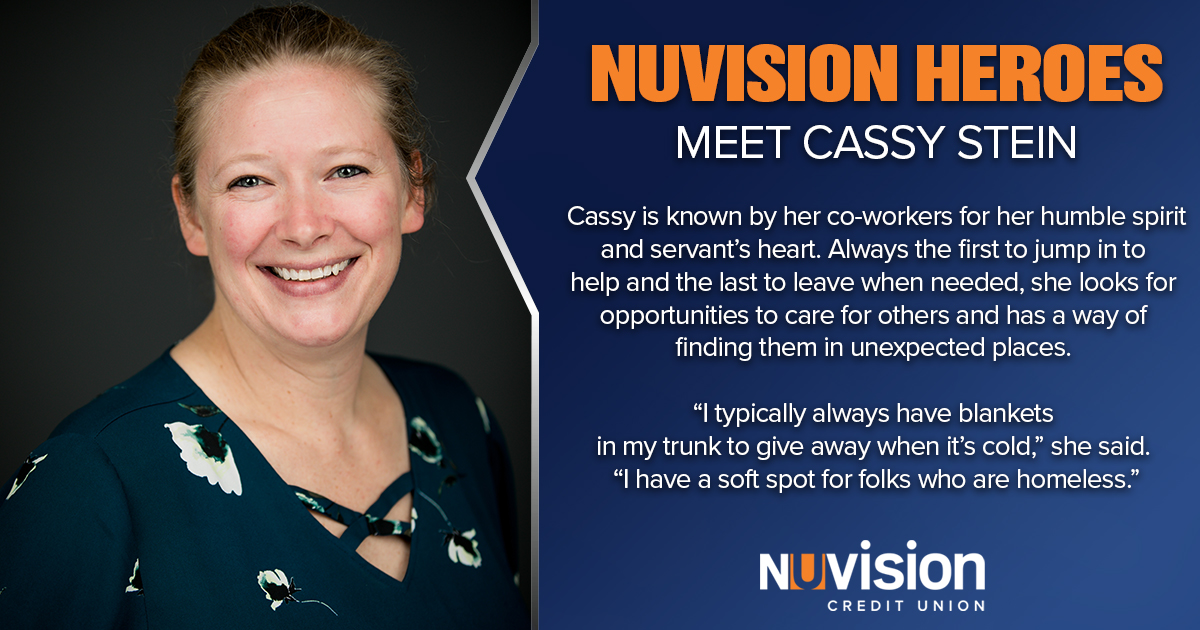 Wife, mother of two, and Cheyenne resident of 32 years, Cassy Stein is known by her co-workers for her humble spirit and servant's heart. Always the first to jump in to help and the last to leave when needed, she takes every opportunity to care for others. "Serving others gives hope," she said. "It shows there are people that care and are willing to lend a hand and look out for a complete stranger."
Cassy loves Cheyenne and holds it up as an example of what a community should look like. "At different times in my life, I've had folks comment about the kindness of people here," she said. "It's pretty special." Strong communities like Cheyenne depend on a sense of collaboration and camaraderie between residents. As Branch Team Lead at the Converse Branch, Cassy works to build those connections by slowing down and taking the time to get to know people.
Cassy's spontaneous service flows from a servant's heart.
Cassy helps her community in numerous ways—donating to NEEDS Inc., dropping off items at the Comea Homeless Shelter, coming to Nuvision outreaches—but she also likes to get creative. Always on the lookout for places to serve, she has found opportunities in unexpected places. "I typically always have blankets in my trunk to give away when it's cold," she said. "I have a soft spot for folks who are homeless."
Cassy knows how cold Wyoming winters can be and hates to see people struggling to find warmth in those difficult months. She tries to help in whatever way she can. "There have been many times I've stopped to give rides to folks who are stuck in the cold," she said. "It helps folks who are homeless and traveling in a wheelchair. There are several veterans in Cheyenne who make their way around town this way."
She's been able to meet needs in other places, too. During Christmas, she saw a friend share a Facebook post about a family with a sick baby. The family was stuck at Children's Hospital in Denver without the means to celebrate Christmas. Cassy sprang into action. "We bought gifts for them anonymously to give them some kind of sense of normal or having their life back during the holidays," she said.
Small acts of kindness make a lasting impression.
Cassy's passion for service, specifically helping the homeless, started with her own life experiences. "In my late teens, I myself struggled and lived out of my car for a time," she said. "My mom raised three of us and worked very hard; we had the support of our community when we had needs to be filled, and I saw that modeled from a young age."
Watching the community come together to support her family was something she never forgot. Now a mom with children of her own, she can't help but jump in when someone else is in need. For Cassy, seeing the impact her efforts have had on people has been a sweet experience.
As an example, she told a story from the Nuvision Veteran's Day Gas Giveaway in 2019, where she served at the lunch spot. "A woman who had received her free gas came over for lunch and had just recently lost her veteran husband," she said. "She was so thankful for the gesture and appreciative of such kindness! It's a good feeling that you hang on to." Cassy was glad to see that woman walk away happy in the middle of a difficult season.
A simple smile could turn someone's day around.
"It's cliché to say, but 'service with a smile' is something important to me," Cassy said.
This was one of the things she treasured most at her favorite Nuvision outreach event, serving lunch on Veterans Day. "I love the reactions from folks as they're served by smiling faces," she said. "There's something special about physically serving someone as a way to thank them."
"You truly don't know what someone is facing, but smiles are contagious," she added. Struggles can be visible, like a homeless man needing a blanket. Or they could be hidden, like the veteran's wife carrying hurt from losing her husband. Cassy strives to be there for both kinds of needs.
In her final words of advice, Cassy emphasized that caring doesn't have to be difficult. "Take the time to truly ask someone how they're doing," she said. "It makes the difference, whether you're working with someone in the community, a member, or your own team!"
We agree with Cassy. At Nuvision, we also believe it is important to make our members feel welcome and cared for. In everything we do, we strive to help you in the life you build. Incredible team members like Cassie are the ones who make this happen.
Thank you, Cassy, for all your care and hard work!