Nuvision Heroes: A team member with a drive to help others accomplish their dreams
Mar 31, 2021, 08:46 AM by Nuvision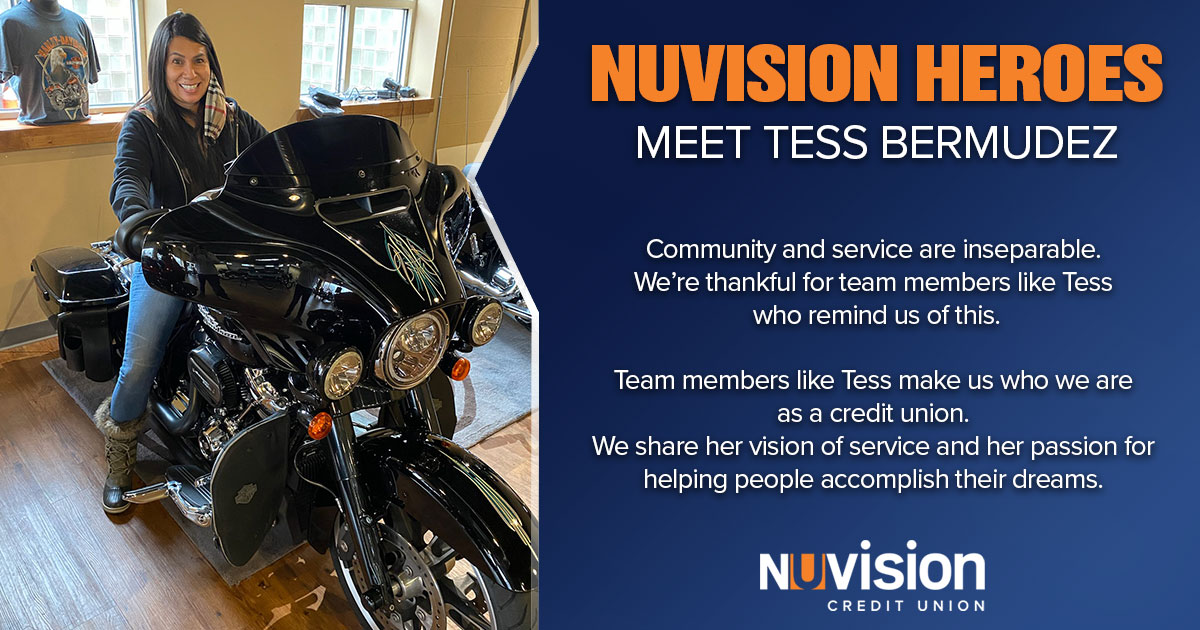 Tess is a motorcycle-loving Bay Area native who moved to Southern California for the sunshine and stayed for the scenery. She is also this month's Nuvision Hero.
Along with the care she shows members, a defining characteristic of her work is her desire to see others accomplish their dreams, especially the underprivileged. "It's a humbling experience to help a member in need of financial assistance," she said. "When you help them and assist in accomplishing their dreams, it's so rewarding."
For Tess, community service starts with individuals. She uses her passion to make a direct, positive impact on their lives. Even if the actions are not always big, the goal is always to help. It's sometimes those small, seemingly insignificant actions that "can change their lives for the better," she said.
To live a lifestyle of service, all you need is passion.
When asked why she was drawn to work at a credit union, Tess enthusiastically responded, "I love to give back to the community I serve!"
Tess is driven by a desire to help those in need, and it's evident in everything--from her work to her volunteer service and even to the food she eats. "Any place that's deemed a hole in a wall is my go-to, especially if they're a mom-and-pop shop," she said.
By frequenting small shops and businesses, she has the opportunity to make their dreams a reality. "I always strive to support small businesses, since I know these are places that need the most help," she said. "Any dollar I earn will go back to them, so they can support their employees and loved ones in return."
As a Nuvision team member, she has also served at our community outreach events. The most satisfying, she says, was the Veterans' Day gas giveaway, "My dad is in the Navy and my brother is in the Army. Knowingly giving back to the people that served my country makes me feel like I can prolong the legacy of my family's heroism."
Tess seeks to uplift the spirits of those in need.
"There are so many people in need of assistance," Tess said, reflecting on why she feels so motivated to be active in the community.
During the COVID-19 crisis, Tess has sought to help her community in more specific ways. Last December, she volunteered with a program called Wishmakers, which assists elderly people by giving them the holiday gifts on their wish list.
Given the absence of usual visitors in recent times, the program was more crucial than ever. People who donated gifts or wrapped them for delivery like Tess did a great service to elderly people feeling isolated during the holidays. "The loneliness they have dealt with during this time is painful, but I want to make their lives a little brighter during the season," she said.
Community and service are inseparable. We're thankful for team members like Tess who remind us of this.
"Community and service are tied together so much. You're making such a direct impact on people's lives," Tess said. We agree. Being part of a community means serving those in it, which is why Nuvision makes this such a high priority.
Team members like Tess make us who we are as a credit union. We share her vision of service and her passion for helping people accomplish their dreams. Like Tess, we seek to help members build their lives through personal support, care, and assistance with financial issues.
Thank you, Tess, for all your hard work and passion!