Announcing our 11 Lucky Added Advantage Holiday Giveaway Winners
Dec 31, 2020, 10:53 AM by Nuvision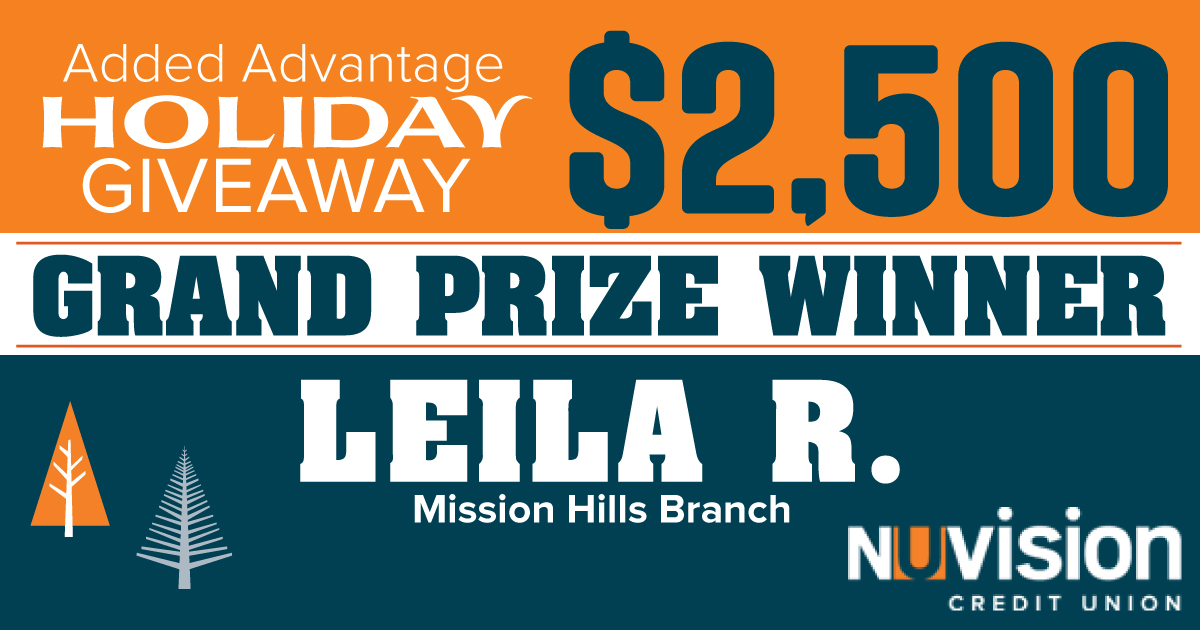 Christmas gifts for loved ones, holiday treats, dental procedures, and soon-to-be-due bills are just a few of the things our 11 lucky Added Advantage winners will use their prize money on.
"I actually just moved into a new place, and I want to use a bit of the money to make it feel more like a home and treat my godson to some awesome gifts for Christmas," 7-year member and recent $1000 prize winner David told us. "After the move, I got really tight on money, but this was a godsend to me."
David's prize of $500 was doubled because he followed us on Instagram, which was one change we made this year to provide more prize money to our members. As a member for many years, he appreciates the perks Nuvision provides, "I heard so many good things about Nuvision from my friends. I have to agree! I go to the Edinger branch one and everyone is so helpful and friendly."
Beating the razor-thin holiday budget
David also wasn't the only one using his award to make this holiday season extra special. Dwayne, member of 36 years, wants to use his $500 to treat his wife. "I've been at home with my wife ever since the lockdown, but I think getting a very fancy takeout meal to celebrate the win with her would be great!" he said.
For Guadalupe, who received $1000 for following our Instagram page, the money was both a Christmas gift and a birthday surprise. "This was such good timing to get this because my birthday is coming up on the 12th!" he said. "I will probably spend it on a nice meal with my family members at home and maybe get some things I've been eyeing for Christmas too."
Hearing of the creative ways members put their prizes to use makes everything worth it. Even in a year where the holidays look different, our Added Advantage members have found fun ways to enjoy their prizes and focus on what really matters.
Supporting our members through the decades
"I've been with Nuvision ever since it was the credit union for McDonnell Douglas and then it became Boeing's credit union," said $500 prize winner Andrew. "Your service and friendly team members kept me here. You guys have been there every step of the way from my first car purchase to my house purchase, so thank you!"
Juan, who likes to think of himself as "a practical man" and wants to save his $500 for a rainy day, told us he's enjoyed being a member ever since 1981 when Nuvision was the credit union for the gas company. "I have researched other banks to see if I can get better rates/deals elsewhere but Nuvision always continues to give the best for my needs," he said. "Plus, the friendly service is unmatched!"
We're always here to help our members succeed. From opening your first checking account to setting up your retirement fund, we want to be your biggest supporter and financial resource. This year especially, we hope to provide our members with the support they need. This bigger-than-ever Added Advantage Holiday Cash Giveaway is just one of many ways we have worked towards that goal. It's our way of saying "thank you" for being a valued member.
Congratulations to all our winners!
We're so happy to have completed our biggest giveaway yet. To everybody who won, you deserved it! If you didn't win, stick around for our next giveaway in the summer for another chance.
Here's a complete list of our winners:
$500 GIVEAWAY WINNERS:
Week 1:
11/30: GUILLERMO B. - Mission Hills Branch
12/2: MARGARET B. - Monterey Park Branch
12/4: GUADALUPE D. - Laguna Hills Branch
Week 2:
12/7: DAVID P. - Edinger Branch
12/9: PATRICK H. - Mesa (AZ) Branch
12/11: CHARLIE J. - 18th Street (WY) Branch
Week 3:
12/14: JUAN S. - Monterey Park Branch
12/16: DWAYNE U. - Gas Company Tower Branch
12/18: MICHAEL H. - 18th Street (WY) Branch
Week 4:
12/21: ANDREW F. - Bolsa Branch
$2,500 GIVEAWAY WINNER:
GRAND PRIZE: Leila R