Nuvision Heroes: A Kenai team member who understands service means reaching beyond the branch
Nov 30, 2020, 08:14 AM by Nuvision Credit Union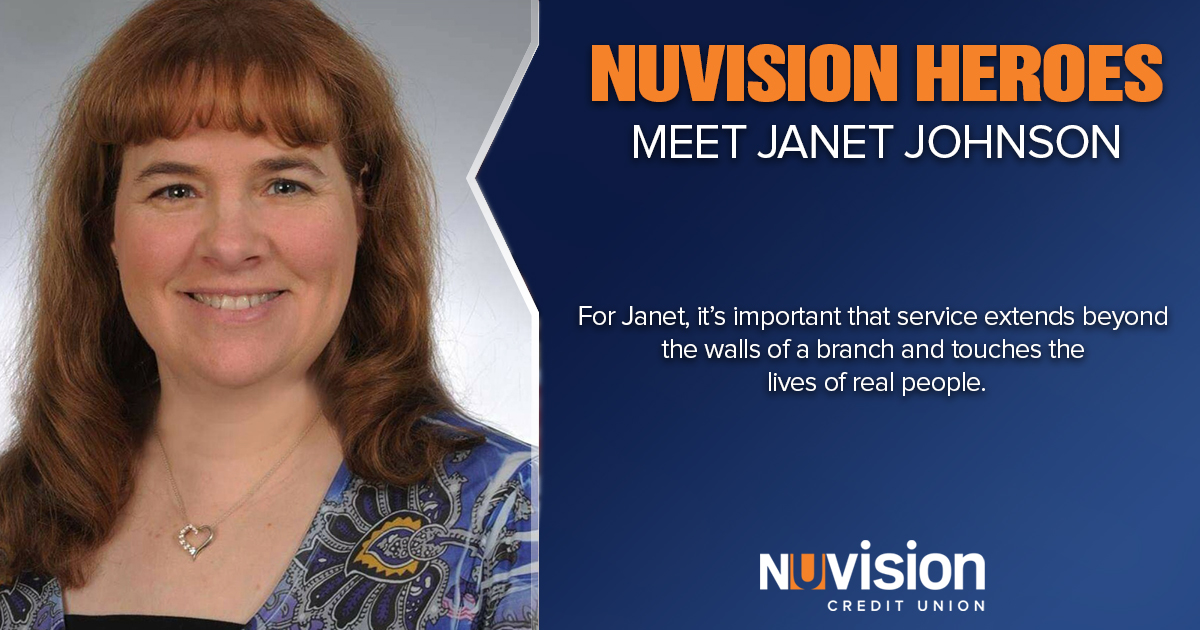 Janet Johnson's heart has been with Alaska ever since she moved there at 11 years old. Even after several moves to other states, she has always come back. Alaska has now been her home for over 30 years.
In 1987, Janet found a second home in the financial industry, which she loves because it provides her an opportunity to serve others. Through her current job at Denali, she works with members to help them succeed and tries to better understand the needs of her community. "I love seeing people reach for their dreams," she said.
A strong community is one where people build each other up—and nobody is a stranger.
Janet's idea of a community is based on her experience in a tight-knit neighborhood growing up. "As a child, I remember that it was not unusual for a neighbor to knock on your door to borrow a cup of sugar, a roll of toilet paper, or whatever else they were in need of," she said. "No one was a stranger within a half-mile of each other."
This kind of supporting, close community is one she is dedicated to building—both at work and through the service she does outside of work. Being ready to help when others are in need is just the way Janet was taught to serve.
"I grew up with parents who believed in service," she said. "Service for me was making sure I reached out to others to make sure they were taken care of."
Service extends outside the walls of a branch.
Janet is quick to recognize that service that stops at the door of a branch isn't worth much. "Service goes further than inside our walls. It means volunteering in your communities to make a difference," she reminded us.
But it's hard to understand community needs sitting behind a counter all day. That's why she and the rest of the Kenai branch staff frequently get out and participate in volunteer work. Their close team of six is constantly involved in projects throughout the community.
Janet's branch is on the frontlines of outreach in Kenai.
Together, the Kenai team has assisted in teaching financial literacy in the classrooms through the Junior Achievement program, helped raise money for the women's shelter through the Lee Shore Run, raised money for parks and recreation at the Kenai River Marathon, worked with Operation Children First to help local children in need, and so much more.
Recently, they also had the opportunity to join our annual Nuvision Gas Giveaway. Janet was thrilled to have the Kenai branch involved for the first time this year.
"We have a lot of veterans who retire on the Kenai Peninsula," she explained. This project meant a lot to her because it showed a deep understanding of the values that bring the Kenai community together.
"Our veterans appreciate belonging to a credit union who makes a point to show they matter," she said.
People like Janet allow Nuvision to be a force for good in the community.
Janet represents our spirit of service and community. She's found her place within Kenai and brings her desire to build something better wherever she goes. Without people like her, we would not be where we are today. Thank you, Janet, for all your hard work serving our members and others around you.