Nuvision Heroes: For this team member, service is a duty--not an option
Oct 30, 2020, 07:50 AM by Nuvision Credit Union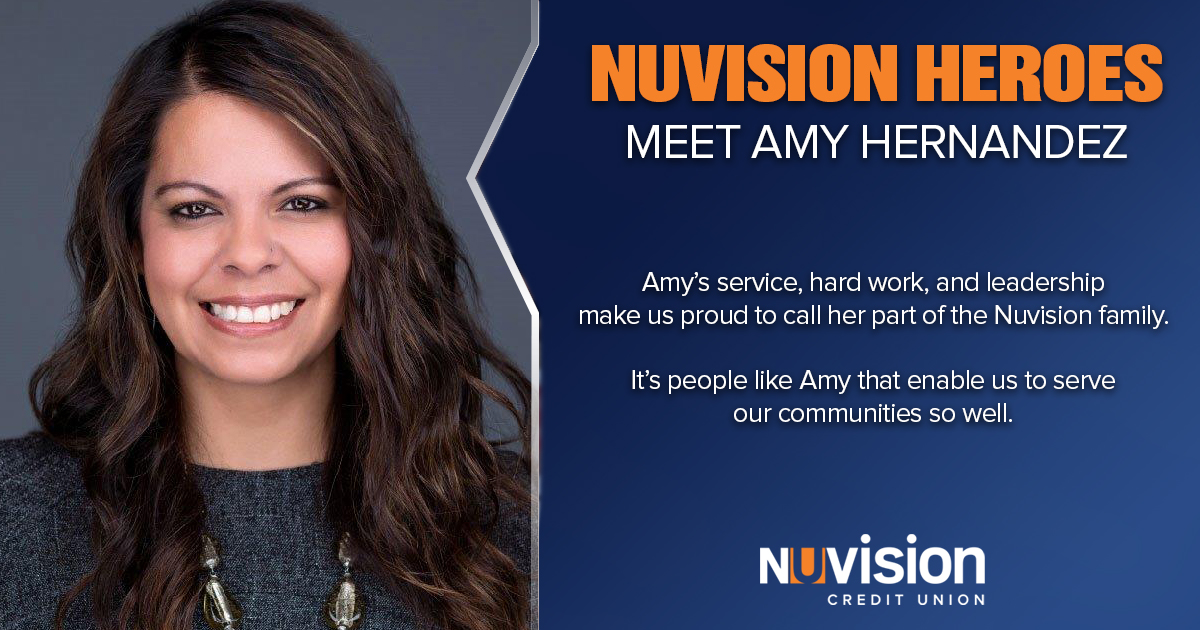 Born and raised in Cheyenne, Amy Hernandez has felt a connection and love for her community her whole life. She's raised her kids here, committed to service, and worked with the local credit union community for over 20 years.
While many see their community just as a place to live, Amy knows that it's something greater than the neighborhood where your home happens to be located or the zip code on the return address of a letter. "Community is the ability to come together and help each other succeed and grow," she said--making a point to add that it was vital both "in and outside of business."
Amy's community spirit is evident in everything she does. She uses her current Nuvision role as a Mortgage Loan Consultant to build relationships and help people make smart financial choices. Outside of work, she supports community organizations like the Cheyenne Depot Museum.
Service is more than a choice. It's a civic duty.
As someone deeply rooted in her community, Amy doesn't consider service as an extra—but as a duty. "It's seeing needs that I can help meet," she said.
In addition to her efforts outside of work, she's volunteered for every single Nuvision outreach event in Wyoming. "My favorite was the Veterans' Day Gas Giveaway last year," she told us. "For this event, my three kids, Justin, Bri, and Bobby, joined our team for the day, and we served together!"
Serving with family and co-workers was a rewarding experience for Amy, especially as the rain poured down and they worked together through the cold to give back to those who had sacrificed so much for our nation.
"Our event guests were so thankful to have been honored and were so appreciative to see such a huge event focused on showing gratitude toward veterans," she recalled.
Learning to lead: Growing into the future
Two years ago, Amy started a nine-month class called Leadership Cheyenne, run by the Greater Cheyenne Chamber of Commerce. She learned to manage projects as a group, fundraise, and better understand the wide array of businesses within the community.
Through the program, she also met the Executive Director of the Cheyenne Depot Museum and eventually joined the Museum Board after hearing their needs.
For the past 18 months, she's been a part of the Red Carpet Committee, which welcomes new businesses to Cheyenne, advocates for them, and helps create community partnerships.
"There are many events, fundraisers, and Chamber functions I've helped with--in different ways and different parts of the organizing process. I love both the social and service aspects!" she said.
For Amy, the highlight of the program was learning what kind of leadership is needed to push Cheyenne into the future. The skills she learned have enabled her to better serve others in every role she takes on, both at Nuvision and in the broader community.
Through thick and thin, a community supports each other.
Amy has been inspired to see how the community has rallied around struggling businesses during the COVID-19 crisis. "We've seen some small businesses closing but have also seen how our community comes together," she said. "It's encouraging to see folks take action when they hear a business is struggling and rush to support them!"
Through these last few months, the outpouring of support has just been further evidence of the "power of community" Amy always talks about.
"I typically try to support local shops and businesses, but Cheyenne businesses have been great in spreading awareness of how important it is–now more than ever--to shop local," she explained.
With community leaders like Amy, we're confident in the future.
Amy's service, hard work, and leadership make us proud to call her part of the Nuvision family. She does her best to make sure Nuvision members are taken care of and extends that same attitude of service to everyone she meets off the clock.
It's people like Amy that enable us to serve our communities so well. Events like our Gas Giveaway wouldn't be possible without Amy, her family, and other Nuvision volunteers showing up to help.
Thank you, Amy, for everything you do!