Nuvision Hero Jeff Barnes: A hard-working police officer with a heart for his community
Sep 10, 2020, 10:29 AM by Nuvision Credit Union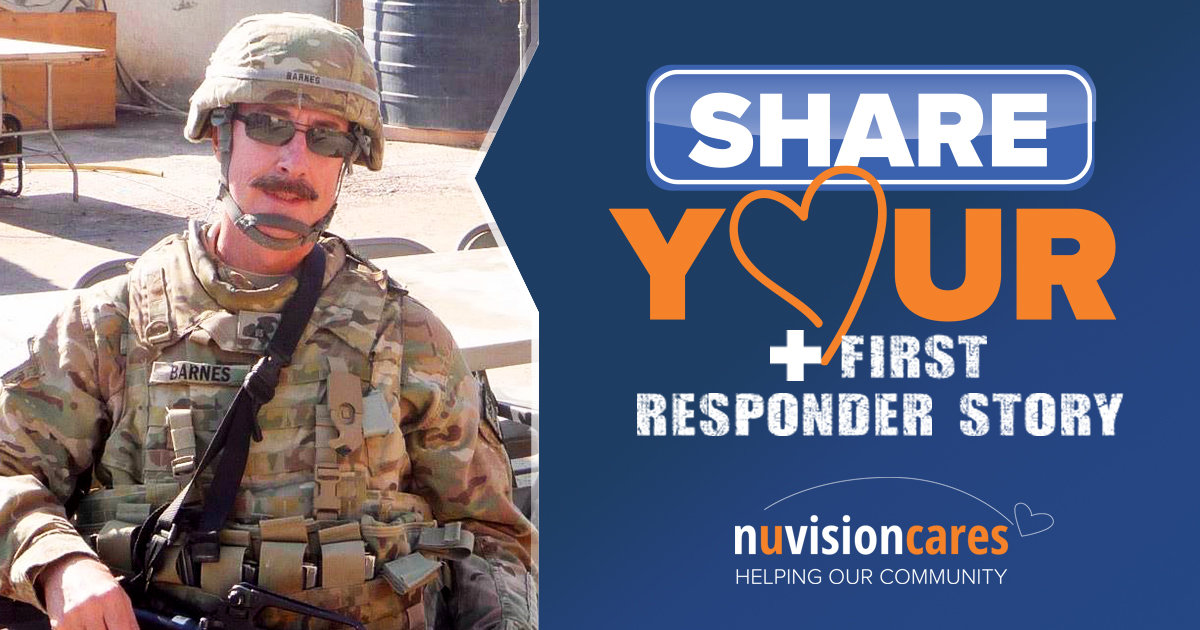 Officer in the St. Louis police force for over two decades, US military contractor who aided in interrogating suspected terrorists in Iraq and Afghanistan, and current Sherriff's Deputy for Laramie County, Jeff Barnes is a man who never wastes an opportunity to serve.

Even after long days facing tragedy and life-threatening situations, he always comes home available and ready to lend a hand-- to his wife, to his kids, to his neighbors, and to his community. This tireless dedication to others is one of the many reasons we're honored to share Jeff's story.

21 Years of Perseverance and Passion: Serving the St. Louis City Police Department

"I first met Jeff Barnes in 1987 on our first day at the Greater St. Louis Police Academy," his wife recalled. "From that first day of training, he stood out with strong command presence and great warmth and humor."

For 21 years, Jeff served in the St. Louis Police Department, never losing his desire to make a difference, even as he worked on some of the toughest streets in the nation. Every encounter he had was marked with respect, and he took care to treat each person with dignity. His fellow officers loved him.

Over the years, Jeff worked in the Canine Division, Bike Patrol, and taught at the Academy, eventually rising to the rank of Lieutenant and helping to direct Operational Planning for the city. Through it all, he never lost sight of why he chooses the job in the first place, or of his life outside of the service. Despite having a demanding job, he also made time to volunteer at his church and his children's schools, collect items to benefit a local community center, and give advice to neighbors whenever they called.

From Missouri Policeman to Military Patriot

Jeff eventually left the force in St. Louis, but only to take on a new challenge—heading to Iraq on a contract with the U.S. Military. They needed someone to help interrogate suspected terrorists, build rapport with informants, and collect evidence at bombing scenes. Jeff's law enforcement background, willingness to serve his country, and experience with the Air National Guard made him perfect for the job.

He served with a unit in Iraq for 13 months, living and working with the soldiers in the field every day. Not long after his first tour was over, Jeff returned for a second doing the same work, this time in Afghanistan.

A new life, an old commitment: Jeff's heart for service

In 2016, Jeff and his family moved to Cheyenne, WY to fulfill their lifelong dream of living out West. After so many long years of difficult service, Jeff could've retired, proud of his many accomplishments. But for Jeff, law enforcement wasn't just work. He couldn't stay away from service. With his desire to help the community stronger than ever, he accepted a deputy position in the Laramie County Sheriff's Department.

Now, he's back where he started, working hard on the streets to protect the citizens of his county. There's nowhere else he'd rather be.

"His commitment to the community and passion to serve in the role of police officer is as strong today as it was when he first began," Jeff's wife said. "He's a great husband, father, and role model, and he personifies what a Law Enforcement professional should be."

Jeff has been awarded $500 for his service to his community and his country.

We've awarded Jeff with $250 in recognition of his service, and another $250 for him to donate to a charity of his choosing.

Sharing stories like his is just one simple way we can honor heroes who have shown extraordinary courage through their service and inspire future generations to live for something greater than themselves. Jeff never asked for recognition, but his lifelong dedication to helping others has shown he deserves it.

To view other stories or to find out more about how to nominate a hero, please visit our website here and our Facebook page here.